Only a few things in this world are better than a hot shower bath. And when you add music to it, there isn't anything better. But when it comes to buying a shower speaker, we are often confused about which one is the best.
Well, that is why we are here. We have created a list of the best shower speaker for you. Also, check out the buying guide for better results.
---
Benefits of a Good Wireless Shower Speaker
Having a good time in the shower helps revamp your mood and calm the senses. Hot water and your favorite music, is there anything better than this? Let's look at some other benefits of having the best shower speaker

Wireless – A wireless Bluetooth or wifi-based speaker makes good accessibility and protects you from dealing with wires. Plus, why would anyone have a power outlet in their shower? It is best to buy a wireless Bluetooth speaker.
Better Connectivity – Since they are connected via Bluetooth or the wifi means that even if your phone is kept in your room, you can still listen to your favorite tunes.
Answer Calls – It would be a bit irritating if you would have to go out of the shower to attend to a call. Attaching your phone with the Bluetooth speaker will allow you to answer the calls without going out.
Fast Charge – The majority of the best shower speakers have a fast charge and can run continuously for hours altogether.
---
Bluetooth vs. Wifi Shower Speaker
Even though both the types of speakers, Bluetooth and wifi, offer similar benefits. But there are also some differences that you must account for while buying them.

Mobility – You can take your Bluetooth speaker anywhere you want and not just fix them in your shower. Whereas the wifi Speakers can only stay inside the home where they get constant connectivity to the home wifi system.
Connectivity – Bluetooth speakers can only play music when connected to a device, like your phone. However, wifi Speakers can be connected to your home wifi system and can play music even from your television.
Multiple Connections – Wifi speakers can be connected to each other. So, if you have different wi-fi speakers in all the rooms, they can connect and provide a wholesome experience. But, the Bluetooth speakers cannot connect with other speakers.
---
Feature Considerations for Shower Speaker
Buying a speaker needs some useful insights into the product. But what should you look for? These are the essential aspects you need to look for in the speaker.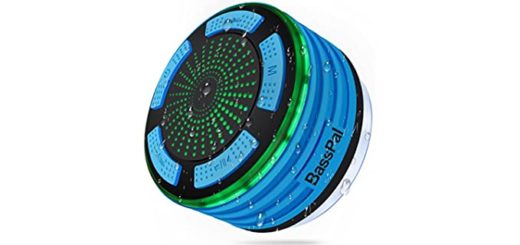 Battery Life – You know what will ruin all the fun of having a shower bath? A speaker that is running on an empty battery. So, check the battery capacity before buying. It should at least have 8 to 10 hours of battery life.
Quality of Audio – It is evident that the best measure of quality will be known by listening. However, you can also check for the frequency and the harmonic distortion to decide. Aim for lower figures of both these parameters.
Water Resistance – Of course, there will be water splashing all around in a shower. So, your Bluetooth or wifi speakers must be waterproof. Go for IP67 Water Resistance levels or higher.
Speaker Size – A bulky Bluetooth speaker will be difficult to hang or place in the shower. Similarly, if it is too small, the sound quality won't match your requirements. So, go for a medium-sized speaker with good sound quality.
---
Reviews: Best Shower Speaker Bluetooth & WiFi
Based on the properties and benefits given above, we have a list of the best shower speakers you can buy online. However, you must know that when you buy any product from the links given below, we may get a commission from the sale.
---
1
This fantastic speaker is embedded with Alexa giving you voice control access to your speaker, making it truly touchless.
You can connect it with Bluetooth or wifi and get a better and more immersive sound experience.
The deep bass system produces a rich and finely textured sound in the shower, giving you a truly immersive experience.
Engineered to be the best shower speaker, it can pair with up to 8 different devices.
---
2
Bold Signature sound by JBL gives you an excellent sound quality coupled with a boost.
The vivid sound quality self-adjusts to the high and low pitches, giving you a balanced sound quality overall.
You can also pair it with multiple speakers for a better sound experience.
You can easily place it in the shower on the caddy or a plain surface.
---
3
Listen to crisp and balanced sound with these bose Bluetooth speakers.
The speaker is compact in size, emitting a powerful sound without any clashes.
These speakers are ideal for sturdy and rugged use with a durable exterior.
They give an uninterrupted six hours of playtime in one charge.
---
4
A medium-sized Bluetooth-based speaker with rich and deep bass sound quality and LED lights further enhances mood.
The 5W speaker provides a fantastic experience having IP67 Water Resistance Certification.
It is pre-fitted with a suction cup to stick it anywhere in the bathroom or the shower.
Embedded with Bluetooth 4.1 with a range of 33 feet and a fast connection time of 4 seconds.
---
5
Enjoy an enhanced music experience with HD sound quality built with an ergonomic design.
A suction cup on the backside to securely place the speaker on the walls or the mirror.
The control buttons are placed in the front, giving extra access to the user.
You can comfortably use the speaker even if the connected device is kept 33 feet away.
---
6
A smaller-sized mini best shower speaker that also supports a micro SD or TF memory card.
Get a fantastic sound experience with 8W sound quality, offering crystal clear voice and high bass.
Waterproof and Dustproof speaker with IPX7 Certification and offering 24 hours of playback time in one charge.
An upgraded Bluetooth 5.0 connectivity boasts a stronger connection and can play music from a distance of up to 33 feet.
---
7
This speaker is made to perform better with its triangular design and has dual precision acoustic stereo drivers.
It boasts Bluetooth 4.2 connectivity and can play from a distance of 100 feet.
Truly water-resistant certified with IPX5, which means that water sprays and splashes won't affect its performance.
The speakers' bigger size means havingve a longer battery life; this best shower speaker can run for about 14 hours.
With the help of 10W AMP Players, the sound won't distort even at full volume.
---
8
This portable shower speaker from FUGOO has a rich, loud sound with its SPL-A feature.
It is waterproof, snowproof, mud-proof, and sand proof for rough use.
The speaker will remain working even under three feet of water.
Moreover, the speaker allows for full-duplex speakerphone calling and support for Siri/Google's smart use.
---
9
Consider the VicTsing shower speaker that comes with a strong suction hook.
They have a crisp, loud sound that is not interrupted by the water's noise.
The speaker has a powerful rechargeable battery that will last up to six hours.
Moreover, the speakers are compatible with all Bluetooth devices.
---
10
The COMISO speaker has a crystal clear sound in stereo form with two precision acoustic drivers.
It is designed to boost bass and fill up the whole room with a powerful sound.
These speakers are lightweight and easy to carry around and enjoy the music.
The distortion-free music in the shower will let you enjoy the shower even more.
---
Index Table: Top-Rated Shower Speakers
---
---