Want to enjoy some music while you are in your hot, steamy shower, well then why not invest in a shower radio.
Plus, a shower radio can double up as a nifty radio to use in all other areas where water and wetness is concerned.
---
The Shower Radio in a Nutshell
A shower radio comes in two forms, either just a general radio with a few nifty features, or a Bluetooth speaker device that is waterproof and has a radio function. So depending on whether you want to listen to the radio only, or enjoy your collection of music, will affect your choice in which of the two you opt for;
Other than that here are some features that the two devices hold;
Dustproof – Most shower radios or Bluetooth speaker devices are dust-proof and will not collect dust or become damaged by dust and can, therefore, also be used outside or at the beach and other dusty and sandy areas, besides the shower.
Shock Resistant – Many models in shower radios are shock-resistant, so they will not easily break when dropped after slipping out of your hands or falling.
Waterproof – The most obvious and essential feature of any good shower radio or speaker device is that it is waterproof and splashproof with a design that will resist shower spray or that can be fully submerged in water.
Suction Cups or Hook – Most of the time your shower radio or speaker device will come with a suction cup attachment to fix it to the shower door or wall, or in other instances with a hook design that can be hung anywhere inside or outside your shower.
BlueTooth – The Bluetooth speaker device likewise has an FM and AM radio setting and function and can play music from any phone or device that has Bluetooth through your speaker at a safe distance.
LED Light – Some speaker or radio device come with a normal or colourful LED lighting to create an ambient mood,
LCD Screen – Some shower radio devices have a nifty LCD screen that shows your radio statios, as well as a clock or weather reporting system.
---
How a Shower Radio Benefits You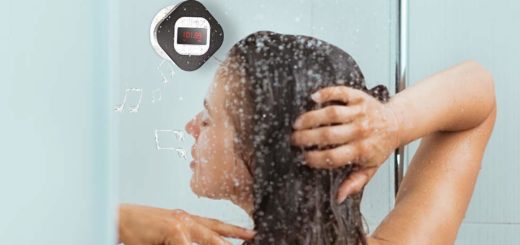 Bluetooth – You can easily listen to your choice of music from any Bluetooth device safely in your shower.
Clock – your shower radio can show you're the time, so you will not be late for that crucial meeting or date.
Weather Alert – Some shower radio models come with a weather reporting channel keeping you up to date with the weather.
Portability – most shower radios and speaker devices are portable and can be taken with you to the gym, on holiday, to the pool or beach area.
---
Features of a Good Shower Radio
Volume control and station changing adjustable knob.
On and off push button.
LCD or LED screen.
Built-in Clock and timer.
BASS enhancement features.
HD sound.
Waterproof or water-resistant design.
Am and FM radio station pick up.
Bluetooth speaker design.
Compatible with all Bluetooth devices.
LED Mood Lights.
---
Reviews: The Best Shower Radios
Here are some of the Best Shower Radios that you will find available today; We also like to inform you that for every product that you purchase through the given links, we are subjected to get a small share of credit.
---
---
2
BassPal illumination speaker with an FM radio and Bluetooth functionality.
Versatile to use anywhere.
Waterproof, shockproof, Dustproof and designed to float.
Wireless Bluetooth design and a built-in Mic so you can take calls as well.
Comes with 10 LED Mood Lights, to create the perfect ambience in your shower.
---
3
Comes completel with an LED digital screen, and 4 in 1 FM radio, Bluetooth, microphone and digital clock included.
It has ten meters of adequate Bluetooth coverage.
It supports almost any Bluetooth device easily.
Wireless and waterproof design.
Very crisp clear sound with a HD speaker system, and sunwoofer quality sound.
Large battery capacity and USB chargeable.
---
4
Waterproof and water-resistant to enjoy in your bathroom, shower, kitchen, or at the pool or beachside.
It hs an AM and FM radio with an LCD screen display and a clock function.
There is a rotary control knob to adjust stations and volume easily.
It has a minimal and compact design that is easily portable.
Hanging hook design to hang anywhere in your shower or bathroom.
---
5
An AM and FM shower radio.
Comes with a versatile and sturdy hanging hook.
It has an easy volume adjustment and control with a knob.
Push on and off the control button.
There is an easy to use station dialing system.
Completely water-resistant design, ideal for the bathroom, shower, or a pool area.
---
6
An IPX7 fully waterproof Bluetooth speaker system with a radio.
It can be completely submerged underwater.
It has crystal clear sound and an intense and rich base system with 5W HD loudspeakers.
It comes with LED MOOD lights and a small compact design.
Easily compatible with any Bluetooth device.
The ideal Christmas or birthday present.
---
7
It is one of the best Bluetooth shower speakers of its range.
The Tronsmart shower radio has high bass effects for booming the showering experience.
The shower radio is easy to connect and is active with all mobile and Bluetooth devices.
The range of this speaker is fantastic, and you will become a fan of its voice clarity.
---
8
This multi-functional 4-in-1 LED screen shower radio will give a delightful showering experience.
The radio works with every kind of device, be it Mac, Android, Mp3 player, etc.
It has a superb high-quality sound and offers subwoofer quality music and clear volume.
This amazing speaker will never let you down on its battery life and has an excellent long runtime.
The shower radio is fully waterproof, shockproof, and dustproof, and the suction cup involved lets you stick it to any wall or glass surface.
---
9
This Waterproof Suction Speaker is one of the best speakers of its class with all premium features.
It has a great, long-lasting power life of up to 10 hours.
The built-in FM radio helps you to connect to your favorite radio stations while you take a relaxing bath.
The IPX7 waterproof technology used in its making lets it be fully submerged in water up to three feet and thirty minutes.
---
10
This wonderful shower radio can store up to forty favorite of your radio stations.
It has a built-in waterproof MIC and hands-free function so you can enjoy calls while you shower.
The detachable suction cup helps in making the radio stick in all kinds of surfaces.
It has a runtime of ten hours, and the heavy bass effect of the speaker brings in a layer of bliss in you.
---
Index Table: Top Rated Shower Radios
---
---