Bathroom floors can get very slippery when water keeps running continuously on the surface. To avoid this, add a shower mat to the surface, designed to keep you safe.
These are equipped with suction cups to keep them in place. These also have a non-slip back, which improves the ability to prevent skidding.
Below is the list of best shower mats and a buying guide for you to consider while purchasing one.
---
Why are Bath Mats Necessary?
Shower mats or bath mats, as we know them, are essential. These come with various benefits and add more to space. Here are some reasons why bath maths is essential.

Safety – Wet floor means danger. Shower mats provide an anti-slip surface for anyone who is stepping out of the shower with wet feet. Ensure to offer a bath mat to your guest so that there is a lesser risk of accidents.
Protection – While shower mats ensure you have a safe surface to stand on, these also protect the floor by absorbing extra water. It prevents the water from seeping in and causing damage.
Style – Shower mats are functional rugs. It adds more style to your bathroom.
Comfort – Steeping on a cold floor saves the feet from getting cold. Shower mats offer a comfortable surface to stand while you are drying yourself with the towel. It provides you with extra care.
---
Different Types of Shower Mats
Choosing the right shower mat is super important. You would want to focus on its ability to absorb water and the amount of time it takes to dry. Apart from that, a shower mat should be soft to feel and easy to maintain. Written below are the different types of shower mats.
Cotton – Cotton shower mats are the ideal fit. The material is soft and doesn't get much affected even after repeated use. These are easy to maintain and can be washed in a machine.
Chenille – Chenille mats are perfect choice for a bathroom. The material absorbs water quickly and is ideal for drying feet when you step out of the shower. It is super soft to touch and comes at a fair price.
Bamboo – Bamboo provides a solid platform and is also resistant to water penetration. For those who are environmentally conscious, bamboo is the ideal choice. It is easy to clean and maintain, as well.
Microfiber – For a bathroom mat, microfiber has various advantages. Not only are the mats affordable, but they also provide moisture absorbency and are durable.
---
Features of the Best Shower Mat?
Shower mats protect you from falling and add more comfort to your baths. Now that you are aware of the importance of a shower mat, here are some features of a good shower mat.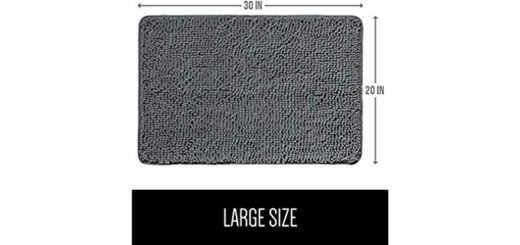 Suction and Grip – Finding a mat that sticks well with the floor or a bathtub. It will prevent the mat from slipping away.
Size – An ideal shower mat should be able to fit in the bathtub or even on the floor with convenience.
Holes or Translucency – Mats should be cleaned as they can easily trap moisture and encourage mold build-up. Therefore, you should be able to check for mold if the mat is translucent or has holes.
Design – A shower mat can add more to the look of a bathroom. These come in different colors and designs, so you can select something to match the rest of the decor.
---
New Shower Mat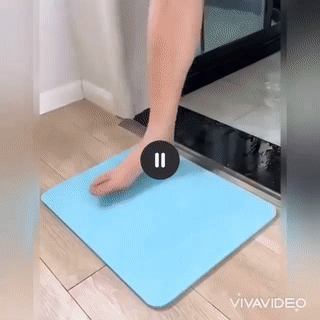 Just watch how awesome and useful this shower mat.
This amazing shower mat is trending on Instagram with hundreds of good reviews.
It offers absorption and quick-drying ability.
It is very soft to rub to keep your feet dry and clean.
Here is a Link to buy from Amazon.
---
Reviews: Best Shower Mat
Shower mats are essential for various purposes. Here is the list of some shower mats that are found to be most useful. Also, it is to inform you that we may earn a part of the profit if you purchase from the links given below.
---
1
The Gorilla Grip bath rug is tested for machine wash and can be dried in it.
It has a TP rubber back that is more durable and strong.
The ultra-plush material helps pamper the feet and shields them from the cold floor.
This mat features Chenille fabric that soaks up all the water.
The moisture gets trapped deep in the mat and dries quickly.
---
2
This large bathtub mat is made up of high-quality material and is latex-free.
This anti-slip bath mat protects the users from slipping and keeps them safe with hundreds of suction cups.
It also has many small holes that allow water to circulate easily.
Its maintenance is also easy since it can be washed in the machine.
---
3
This mat is anti-slip and stable in the shower, and is very hygienic.
With two hundred suction cups, the mat stays in place and does not shift towards the drain.
You can clean the mat with a wet towel and hang it out to dry.
It has spaces in between that allow the water to drain.
---
4
There are 122 individual suction cups at the bottom of the bathroom bath.
It should be used on smooth surfaces.
It has a textured design that provides safety from hazardous falls.
The shower mat has holes that allow water to pass through the drain hole.
It is made up of high-end TPE and PP plastic material.
---
5
This extra-large bathroom mat covers bathtubs and feels great on the feet.
It can be kept on the shower floor in gyms, hotels, and hospitals.
The mat has sturdy suction cups that keep the rug in place.
Its texture prevents you from slipping in the bathtub.
Its material is latex and BPA-free, which makes it gentle on the skin.
To clean the mat, you can wash it in the machine.
---
6
This bamboo bath mat is waterproof and doesn't absorb a lot of water.
It comes with soft rubber on the bottom, preventing scratches.
It is eco-friendly and can be recycled.
To clean the mat, wipe it with a cloth.
It is perfect to be used indoors as well as outdoors.
---
7
The Yimobra shower mat has unique draining channels that don't let the water settle over it.
It is made of vinyl material that is sturdy and durable for a more extended period.
There are hundreds of suction cups on the mat that ensure it stays in place.
Moreover, the mat is free of toxic materials like BPA and Phthalates.
---
8
This no-slip shower mat has a large design to cover more space.
The mat stretches to the full length of the tub to give you protection in the shower.
It is made of a textured surface that makes sure there is enough friction.
Additionally, it has holes on the surface that allow all the water to pass through it.
---
9
Get this KMAT grey-colored mat for a contemporary look in your bathroom.
It is made of eco-friendly TPE and PP material that is free from BPAs.
Moreover, the mat has a strong grip on the floor, so it does not move.
It also delivers a safe and secure non-skid performance with its textured design.
---
10
The Bsicpro shower mat has an enlarged size to cover more area.
It comes in a khaki shade to blend into the bathroom without much obstruction.
The mat can be washed in a washing machine for easy cleaning.
Also, it dries within minutes and does not need to be placed for drying.
---
Index Table: Top-Rated Shower Mat
---
---