A bathroom heater fan is useful to keep your bathroom warm and toasty during the harsh winters. They can be a great addition as they help prevent mildew and fungal growth in the bathroom.
Therefore, a good heater fan should be low-maintenance, durable, and efficient. Here is our compilation of the best-rated bathroom heaters available on Amazon.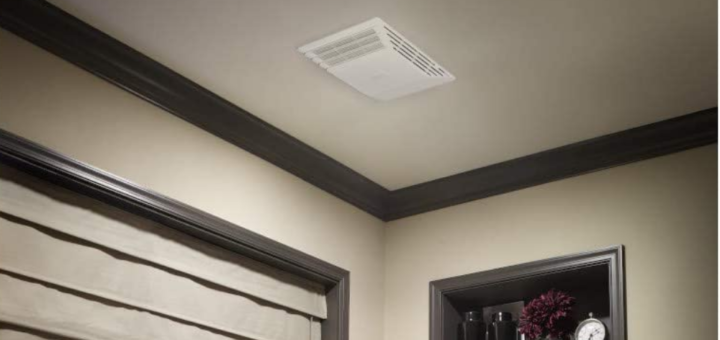 ---
Types of Bathroom Heater Fans
Let's check out the various kinds of heaters available for a bathroom.

Portable Heater – ​​Portable heater units are small and easy to carry around. They are an affordable option for small places like bathrooms. A good choice for renters, these heaters can be easily moved around the house as needed.
Ceiling Heater – Ceiling heaters are great for bathroom use as they do not take up any floor or wall space. Ceiling heater fans are excellent as they radiate heat evenly throughout the space.
Wall Heater Fans – They can be quite inexpensive, durable and efficient. However, they do require a little wiring and setup for installation. Wall heaters can be attached to the wall on a hook or permanent screws, depending on how much space there is to mount them.
Heater with Exhaust – A bathroom heater with the exhaust is a great device to eliminate humidity and steam. The bathroom will remain nice and toasty and prevent mildew and fungal growth.
---
Benefits of a Bathroom Heater Fan
Let's go through the various benefits of using a bathroom heater.

Steam Control – In a steamy bathroom, running an overhead heater in addition to your fan will help control the humidity and condense any excess water on mirrors or appliances.
Moisture Control – A bathroom heater can prevent moisture accumulation on walls, rugs, baseboards, faucets, and shower curtains. It also dries out the room much quicker than a dehumidifier would.
Improves Health – Research suggests that a bathroom heater improves cardiovascular health through improved circulation. For people with muscle pain or joint soreness, it's especially beneficial.
---
Buying Considerations for Bathroom Heater Fans
Below are some important things to remember while purchasing a heater fan.

Durability – When searching for a bathroom heater, look at its durability and how easy or difficult it is to maintain. Durable models tend to be made from stronger materials with fewer moving parts that break easily.
Heat Efficiency – Since we only spend a few minutes in the bathroom, having an efficient and quick heating system. The best way to gauge your heater's effectiveness is by checking its wattage output.
Safety Features – A bathroom is very wet and humid, which increases the chances of short circuits. A good heater fan can handle all kinds of safety hazards.
Versatility – When purchasing a heater for your bathroom, look for one that can perform more than just heating the air. A bathroom exhaust fan with a heater and Bluetooth is a real thing, and it sounds like a great feature.
---
Reviews: Best Bathroom Heater Fan
Enlisted beneath are some of the top-rated bathroom heaters available on Amazon. We hope you find a product that suits your needs with additional information on the products. Also, any purchases made using links on this page help us earn a small profit. Though, no extra charges will incur on your bill.
We hope you love the products we recommend!
So that you know, We may collect a share of sales or other compensation from the links on this page.
---
1
The Delta heater fan is ideal for your bathroom as it features quiet operation at 1.5 sones and an energy efficiency rate of 7.6 CFM/Watt.
Moreover, they are the best bathroom exhaust fans with light and heaters, as their built-in thermostat regulates the temperature to keep the room comfortable.
Delta's bathroom heater fan is a precision-engineered device with a DC brushless motor. This best bathroom exhaust fan with a heater will outlast many household appliances with such technology.
Also, this unit features a durable galvanized steel construction that resists corrosion and rust for a long time.
---
2
Broan Nutone heater fan features an HVI-certified fan, 100-watt incandescent light, and a 1500-Watt heater function independently or together.
Moreover, the fan's white, polymeric grilles blend into the ceiling, while its whisper-quiet operation keeps you comfortable.
This product can be installed or replaced with the included 4″ duct connector and 24″ adjustable hanger bar system for rapid and flexible installation.
The bathroom heater and fan combo feature an adjustable thermostat that allows you to set the temperature to your liking.
---
3
This space-saving design heats the room with 1500 watts of power and three heat settings.
Along with an adjustable thermostat lets, you choose the right temperature for you.
The Lasko heater Fan has a compact size ideal for any bathroom or bedroom, and it plugs into any standard outlet.
In addition, this heater also features a built-in safety switch that automatically turns off if overheated or tipped over.
Another great thing about the device is that it requires no assembly.
The product also comes with an integrated ALCI safety plug that shuts off power to the device in a fraction of a second in the event of a short circuit.
---
4
The Panasonic WhisperWarm DC FV-0511VH1 is a high-performance fan/heater solution that delivers healthy air and instant warmth to chilly bathrooms.
Featuring a whisper-quiet operation, the Panasonic bathroom fan with heater has an energy-efficient design with an auto-shutoff feature.
Plus, the unit's built-in heater provides 1,600 watts of power for immediate warm air circulation as soon as it is turned on.
The product also offers Pick-A-Flow technology, which allows the user to select the desired CFM output for optimum performance and code compliance.
---
5
The Broan Nutone bathroom heater and fan unit is a powerful 1300-watt heater function that can warm up a cold bathroom.
Also, the 70 CFM blower provides air circulation to keep it fresh and dry. Along with A 4.0 Sones rating makes, this product is whisper-quiet too!
It's IC (Insulation Contact) type allows the unit to be installed into your ceiling, so all but the light and white grille show in your room for a clean and cohesive appearance.
---
6
This bathroom heater features an 8′ throw distance, making it ideal for bathrooms, entryways, and rooms with limited wall space.
StelPro's white epoxy-polyester powder coat finish gives it a sleek look while protecting it from wear and tear.
Moreover, the Air Curtain is perfect for installation outside the shower closure and will not take up any floor or wall space.
---
Index Table: Top-Rated Bathroom Heater Fan
---
---