Corner shower bench seats are necessary to make your bathtime comfortable. They come in all shapes and sizes, making it convenient for everyone at home to use them. However, shopping for shower bench seats may get a little confusing.
So, to make shopping easy, we suggest some perfect, relaxing shower bench seats. Further, we will also discuss the unique features that make them stand out from the rest of the products.
---
Benefits of Corner Shower Bench Seats
A shower bench seat has a lot of benefits. Let's have a look at some of them.

Comfort – Bathing is the only time during everyone's busy life when they get to pamper and care for themselves. Only a comfortable shower bench can make it pleasant.
Body Posture – Many people complain about body aches from standing in the shower for a long time. To avoid that, one must use a shower bench to maintain body posture.
Storage – After taking a shower, the bench can be used for storing other bathing stuff like soap, shampoo, etc.
Multiple Purposes – Apart from using it as a shower bench, it can also be used as a corner stool in the bedrooms and a seat for kids.
---
Corner Shower Bench Seat Materials
The material of a shower bench dictates its performance. Let's find out what materials are used to make them.

Teak Wood – Natural teak wood is eco-friendly and has strong durability. It remains unaffected even if kept in water for a long time.
Bamboo Wood – The soft and smooth bamboo wood makes a perfect shower bench. It is water-resistant and non-corrosive.
Metal – Although metals are considered heavy, a metal shower bench is best because it is beneficial for people prone to leg pain and unable to stand in the shower for a long time.
Marble – Marble is both heavy and expensive. There are chances that it might absorb water because it is porous. Therefore, a marble shower bench must be avoided.
---
Features of a Good Corner Shower Bench Seat
There are various things one should keep in mind while shopping for a shower bench seat.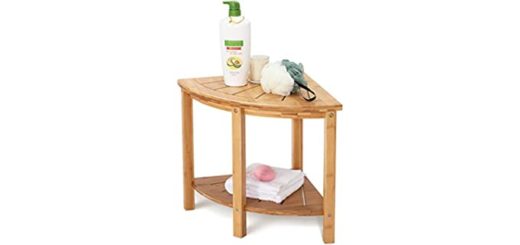 Material – The material used in the bench must be strong and sturdy enough to bear heavy weights. It must be durable eco-friendly, and non-corrosive in water.
Height & Weight – The bench must have a balanced height and weight to allow customers to sit in a cozy space. Benches with high weight capacity must be preferred.
Portable – To shift or move a shower bench, it is essential that it is easily portable. Hence, if you plan to use it for multiple purposes, you must ensure that it can be easily moved from one place to another.
Drainage – Shower bench seats have a smooth surface with small drainage holes. These help the water drain away easily and avoid the accumulation of soap and other substances on the bench.
---
Reviews: Best Corner Shower Bench Seats
Below, you will find some remarkable and uniquely designed corner shower bench seats that will make your bathtime pleasant and exciting. Besides, we would also like to tell you that we may earn some profit every time you purchase an item using the links on this page. However, you will never be asked to pay extra money.
We hope you love the products we recommend!
So that you know, We may collect a share of sales or other compensation from the links on this page.
---
1
---
2
The Teak Wood used in this shower bench seat is sustainably harvested, making it an eco-friendly product.
Its legs are supported by adjustable rubber gripping feet that enhance stability.
Apart from the wood, all hardware used stainless steel; hence, non-corrosive.
It is super comfortable for children as well as elders.
---
3
This relaxing shower chair/bench is best for people suffering from an injury or allows only limited mobility.
Its unique feature is that despite being lightweight, it can easily sustain up to 250 pounds.
A high-quality aluminum frame is used to keep it corrosion-free and durable.
It has a large surface area and small drainage holes on the top. There is no risk of slippage.
The built-in handles help the user take support while sitting or standing and make it easily portable.
---
4
This shower bench is made of 100% natural bamboo giving it a smooth surface.
It has round corners and is extremely sturdy and durable. Additionally, it is very finely polished around the edges.
It is a modern design with a storage shelf below the sitting surface. It can be used to store your bathing stuff.
The rubber pads beneath the legs increase their stability, leaving no scope for slippage.
Besides, this shower bench can be used for multiple purposes. For instance, it can be used as a stool or a corner table in a room, etc.
---
5
This shower bench is designed mainly to support people with muscle problems. Apart from that, it can be used as a stool for kids.
The weight limit for this product is 150 Pounds. Hence, one must follow the weight limit instructions before using it to avoid all the risk factors.
This bench is eco-friendly and suitable for the health care of people of all age groups.
It has efficient water drainage that keeps it from collecting moisture and prolongs its life.
---
6
The shower bench from Ecodecors is a luxury as it is designed to look so natural and comfortable.
The surface is large and smooth. Besides, it can carry a weight of up to 250 Pounds.
It has a shelf below the sitting surface to store other bathing products.
It comes with adjustable height pads that let it stay intact on uneven surfaces.
Furthermore, it has seat slats for proper drainage of water.
---
7
A stunning corner shower bench.
It consists of durable bamboo and is water-resistant.
The shower bench is straightforward to install and has a versatile design with many uses.
It comes in a natural wood finish color.
---
8
This design is ideal for children.
Children can easily reach and use it as a bench chair or storage space.
It consists of durable genuine teak wood.
The color is slightly darker, however.
---
9
The Shower bench features a larger surface space and a shelf for storage.
It consists of FSC Certified solid Teak wood.
The design is water-resistant and very durable.
It comes in a natural wood finish.
---
10
A 100% Bamboo corner shower bench.
It serves as a bench and storage space in your shower, complete with a shelf.
Portable in design and very easy to assemble, making it a convenient piece of furniture.
The design is child-friendly and very safe.
---
Index Table: Top-Rated Corner Shower Bench Seats
---
---