The best shower shoes or sandals can be a real lifesaver when it comes to protecting your feet against germs and injuries and preventing slips and falls in slippery showers.
Public showers have become a hazardous area in today's life, and taking a shower in one without adequate protection for your feet is not the wisest decision.
With that said, there are many superb options and brands of Shower Shoes and sandals that you can use in and out of the shower.
---
Benefits of Shower Shoes
The shower Shoe or Sandals hold much more benefits than just protection against germs;
Non-Slip – A good shower shoe can help you maintain your balance and prevent slipping on wet and soapy tiles in your shower.
Germ Protection – One of the main reasons for a shower shoe, particularly in more public bathroom situations, is protection against germs. Germs can cause diseases and illnesses, which you can prevent by using proper shower shoes.
Foot Protection – Other hazards such as sharp glass, broken tiles, hard rocks, and other hazardous objects may be present in particularly public showers and outdoor showers, in which case a nice shower shoe can protect you.
Requirements – A gym or public pool area may have regulations that require you to wear shower shoes when showering to protect yourself and others against germs and infections.
Comfort – If you have foot conditions or deformities that are painful when standing bare feet, a comfortable shower shoe can relieve this discomfort and provide cushioning.
Eledrly Persons – Older persons and those struggling with mobility may find great comfort in a supportive shower shoe. It can help them keep their balance better inside a shower and provide slip resistance and comfort for standing.
---
Why are the Best Shower Shoes Necessary?
College Dorms – Protects your feet against germs and hazardous objects in the shower.
Public Bathrooms – For germ and hazard protection, as well as being part of rules and regulations.
Vacation Communal Bathrooms – Slip resistance and protection against germs and infections .
Beach Showers – Protection against puncture hazards, germs and dirt.
Gym – May be part of the regulation as wel as for germ protection and slip protection.
---
Features of a Good Non Slip Shower Shoe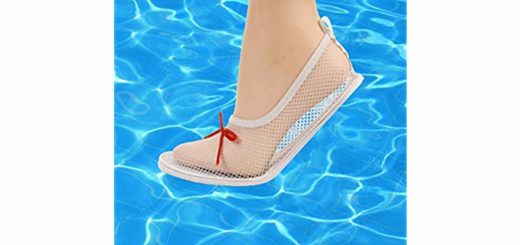 Quality – Durable and long lasting construction.
Water Resistance – They are designed to be able to resist water, such as rubber or EVA.
Protection – Good underfoot protection. Good drainage. Slip-Resistant design Sole.
---
Reviews: The Best Shower Shoes
I have listed a variety of Shower shoes that are ideal for all occasions. All these shower shoes are selected out of different sorts of similar products. You can buy any of these products; however, we may get some part of the sales when purchasing any product from the given list.
---
1
---
2
The ShowaFlops for men is the ideal Shower Shoe treated with antimicrobial technology for the Gym or a shower at work.
It comes in different color options.
A flip flop design is open, easy to put on and take off, and drains water effectively.
Made from comfortable and cushioned EVA foam with a slip-resistant rubber outsole.
Antimicrobial layers and drainage hole designs to protect your feet.
---
3
A favorite among many young people and students is the popular Adilette from the Adidas brand, perfect for wearing in college dorm showers.
Available in many different color options to choose from for men and women.
A durable and high-quality sandal brand with a sporty style.
Ideal for wearing in and out of the shower.
Made from Cloudfoam and EVA, which is soft and cushioned as well as a water repellent.
Open design for good water drainage with a durable synthetic bandage upper.
The rubber outsole is durable and offers excellent slip resistance, even on wet floor surfaces.
---
4
One of the most sought-after Shower sandals I have seen so far is the Vertigo Unisex Shower sandal. It also has a flip-flop design but with a more rugged and sporty style to it.
Made from closed-cell EVA with a durable and slip-resistant rubber outsole.
Ideal for water-repelling and quick drying.
A very lightweight flip flop that is easy on and off.
Safe and comfortable to wear and offers underfoot protection.
---
5
The Beemo is something a bit more different and less rugged, and sport would recommend this is a shower shoe with a closed mesh designed for use at home or in a horizon with fewer hazards in the shower area.
Easy pull-on design in a white color available in men's and women's sizes.
The sole is made from a thick and durable rubber that offers excellent slip resistance.
There are mesh uppers that are soft and comfortable to drain water and keep your feet free from dirt and soap scum.
It can be used in any shower but preferably indoor showers.
---
6
This non-slip bathroom slipper by WOTTE is an ideal accessory for women that increases comfort due to its lightweight and smart design.
It will dry out quickly after you have taken a bath.
The Dotted design allows water to pass through, allowing water to reach every part of the feet.
Apart from the bathroom, you can wear it while going to a swimming pool, washing the car, or watering flowers.
Lastly, the WOTTE bath slippers are easy to clean.
---
7
Another superb addition from ShowaFlops for the ladies with some fun and colorful design options.
Made from a blend of EVA and rubber with a durable and slip-resistant rubber outsole.
A stylish flip flop is available in many colors and fun print options.
Ideal for all shower situations, whether a pool, public, or gym shower.
A drainage hole design with layers of antimicrobial treated materials and a patterned sole for slip resistance.
Fun and comfortable to wear flip-flop design.
---
8
The Clootess Shower slipper is an ergonomically designed sandal suitable for multiple places.
Super-soft rubber with a non-skid design makes an ideal bathroom slipper for everyone.
These slippers are available in more than eight color variants.
The lightweight PVC material can bend easily, thereby enhancing your comfort levels.
They are easy to clean and maintain. The rubber material is durable and long-lasting.
---
9
Vertico is a trusted brand for slippers and shower sandals.
Cool-looking shower flip flops with an ergonomic design to provide excellent comfort.
A soft insole means that your feet won't feel the strain after wearing them for a longer time.
It boasts an airy design that prevents moisture from building up inside the sandals.
Protects your feet from foot injuries and infections that you can get from public showers and swimming pools.
---
10
A simple and cool-looking bathroom slippers made for men protecting them from skidding in showers and around swimming pools.
Highly durable bathroom slippers with anti-slip marks at the bottom.
These slippers are suitable to wear on multiple occasions.
The Funkymonkey men's sandals are available in 7 color variants.
Made from high-quality EVA rubber material, which is environment friendly and does not smell.
---
11
A modern-day slipper from Bumpers has small massaging bumps that give extra support and strength to the legs and feet.
Light in weight and easy to maintain, these slippers are ideal for wearing around pools, spas, and inside the washroom.
Made with a special reflexology technique. It helps massages the feet with acupressure.
Added with better safety as the new design prevents the slippers from skidding.
It always keeps the feet dry because the air passes through the massaging bumps.
---
Index Table: Top Rated Shower Shoes
---
---