Incense cones, similar to incense sticks, are used to enhance the scent of a room, office, or ceremony. They are aesthetic, therapeutic, and ideal for yoga practices and meditation.
This article will take a closer look at some of the best Incense Cones that have a long burning time and come in a range of wonderful fragrances you can enjoy.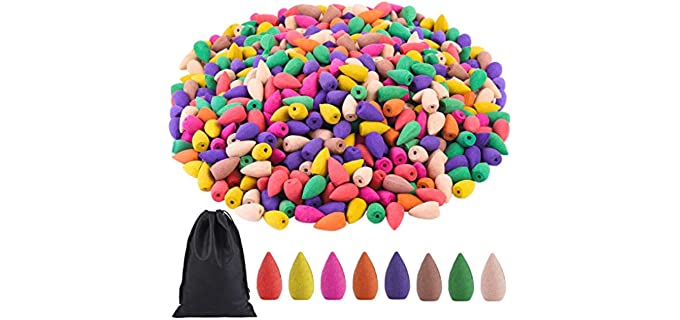 ---
What are Incense Cones?
Incense cones are a conically shaped hardened mass of incense powder rather than an incense stick rolled in the powder.
Incense cones come in many varieties because of a diverse range of ingredients, similar to incense sticks.
Incense cones are more popular in Western and local Indian areas.
Incense does come in so many forms; however, it is a plant matter brunt for its aromatic and spiritual benefits.
Many people are more familiar with the Indian agarbatti incense sticks or the smaller incense cones; however, even natural elements such as wood chips and sweetgrass may be considered a form of incense.
Incense is available in spirals, coils, stocks, loose powders, raw plant materials, and cones, which we will discuss.
Burning incense comes a long way and has been considered an important ritual since ancient times. Incense is believed to have originated from Egypt in the times of the Old Kingdom and was used by priests to fumigate tombs.
However, incense has a long history of being used in conjunction with many rituals, spiritual and religious occasions, and ceremonies.
---
Benefits of Incense Cones
Besides its spiritual and ritual uses, burning incense cones, especially those with more natural ingredients, can have many other benefits;

Fragrance – Most individuals use incense stocks or cones to create a more inviting fragrance in their homes, office, or other areas. Incense can mask bad smells and fragrance your home or business to attract more interest.
Reduces Stress – Many herbs used in incense are well-known for their ability to ease Stress and anxiety. Some are also used for their calming effects and to improve your focus.
Aids Sleep – certain fragrances such as Lavender are known for their soothing effects that can improve sleeping and calm you down. Burning incense can help to relax you and help you to enjoy better sleep.
Meditation – Many times incense is burned for prayer and meditation to create a more relaxing environment.
Stimulates Creativity – Burning incense cones can help to boost your feeling of Creativity with uplifting and inviting scents.
Lovely Scent – The pleasure of burning a lovely scent can create a feeling of happiness and trigger fond memories, as well as improve your mood. It can create a lovely and inviting scent to a room or area that will also be attractive to guests and family members.
---
Features of a Good Incense Cone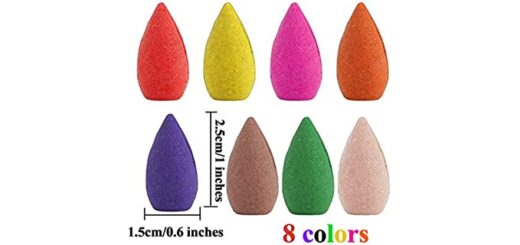 Fragrances – The Incense Cones come in various natural fragrances such as Lavender, sage, Sandalwood, Rose, Jasmine, Ocean, and many more. You get single options with one fragrance or variety packs with a few fragrance options.
Packaging – Incense cones will usually come in sets of 10 or more, which will each contain at least ten pieces of incense cones of a specific fragrance. They are packaged in boxes of cardboard or wood.
Sizes and Uses – Your smaller Backflow or waterfall incense cones have a shorter burning time and are used with a specific Backflow burner. Whereas larger incense cones can be used with other burners or on their own.
Burning Time – The Backflow incense cones have a shorter 5-to-15-minute burning time. Whereas most incense cones will burn for around 35 to 40 minutes.
Colors – Most of the Incense cones do come in colors according to their specific fragrances.
---
Reviews: The Best Incense Cones
Here we have a variety of Incense Cones available in many different options and fragrances;
---
1
The HEM incense cones come in a pack of 12 assorted sets of ten cones, totaling 120 cones.
The incense cones come in scents including; Coconut, Vanilla, white sage, Lotus, Lavender, Patchouli, Myrrh, Sandal, Tangerine, Frankincense, Dragons Blood, as well as a scent called The Moon.
They have a long 35 to 40-minute burning time.
The cones will create a calming and inspirational atmosphere in your home and are so easy to use.
---
2
The Jebrana incense cones are a variety pack with lovely scented incense cones.
The Incense cones are traditionally and naturally handcrafted in Bali by the local Balinese people.
They make for an ideal Christmas or Birthday Gift.
The Cones come in a mix of 6 scents and 60 cones, including Lotus (Padma), Sandalwood, Gardenia, Maha Triloka, and Raja Harum & Dewi Sai (Amber) fragrances.
They are a 1.6-inch size and have a 35-minute burning time and long-lasting fragrant scents.
---
3
The Pavo Cristatus Incense cones are Backflow Incense cones with a waterfall Backflow design.
They are six fragrances with ten cones, including Rose, Lavender, Jasmine, Lemon, and Ocean scented options.
They have a shorter 10-to-15-minute burning time for each cone.
They are ideally suited for backflow incense burners.
---
4
The HEM store also brings you their White Sage incense cone pack that has ten comes in packs of 12 cones each.
You get a total of 120 cones with your package.
The Dhoop Cones contain blended natural ingredients that have a White Sage fragrance,
They are Premium Quality and handcrafted with an exotic fragrance.
---
5
Another superb option from HEM is their Lavender Scented incense cones, which are very popular.
Lavender has a lovely scent that is calming and naturally repels insects.
The Lavender incense cones are premium quality and handcrafted Dhoop cones with a precious lavender fragrance.
They are high quality and come in a case of 12 small boxes, each containing ten incense cones.
---
6
The Aneco Backflow Incense Cones have natural scents and are Waterfall incense cones for spa and yoga applications.
The Incense cones are suitable for low-wind areas, such as your indoor spaces.
You get a package with 600 incense cones in many natural scents from which you can choose as your preference.
They will burn for around five minutes and are a smaller design cone congenially designed for backflow burners.
---
Index Table: Top Rated Incense Cones
---
---