Showers are commonly associated with getting clean and refreshed. So, a shower stall covered with mold and mildew is a disgusting sight and does not feel like a place where you can get clean.
To deal with this issue, we have compiled some information regarding best caulk for showers that will help your shower area fight pesky mold growth.
---
Caulk and Caulk Sealant
Caulk – Caulk or caulking is a moldable material that seals joints or seams to prevent leakage in piping and other such structures. It fills in gaps throughout the structure. The oldest form of caulk was based on a fibrous material. Caulk is ideal for areas with minimal expansion and contraction, as it becomes quite rigid when dry.
Caulk Sealant – Caulk sealants are made of flexible material, most commonly Silicone. The main difference between caulk and sealant is elasticity. Sealants are ideal for areas that may expand or contract. Sealants can be hard or soft, visible, or invisible when dried.
Benefit of Caulk – Buildings age with time. Along with aging, some gaps may appear in areas from time to time. That is where caulk comes in. It can seal those gaps, sometimes without even being noticed. Caulk may also be used in areas where you want to seal off against moisture. Caulk keeps moisture and air outside, where it belongs.
Mold Resistance – First and foremost, caulk is waterproof and moisture resistant. For this reason, it prevents the growth of mold.
Mildew Resistance – As for Mildew, caulk contains an EPA-approved Biocide called 'Mildewcide' that prohibits the growth of mildew for a certain amount of time.
---
The Best Caulk for Showers:Essentials and Procedures
Where to Apply – Apply caulk sealant around kitchen and bathroom sinks, shower and bathtubs, as well as plumbing holes. It may also be used to seal gaps between baseboards and any gaps or cracks in interior framing.
How to Apply – The best method for applying caulk is by a caulking gun and a tube of mold resistant caulk. Most caulk sealants nowadays come in squeezable tubes which are ready to use and easy to apply.
Types of Mildew-Resistant Caulk Sealants and their Features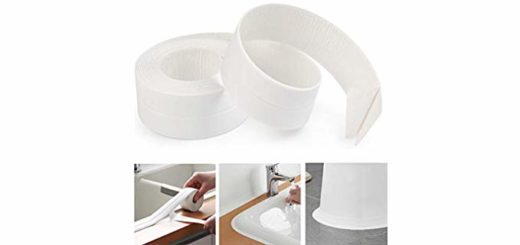 Acrylic Caulk – Acrylic caulk is the best option for caulking of residential buildings. It is particularly excellent in cases of repeated mold infestation, such as bathrooms or other heavy moisture areas. It is ideal for caulking sinks, tubs, and kitchen countertops. It is easy to use and adheres well to surfaces and offers a smooth painting surface.
Types of Acrylic Caulk – Acrylic caulk comes in two varieties, acrylic latex caulk and blended acrylic caulk. Acrylic latex caulk is water-based, easy to use, and even easier to clean. At the same time, blended acrylic caulk is partially siliconized, very durable against moisture seepage, and excellent for areas where moisture penetration is a recurring problem.
Silicone Caulk – Silicone caulk offers the highest mold resistance as it is made of fully synthetic material. It is the choice of professionals for sealing wet and tricky surfaces such as ceramic tiles, glass edges, and porcelain. It adheres to surfaces much better than acrylic caulk. It does not crack and is easy to remove from any mold spores and repatch.
Silicone Caulk Cure – There are two ways to cure silicone caulk. The first way is Neutral caulk, which is ideal for wood and metal surfaces. The other way is Acid cure, which is used for non-porous surfaces such as glass and glazed tiles. But keep in mind that acid cure silicone can corrode metal and may also cause damage to plastic materials.
---
---
Reviews: Best Caulk for Showers
The below list consists of the best shower caulk sealants available in the market to preven mildew and mold.
---
1
---
2
This caulk sealant is clear to make sure it does not ruin your color scheme and style.
The package contains 10.5 ounces of caulk sealant.
It is made of copolymer rubber and is highly adhesive.
---
3
This product comes with a 10-year resistance to mold and mildew growth as well as odors and stains.
It is made in the United States.
This sealant caulk is made of 100% silicone.
GE caulk sealant comes in an easy-to-use squeeze tube and dries clear.
---
4
It is made of waterproof PE material.
This sealing tape offers strong stickiness and powerful adhesion.
It is environment-friendly and non-toxic.
The decorative caulk sealing strip is resistant to acid and alkali, corrosive, and is high temperature and moisture.
The sealing strip offers flexibility and self-adhesion for easy usage.
It can be used in bathrooms, kitchens, walls, and as a dust-proof wall design.
---
5
This versatile sealant is made with 100% silicone.
It dries off translucent clear to not disturb your design.
The silicone sealant caulk is best for sealing gaps and cracks and works on windows, doors, kitchen, and baths as well as plumbing holes.
This waterproof sealant is suitable for both indoor and outdoor usage.
It is mold resistant caulk and does shrink or crack.
---
6
This caulk sealant is made to be used in high-moisture areas.
It is adhesive and provides a durable, watertight seal.
The caulk is flexible.
The Almond caulk sealant is cured and is resistant to mildew growth.
It is easy to clean up, using just water.
This product is manufactured in the United States.
---
7
The caulk sealant is NSF approved.
It is Food-grade and white in color.
The sealant is highly adhesive and easy to use.
It comes with a screw-on nozzle.
The Sil-bond sealant offers a temp-rating of 350F.
---
8
The sealant pen is the easiest to use caulk sealant out there.
It offers a precision application and saves time and effort.
It whitens and cleans already applied old silicone sealants and strengthens them.
This product is non-toxic and all-purpose.
The ink flow is controlled by a bullet nib and offers easy re-sealing without making a mess.
---
9
Repair all your shower types of equipment with ease with this Loctite-made best shower caulk sealant.
The sealant can be used for surface preparation and painting supplies abrasive.
The tube is ideal for repairing and repairing shower tiles.
It works exceptionally well on ceramic, glass, porcelain, fiberglass composites, and aluminum materials.
The sealant does not have an overpowering odor and is non-flammable.
---
10
This highly efficient and strong adhesive sealant is ideal for sticking all kinds of materials with each other.
A Red Devil cap is provided in the tube that prevents it from unnecessary spilling.
It will not create a residue on the surface.
The sealant has a low odor.
The spilled sealant can be easily cleaned up using water.
---
Index Table: Top-Rated Shower Caulk Sealant
---
---