You can now enjoy your camping experience or outdoor travels with the privacy of your shower tent easily at hand and so easy to set up.
The Shower tent is a versatile and must-have piece of camping equipment that can be used as a bathroom tent, shower tent, or dressing tent, and on the other hand, even just for additional storage.

---
Why You Need a Shower Tent
You may be worried about the hygiene of your camping bathroom; in this case, a shower tent can be just what you need.
On the other hand, you may enjoy roughing it in the great outdoors and camping in areas that do not hold bathroom facilities.
The Shower tent is a versatile and useful piece of camping and traveling equipment that is not ideal for giving you the privacy of a shower or bathroom but can also be used for getting dressed and easy on-hand storage.
---
Some Considerations for the Best Shower Tent
The Best Materail – The Material that your shower tent is made from significantly impacts its durability and how long it will last. Most shower tents are made from a 190T polyester or polyurethane material with other materials used for the zip closures, mesh for windows and other parts, steel or alloy, and aluminum or fiberglass for the poles and spikes.
Price – Most Shower tents' prices will vary between around 30 to 100 dollars, generally with more luxury items costing more. Better quality tents and tents with more functional and additional extras are more likely to be more expensive but better in the longer run.
Size – Shower tents are available in different size options, some for one or two persons. One thing to note is your shower tent's height, which will make a huge difference whether you have to crouch or stand straight up, especially if you are quite tall.
Design and Color – The color and design of your shower tent will vary according to different brands and models, and there is a huge range available on the market. You need only choose according to your own personal preference and requirements in this area.
---
Features of a Good Shower Tent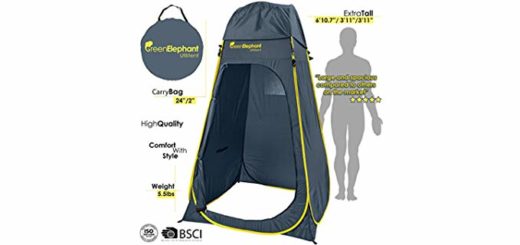 Design – Sturdy and durable construction.
Materials – It has high-quality materials used, such as Polyester and stainless steel. Durable Zipper design. It has a ventilation mesh and bug-proof design.
Size – Tall enough so that a person can stand up straight.
Extras – Additional extras such as storage pockets and hangers for towels and toilet rolls.
---
Reviews: The Best Shower Tents
Here are our top few Shower tents that you will find available today. Also, we would like to inform you we shall earn a small commission with every purchase made through the links in the article.
---
1
---
2
The VINGLI Shower tent is an easy assemble Pop-Up design utility tent.
It is made from high-quality materials with an ergonomic design that is spacious enough for one person.
A heavy-duty door zip closure that is safe and easy to use.
Comes with accessories, including a storage pouches and opening at the top for air circulation and lighting.
Easy to use, pop open, and folds up just as easily.
---
3
From AllNice, we have their rugged and versatile outdoor shower and bathroom tent with a rainfly groundsheet.

Easy pop-up and fold-up design that is available in a green or blue color option to choose from.
Tall and spacious with a Rainfly groundsheet and carry bag.
A bug-proof shoer head hole and large window.
It has a silver-coated design to keep the harmful UV rays away from the insides.
---
4
The Fruiteam Oversized Dressing and Changing Utility tent is also designed to make the perfect shower or bathroom tent.
Very quick and easy to set up with a spacious design.
Made from durable and long-lasting corrosion-resistant materials.
Large enough to hold two persons at a time.
It comes with everything you need for quick installation and clear instructions.
Included extras are mesh storage pockets and outside storage pockets.
A durable zippered closure and 190 Thread count Polyester were used for the tent material.
---
5
From Alvantor, we have their superb Shower tent model of the most exceptional and most durable quality for all your camping and traveling needs.
A Freestanding Shower tent is very easy to assemble and comes with all you need for easy installation.
There are side shelves and mesh storage pockets for added storage.
The mesh roof vents and a retractable floor allow better ventilation and cleaning.
Fully equipped with a side window, stakes, guide ropes, and a carry bag.
---
6
The Your ChoicePop-Up Shower and Utility tent is easy to use, durable and has a spacious design.
Spacious enough for a single person and ample ventilation.
It has a functional design with storage pockets inside the walls.
Versatile and practical, it can be used as a shower or toilet tent or a tent for dressing.
Constructed from very durable and resistant 190 D polyester with zip closure.
---
7
The HAWAYBETT Outdoor and Camping Utility tent is ideal for a Shower tent, Bathroom tent, or just for dressing and storage.
It has a very tall and spacious design for two people.
Inside are mesh shower racks and storage pockets for your convenience.
A large zippered D-style door with heavy-duty polyurethane coated silver walls and removable top cover to keep the moisture away.
The steel poles are rustproof and durable, with speed clips to secure the shelter to the frame.
There are mesh windows with zippered storm flats and a large ventilation entrance.
---
8
From Mrinb, this highly versatile and durable privacy shelter is perfect for use as an outdoor shower tent option.
The tent is made from high-quality anti-rust materials with a sturdy fiberglass frame.
It has a strap outside the window to hold your clothes and keep them dry and a polyester anti-light coating.
It comes with everything that you need for quick and easy installation.
An abrasion-proof multifunctional design has good drainage and keeps your feet clean when showering.
It is a compact and easy-to-use design.
---
9
The Cleanwaste shower tent has a quick-deploy set-up that takes a few minutes.
It also dismantles at a smooth pull and a snap of poles and hinges without any tools.
The tent is zippered for your privacy and has a floorless base to be functional.
It has a three-ground flap design, and three screened windows for ventilation.
This no assembly private shower tent is ideal for your comfort while camping and trekking.
---
10
Consider this Abco Tech shower tent that is lightweight and portable to camping locations.
It has an innovative pop-up design for easy assembly and stays sturdy throughout use.
The foldable design of the tent makes it compact and hassle-free for use.
It comes with a carry bag design to store your toiletries and dry your clothes.
The tent can be set up anywhere in a few minutes and does not take up much space.
---
Index Table: Top Rated Shower Tents
---
---