Are you looking for the best bathroom exhaust fan? If yes, then you are in the right place as we have made a list of the top six exhaust fan for the bathroom. All these fans are both cost-effective and highly functional.
Also, the article will guide you through the things you need to take into consideration while buying a fan for your bathroom. So let us go ahead and start by understanding why you need bathroom exhaust fans.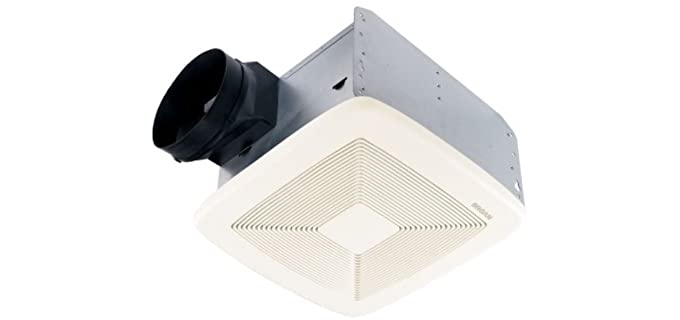 ---
Why Need Bathroom Exhaust Fans?
Adding a bathroom exhaust to your bathroom is your personal choice. But there are surely many advantages of adding it such as:

Odor Elimination – The most useful benefit of adding a bath exhaust is that it can release the trapped stale air and prevent having bad odor in your bathroom.

Better Air Quality – Most products in our bathroom is made up of chemicals. On mixing with air, they can affect our respiratory system. Therefore an exhaust saves you from this situation by cleaning the air.

Moisture Control – Having moisture in your bathroom can be damaging for the walls. Hence an exhaust fan helps in reducing the humidity and moisture.

No Foggy Mirrors – Having foggy mirrors in bathrooms is the most common problem for every person. An exhaust fan, however, can solve this problem for you.

---
Types of Bathroom Exhaust Fans
The following are the types of different exhaust fans for your bathroom.

Ceiling Mounted – These are a suitable option for bathroom having false ceilings as they take out the air through a top ceiling vent.

Wall Mounted – Bathrooms that are designed at the corners of a house usually prefer this exhaust fan style.

Exterior – These kinds of fans pull the air from the bathroom and push it outside. They are completely noise-free.

Inline – These kinds of exhaust fans are suitable for bathrooms that have no air ventilation option. They are mounted on the ducts and expel the air from the same.

---
Buying Considerations for Bathroom Exhaust Fans
Look out for the following features while buying an exhaust fan for your bathroom.

Installation Location – The foremost thing to consider is where you wish to install the fan. Accordingly, you will have to buy that type of exhaust fan.

Noise Level – If you are a person who can not tolerate the noise of a fan, then it is better to go with exterior fans or fans having noise less than 0.3 sones.

Exhaust Duct Size – It is always better to measure the duct size of your bathroom and compare it with the fan that you are selecting. This saves you from the later trouble of exchanging them.

Electrical Needs – Make sure to check the electrical ratings of the fan before buying it. You do not want to pick a fan and disrupt your current electrical system of the house.

---
Reviews: Best Bathroom Exhaust Fan
Below given is the list of best exhaust fans for your bathroom that will make your bathroom air more fresh and clean. We would also like to inform you that for every product you purchase through the given link, we might receive a little credit amount for sale.
---
Enjoy your bath without getting clustered with fog all around with this Win Air bathroom exhaust.

This is specially designed for a duct size of 4 inches.

It is incredibly efficient in reducing the moisture from the air.

It has a noise rate of 0.3 sones and produces very minimal noise.

The grill style design of the fan works with all bathroom decors.
---
2
This Homewerks Worldwide made LED Bath exhaust fan is the perfect pick for your bathroom.

The fan has a beautiful design with a finishing of brushed nickel.

It is highly efficient in removing all the bad odors from your bathroom.

The fan has a ceiling mounting and is easy to install.

The galvanized steel used in its making makes it corrosion-free.

---
3
This panasonic made exhaust fan for your bathroom is highly functional and provides you the freedom to enjoy your bath.

It is energy efficient and keeps your energy charges low.

The fan has a noise level of 0.3 sones keeping its working extremely silent.

It is very effective in eliminating the humidity and moisture from the bathroom.

The fan comes with a speed selector switch that lets you manage the speed at which you want to operate it.

---
4
The LED embedded Tech Drive exhaust fan is a great choice for your bathroom.

The noise rate of 1.5 sones ensures there is no noise disturbance.

A 13W white light is embedded in the fan that provides an amazing glow to your bathroom.

The fan is highly efficient in removing odor from the bathroom.

The installation of the fan is easy and requires no access from the other side of the ceiling.

---
5
This bathroom exhaust ceiling fan built by Broan-Nutone is a wonderful addition for your bathroom.

The fan is multifunctional and will take care of smoke, humidity, and odor from your bathroom.

It is extremely easy to install and include all the installation accessories in the package.

The fan runs on 110 CFM and provides excellent working performance.

The fan is noise-free and has a noise level of 0.7 sones.

---
6
Make your showering experience enjoyable without any fog with this powerful Delta Electronics exhaust fan.

It has a noise level of 2.0 sones and does its working in absolute silence.

It is built for energy-saving and reduce bill costs by 85%.

The fan has the availability of both wall and ceiling mounting.

The embedded DC motor is tested for a continuous run of 70, 000 hours.

---
7
Consider this Bewox bathroom exhaust fan that is silent in operations with an airflow of 80m³/h.

It has a durable frame with corrosion-resistant ABS plastic blades to provide ventilation in the bathroom.

The fan has an optimal fan design that works efficiently without consuming too much power.

Moreover, the premium build and copper coil motor ensure long-lasting use in your bathroom.

The fan is waterproof and convenient to use and install with minimum space requirements.

---
8
The Hauslane ultra exhaust fan circulates fresh air while removing moisture filled air from the bathroom.

It has a 6W LED light panel to keep your bathroom illuminated for convenience.

The fan has an extremely efficient CFM ventilator that can remove odors and damp air from the bathroom.

You won't feel disturbed by the operation of the fan with its ultra-quiet functioning.

Additionally, it comes with double hanger bars to position the fan safely with connectors and joists.

---
9
Get the BV bathroom exhaust fan that has a clever silent technology to run as if it was not even working.

It has a sound output of 2.0 sone for super quiet and effective performance.

The fan is made of a stainless steel body with a 4-inch collar that fits in an area of 10.5″ x 10.5″.

It can efficiently ventilate a space of up to 150 sqft and draw in the fresh air.

Your bathroom will smell nice and have a healthy air quality with the use of this fan.

---
10
The KAZE APPLIANCE exhaust fan comes with an LED nightlight to keep your bathroom illuminated.

It accommodates an area of 11 3/8″ x 10 1/2″ to ventilate a bathroom with a 90 square feet structure.

The fan is an energy star qualified to save electricity and save up on the bills.

Moreover, the components of the fan are well insulated and lubricated for trouble-free continuous use.

---
Index Table: Top-Rated Bathroom Exhaust Fan
---
---