Your bathroom or shower can accommodate so many handy and decorative accessories, all of which can improve the appeal of your shower or bath and make your showering experience so much more enjoyable. One of these convenient and appealing accessories is the Shower bench, which can be used as a stool, storage table, or shaving lift.
---
Some Superb Benefits of The Shower Bench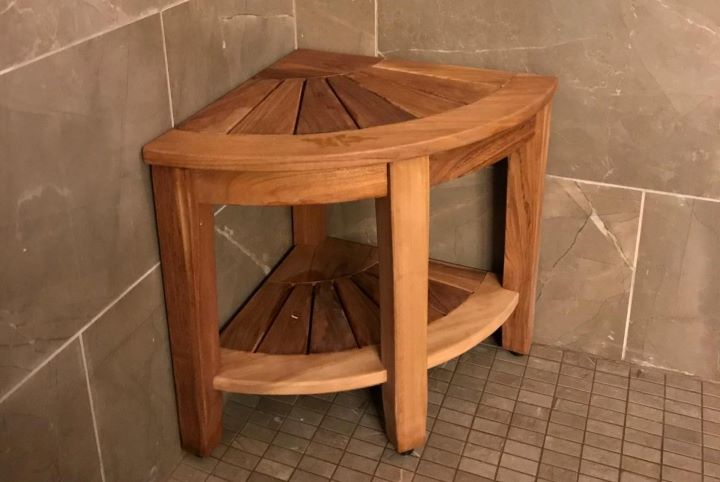 As I have mentioned before, the bench for the shower is a very functional and decorative piece of furniture that you can use in the shower or your bathroom, and this is for many reasons;
Storage – You can use your bench to store and keep your soaps, shampoos, shower equipment, and tools neatly and easily at hand.
Design and Appeal – The bench for the shower can give a decorative appeal to your shower and bathroom and create a stunning ensemble. There are many different designs, materials, and colors to choose from to match your bathroom décor.
Relaxation – These benches can create a spot for you to enjoy a Spa relaxation experience and comfortably rest while steaming up or having a gentle shower spray on your body.
Accessibity – Many individuals struggle with mobility and have limited accessibility; therefore, such a bench can help create a safe and comfortable spot to enjoy your shower.
Shaving – For the Ladies, a bench for the shower is an ideal piece of equipment to rest your foot while shaving your legs for easy reach and convenience.
Convenience – All in all, the shower bench is convenient storage, seat, shaving stand, and spa spot, among many other things, to make your life easier, along with having a decorative application.
---
Materails Used to Make a Shower Bench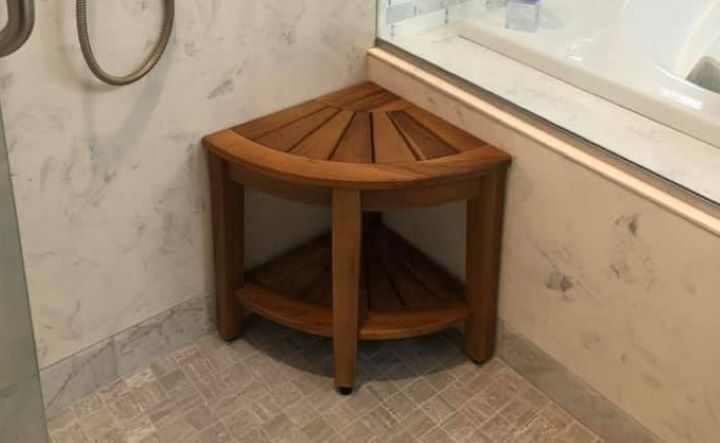 Bamboo – Bamboo is a sustainable material from a natural source that is eco-friendly, completely safe, and non-toxic. Bamboo has excellent properties such as holding up in a wet environment, in your shower, being mold and mildew resistant and being completely hypoallergenic. Besides, this Bamboo is also very durable and tough with some flexibility. Thus making it the ideal material for an in-shower bench.
Plastic – Plastic is durable, safe, and very easy to clean and keep clean; it also offers some slip resistance and is an affordable material. Plastic makes for good material in a bench for a shower that can come in any shape, size, or color.
Aluminium – The two main benefits of aluminum are: extremely lightweight and rust and corrosion-resistant. Therefore it is an excellent option for shower furniture or bench materials. Normally, a bench's frame will be made from Aluminium in its original finish or powder coated and colored.
---
Features of a Good Shower Bench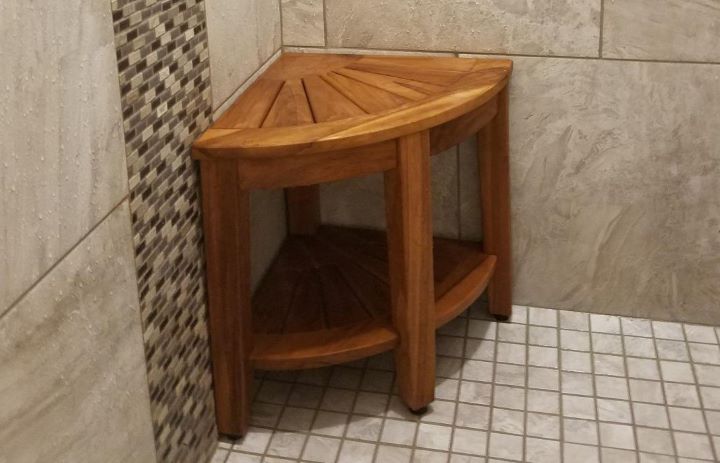 Drainage – Built-in slates and drainage holes drain soaps and water from the bench.
Storage – Additional storage shelving.
Construction – Sturdy and durable design that can hold from 200 up to 400 lbs.
Seat – Adjustable height settings. Non-slip seat and legs that prevent slipping.
Materails – It is made from Bamboo wood, plastic, or aluminum that will not rust and is water-resistant and safe.
Handles – Handles on the sides for immobility issues and a sturdy suction on the legs to prevent slipping.
---
Reviews: The Best Shower Bench
These are some of your best selections when it comes to Shower Benches;
We hope you love the products we recommend!
So that you know, We may collect a share of sales or other compensation from the links on this page.
---
1
---
2
It has an anti-slip design bench for a shower that is adjustable and comfortable.
Features an anti-slip surface with drainage holes and rubber safety tips on the bottom to ensure your safety.
The seat is adjustable in height to accommodate all users.
Heavy-duty aluminum legs and a durable and water-resistant plastic seat.
It can support weight up to 250 lbs and will fit effectively and efficiently in your shower.
---
3
The Widousybench is made from the most exceptional quality waterproof bamboo with two-tier wood storage and seating design.
Use this bench in your kitchen, bathroom, or shower for quick and easy convenience.
It is a 2 tier bamboo bench or stool with seating and storage.
Stylish design and multi-purpose use, for seating, or storage or shaving.
It fully supports a full-sized adult up to 220 lbs and is safe and secure with a large, contoured, water-draining seat.
The vented built-in slates allow soap and water to pass through and prevent build-up.
---
4
It has a premium quality Bamboo wood shower bench and stool, handmade with the most beautiful bamboo wood.
Bamboo is naturally hygienic, mold, mildew resistant as well as waterproof.
It has a sturdy, safe-to-use design built to last and comes with a convenient shelf.
---
5
The EcoDecors Waterproof Shower stool and bath stool are convenient and easy to use, a must in every shower.
A stylish design with multi-purpose use as a spa stool, leg shaving device, or a comfortable shower bench.
Farmhouse design with a Polypropylene frame and legs and is grey.
It is durable and low maintenance and can hold up to 300 lbs. And is ideal for individuals with mobility issues.
It has a waterproof design that is safe and comfortable to use.
---
6
From Carex, we have a universal bath stool and bench that can support up to 400 pounds and is height adjustable.
A comfortable bath seat can easily hold up to 400 pounds and has a sturdy and water-draining design made from durable plastic and metal frames.
The seat's height is easily adjustable to accommodate individuals of all shapes and sizes.
Very easy to assemble and requires no tools for assembly.
There are built-inside handles, and it has non-slip feet that reduce fall risks.
The ideal bench for heavier individuals and individuals who struggle with mobility issues or need a more supportive shower device.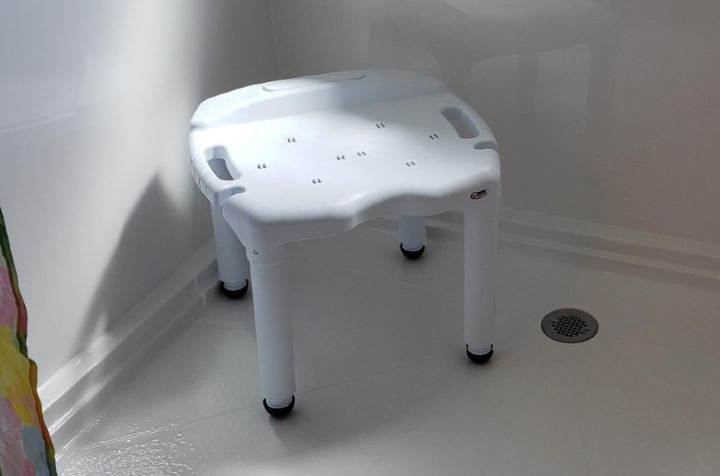 ---
7
The Unforestic is a 1005 natural bamboo shower bench that is safe and comfortable and has a folding option.
It is made from the most elegant natural Bamboo that is moisture resistant and purifying to relieve fatigue and significantly benefit your health.
A curving seat that drains water quickly and effectively dissipates heat.
The compact and foldable design makes it portable and very easy to store.
No assembly is required. Just use it as-is out of the box.
This very appealing bench will add to your bathroom's decor and theme and double as a functional and versatile piece.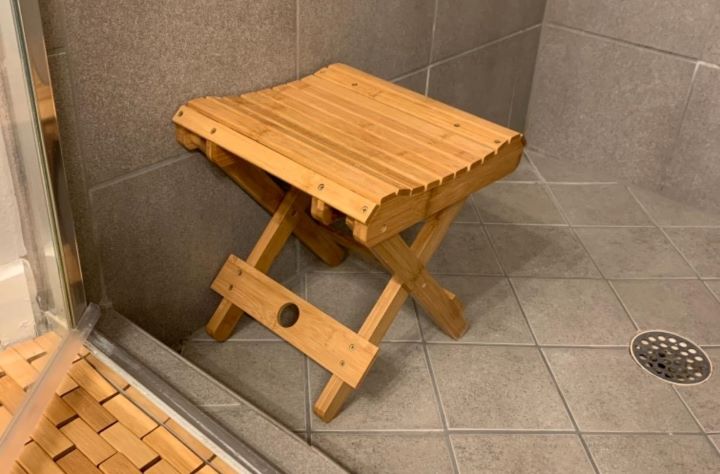 ---
8
Get this versatile Honey-Can-Do heavy-duty top shower stool that has a lacquered appearance.
It has a zero fabric design to ensure no degradation over time.
The Bench has a large seated area contoured for comfort and stability in the shower.
Moreover, it has a solid bamboo construction that is moisture resistant and easy to clean.
The bench is easy to assemble and comes with a quick assembly tool.
---
9
Get theDrive Medical white shower bench that ensures a safe and secure shower.
It has an anti-slip seat surface with drainage holes, so water does not collect on the surface.
You can adjust the height of the bench according to the requirements.
It is durable and one of the best shower stools with aluminum legs that are corrosion resistant and can withstand up to 250 pounds.
---
10
Consider getting this Zhuoyue compact bench if your shower area is not that large.
Shower comfortably with this sturdy rounded shower bench made of 100% bamboo.
The material is waterproof and provides a smooth non-slip surface to sit on while showering or shaving your legs.
You may also use the bench to store the extra toiletries in the bathroom.
The bench's assembly is easy and can be done in under fifteen minutes.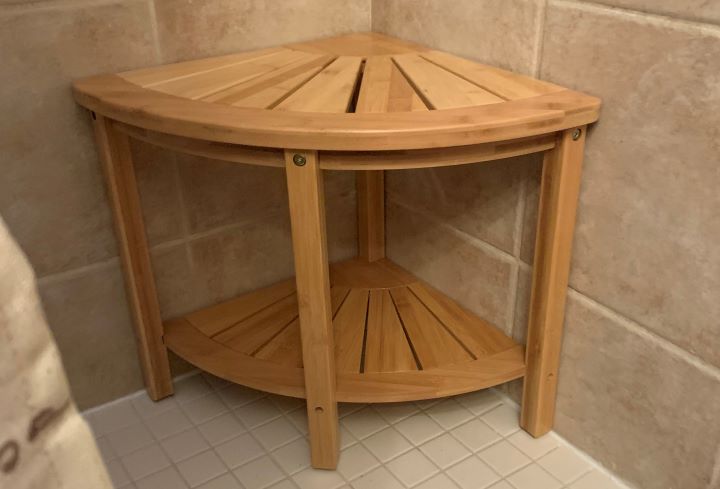 ---
Index Table: Top Rated Shower Bench
---
---