The Shower Water dental Care Flosser is not just another gimmick; it is a highly effective and versatile dental hygiene and cleaning product that surely works.
A water flosser or irrigator helps clean and floss your teeth while you are in the shower for much better dental health and easy cleaning of your teeth.
---
Why Shower Water Flossers?
A water flosser shoots a small high-pressure stream of water, which is used to dislodge small particles of food stuck between your teeth and rinses bacteria off your teeth. So, in a nutshell, it does almost the same as flossing with other benefits also.
A good Water Flosser removes Plaque and protects your teeth and gums, not something that string floss does. Biofilm, an extremely tough coating of plaque that is very difficult to strip away with any other method, can be effectively cleaned and stripped using a water flosser.
A Water Flosser in your shower will either consist of a rechargeable device with a water tank to store water or a battery-operated device; then, you also get models attached to the faucet of your shower using the water from the shower as a high pressurized stream in cleaning your teeth.
Still, not convinced, well then check out these proven benefits of a Shower Water Flosser;
Popularity – First and foremost, it has been calculated that manual flossing is only performed by 14% of individuals in America daily. Manual flossing is not something that people enjoy or commit to, whereas Water Flossing is easier, less hassle, and, to put it plainly, much more fun to do than manual flossing.
Sensitive Gums – Individuals with sensitive gums may bleed and be hurt when using manual floss, whereas water flossing is much more gentle on your teeth and gums, so it's a much better alternative.
Poor Dexterity – Manual flossing can be pretty hard, in general, to reach everywhere in between your teeth, and people with poor dexterity may find this even more difficult. Water Flossing is just so much easier and requires hardly any effort or skill at all.
Braces – One of the most effective methods to remove food particles and clean between your braces is Water Flossing; there is just no other method that compares to it.
More Effective – water Flossers are just so much more effective at cleaning your teeth in general, removing plaque, food particles, as well as the very tough Biofilm.
---
Benefits of Using a Shower Water Flosser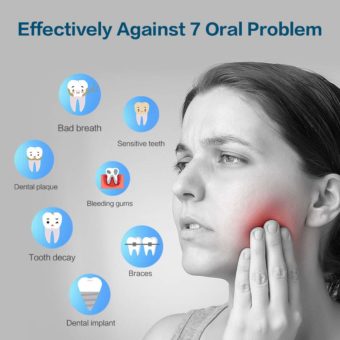 Ir reduces periodontal infection.
Safe and Gentle around implants.
Removes plaque better than manual floss.
Effective on braces.
Budget-friendly and saves you money on the floss.
Safe and very easy to use.
Attaches neatly in your shower.
Clinically proven and evidence-based to be better than manual floss.
It gets deeper into the tooth pockets for cleaning.
Gentle on orthodontic devices and artificial teeth, as well as on your gums.
Excellent for individuals with diabetes who tend to develop periodontal disease.
Reduces pain and inflammation.
---
Features of a Good Shower Water Flosser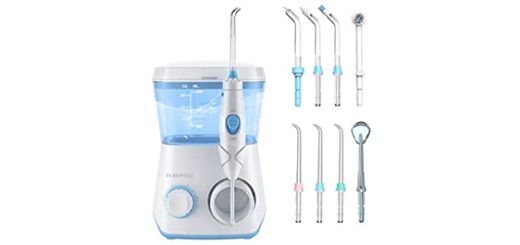 Type – USB rechargeable, battery operated, attaches to the shower faucet.
Power – High power stream ejectied for effective cleaning.
Attachments – Different attachements for teeth and gum cleaning as well as Irrigating.
Waterproof – Waterproof and rustproof design that works in the shower.
Storage – Comes with a storage suction cup or attachable rack to use inside your shower.
---
Reviews: The Best In-Shower Water Flossers
Here are some of our top picks in the Best Shower water Flossers.
Please also note that this page includes affiliate links.
---
1
You get an exceptional cleaning with water pressure and pulsating action, and the cordless express offers the convenience of water flossing in the shower or on the go.
The versatile and portable design makes it easier to carry it with you.
The Waterpik shower flosser has 3 AAA batteries; no charging or outlets are required.
Its tank volume is five fluid ounces and offers two pressure settings, 30 seconds of floss time, and a water on/off slider.
This efficient shower Waterpik flosser removes 99.9% of plaque and is 50% more effective than normal string floss.
---
2
The Pibidi water Flosser and Professional dental Oral Irrigator is portable and waterproof, ideal for use in the shower.
Features 3 different flossing modes from Normal to soft and a pulse mode for your different oral care needs.
It comes with an upgraded water tank that is much more efficient.
A powerful battery that lasts up to 10 days when fully charged and charges fast.
You can easily use a dual waterproof design to prevent leakage in the shower.
---
3
Need an affordable and effective water flosser without having to spend on manual dental floss every month? Well, then this is the one for you.
It comes with an easy storage rach that you can attach to your shower.
Powerful and highly effective.
Durable design with different nozzle attachments.
Will reach all those hard-to-reach areas that are always s an effort.
---
4
The Zerhunt is a cordless water flosser and professional dental irrigator that is rechargeable and waterproof for easy flossing inside your shower.
It comes with three interchangeable heads and a charging system.
Cordless and easy-to-use design.
There are four easy flossing modes, from gentle to more Point controlled and targeted flossing.
Highly efficient with an anti-leakage design.
Portable and compact with a long-lasting and newly improved battery system.
---
5
The Luctao® has a classic clean shape and Jet Interdental brush and Flosser for effective SPA cleaning.
After meals, you can flush your teeth, brush, and use the flosser nozzle for deeper cleaning.
It needs no electricity or batteries and is completely noiseless.
It comes with five different attachments.
Deep cleans easily and effectively for complete dental care.
---
6
From DXXCV, the Oral Irrigator and Water Jet flosser are introduced that is easily installed in the faucet of your shower and comes with a unique storage base.
Connects directly to your shower faucet with an aerator filter included, so no batteries or cords are required.
Easily clean and floss your teeth with a quality water pressure trickling system.
Stylish and elegant design in your bathroom with all the attachments you need for easy installation.
It offers effective dental cleaning and hygiene.
---
7
The Remylady detail SPA water Jet and Irrigator Flosser is complete tooth care set that you can place in your shower.
Easily attach the device to your shower faucet with the included food-grade PVC Hose and connectors.
It comes with different jet tips and three toothbrush tips.
Included is a handy storage wall rack to place inside your shower.
A complete dental care system in one.
---
8
Get this TUREWELL adjustable water flosser to remove plaque and bacterias from the teeth after each meal.
It comes with 360 degrees rotating nozzle design that can reach the hidden section of the teeth.
The Flosser is ideal for sensitive teeth that need effective cleaning to prevent gum pains.
Moreover, it comes with eight different nozzles to ensure cleaned teeth for the whole family.
---
9
The Oral Breeze water flosser has an effective design to remove any food debris from your teeth.
It is effective against halitosis, gingivitis, and periodontal conditions and keeps your teeth healthy.
The tool is safe to use and poses no risk of bacterial growth in your teeth, unlike the invasive cleaning tools.
It is made of chrome-plated brass without plastics to ensure a non-toxic material.
---
10
The NicBox dental flosser has a sturdy build and is convenient to use while showering.
It has a pulsating pressurized action to remove any food particles and bacterial growth from the teeth.
Moreover, it has four different modes to choose from as per your cleaning needs.
The Flosser has an FDA-approved compact design that will give you a fresh mouthwash after each meal.
---
11
The ShowerFloss will take your dental cleaning to a whole new level with its professional functions.
It has an anti-plaque design that removes any buildup from the teeth and massages the gums for strengthening.
The Flosser is ideal for cleaning the deep pockets are crevices of the mouth where the brush cannot reach.
Moreover, it has a universal design that fits all standard showers and is installed in minutes.
---
Index Table: Top Rated Shower Water Flosser In Shower
---
---