Washing machines are notoriously big and expensive. But now there's something for everyone who lives in a small apartment or is tight on space – a small portable washing machine! Smaller than most dishwashers, these little guys will clean your clothes without taking up too much space.
It also doesn't need to be hooked up to any plumbing, perfect for people living in apartments with shared laundry facilities. So check out the best ones we have shortlisted for you!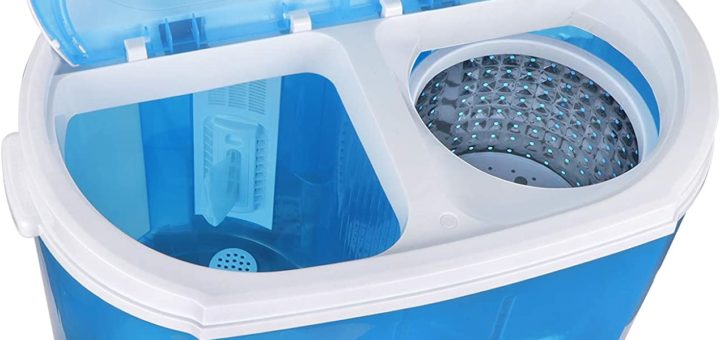 ---
Do You Need a Portable Washing Machine?
Let's see if the portable washers are actually worth the hype for you.

Limited Space – If you reside in a super-compact apartment, having a regular washing machine occupy the floor space might not be an option. So you must invest in a portable one that can be stored aside when not in use.
Frequent Travellers – If you are into traveling to remote places, in an RV, or other means, these portable washers might just be the thing to eat with your dirty linen.
Tight Budget – Lack of budget could be another reason you might want to get a portable one that comes with a much lower price tag.
---
What to Look for in a Portable Washing Machine
Just a few of the following features.

Drain Functionality – Check for the kind of drainage system the portable washer is equipped with.
Water Level – apart from the weight capacity in terms of laundry, check how much water the machine needs and can hold within. Also, check for water inlet options whether you will have to add water manually.
Washing Cycles – The more the washing cycles, the more options you have in terms of the types of clothes you can use it for.
Weight – Being portable, the machine must be light on weight. However, most of these are still at the 6 to 10kg mark.
---
How Does a Portable Washing Machine Work?
Have a sneak peek at the working of this portable washer from Garatic.
---
Reviews: Best Small Portable Washing Machine
Here are the best small washing machines and dryers that are apt for travelers and small spaces. But before you check them out, please note that this page includes affiliate links.
---
1
This portable washer has sufficient room to clean up to 7lbs of your clothes.
It is space-saving and has understood digital controls and six washing programs.
Also, its exterior has a durable build with chrome decoration and a metallic silver outlook.
The transparent tempered glass keeps you updated about the machine in action.
Its tub is made of stainless steel, and the machine offers six levels of water settings.
The drying process is also impressive as the tub rotates up to 800 RPM.
Also, the drainage and assembly are good, and it ensures that there will be no unnecessary water leakages.
---
2
This small portable washing machine can save you tons of time by washing and drying your clothes in no time.
You may either use one of the functions at a time or even both.
It is equipped with a 1300RPM powerful motor along with rotary controls for better washing.
The maximum washing time is up to 15 minutes, while the spin time runs for 5 minutes.
Besides, it is lightweight and space-saving, making it convenient enough to even lace in an RV.
---
3
This mini washer has been designed explicitly for smaller laundry and is not suitable for full-size clothing like pullovers or denim.
However, baby clothes, not-so-bulky tops, and lowers that are no more than 1.8 lbs can still be washed in this cute mini washer.
It comes with a drainage pie, but you can also pour in the water manually to speed it up.
Though its soft spin won't completely dry your laundry, the drain basket will ensure that enough water is drained such that the clothes won't drip water.
This product is suitable for small apartments, RVs, students, etc.
---
4
This no electric portable washing machine is a must-have for dorm room students, smaller apartments, etc. it's even great for camping, where there is no or limited access to electric power.
It is pretty small, such that each load can wash up to a large bath towel, which is equal to a 5-pound capacity.
To make it work, you will have to crank the machine manually.
It also saves about 90%of water and is safe enough to wash woolens, silks, knits, etc.
---
5
This is perhaps one of the most miniature twin tub washing machines that can be used for laundry that's up to 5.5 lbs in weight.
It will prove to be a brilliant purchase for washing smaller laundries very quickly and efficiently.
The maximum washer timer is 15minutes, while that for the spinner is 5 minutes. You can use one or both of these functions simultaneously.
Also, it saves water and rinses the clothes very well for its size.
The quality construction of this washer also ensures that this is going to be a good investment.
---
Index Table: Top-Rated Small Portable Washing Machine
---
---