The process of choosing the perfect lighting for your bathroom design could be quite exciting and overwhelming at the same time. You still want to keep the bathroom's overall style and cohesive while having functional lighting that serves a useful purpose.
Especially if you have a vanity area, you want proper lighting and visibility.
One type of lighting that works especially well in a bathroom vanity area is sconce lighting.
The best sconce lighting can be functional and highly decorative, and so many styles can choose from.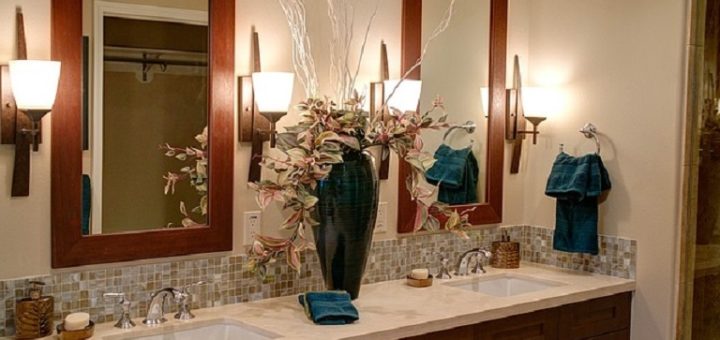 ---
How Bathroom Sconces Enhance Your Home
Unlike most other lighting fixtures and larger lamps used in the bathroom, wall sconces can be appropriately used in almost any home area.
However, this article will focus on designs that work well in a bathroom.
So why should you choose a wall sconce as a lighting option for your bathroom?
Accent Lighting – The original wall sconce originated from the old-fashioned Tiki torches and burning torches hung on the walls in medieval times. Modern sconces have come a long way since, and one of the most popular ways to use them for accent lighting. Whether to highlight an art piece in your bathroom or a vanity mirror, they make for the perfect accent light options.
Ergonomic in Design – Sconces are ergonomic lighting methods that you can use in your bathroom to perform tasks such as doing your hair or makeup. They can be placed on either side of your vanity mirror on the walls to create stronger light to have better visibility in the mirror.
Ambience – Sconce lights used in the proper strength, amount, and layers can create the perfect ambiance in your bathroom. They can be used for accent lighting, as well as for ambient lighting.
Space Saving – Sconce lights in any area of your home will save space. They offer functional lighting without being in your way, especially in the bathroom, where you need space more readily. Sconce lights are mounted on the wall and will not take up much-needed space in your bathroom. –
Styles Size and the Shadows – Wall sconces come in a large variety of options regarding size, style, and type of shadows. The sconce light's direction can create decorative shadows in your bathroom.
Candle Sconces – The Candle sconce is a type of sconce light similar to candles because of its dimmed lights, You can make this a permanent fixture in your bathroom by adding a few candle sconces to create serenity and warmth.
A Luminous Statement – You can use multiple sconce lights to create more drama and add ambient lighting to your bathroom. You can use sconce lights in multiple ways to alter visuals, such as placing them in a bathroom with a low ceiling, illuminating parts of the ceiling, and creating a more airy look in the bathroom.
---
How to Use Bathroom Sconces Correctly
We will often brag about sconce lighting that flanks the vanity mirrors in our bathrooms, creating the most flattering and functional light.
However, there is a correct and incorrect ways to use sconce lighting in your bathroom if you want to get the best and most gratifying light from the sconces.
To use sconce lighting with a mirror, you need to flank the mirror around 18 inches from the sink's centerline. Then it would be best to mount the sconces 36 to 40 inches apart.
If your sconces have shades, you need to put the bottom edges of the shaves slightly below eye level, around 0 t 70 inches from the floor. By doing so, you will reduce glare and ensure that even the tallest person in the space can not see down into the sconce.
You should also allow four inches of space on either side of the mirror if you want to flank your bathroom mirror with sconces.
Most sconces with frosted r opal glass are ideal for vanity mirrors because you will not get any glare from the bulbs. LED-wall sconces are a great option for long-lasting and efficient illumination.
---
Features of a Good Bathroom Sconce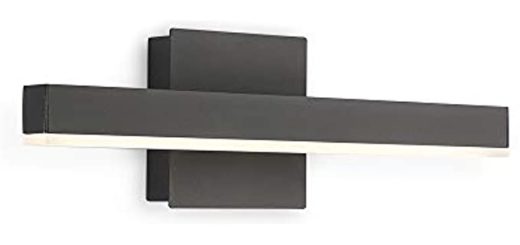 Design – There are many different wall sconces designs available, so you will need to choose what suits your home décor and functionality requirements best.
LED or Bulb – LED lights last longer, are more energy-efficient,, and provide sufficient light. Bulbs, however come in different shade options and may also have a much more bright light if needed.
Mounting – Make sure everything is included, with instructions for mounting the sconces to your bathroom walls. You may also need some additional tools to do so.
---
Reviews: The Best Bathroom Sconces
Here are some of our top favorite bathroom sconces. You should be able to find a style here that suits your bathroom perfectly;
We hope you love the products we recommend!
So that you know, We may collect a share of sales or other compensation from the links on this page.
---
1
The Shinetech wall sconces come in two sets with a brushed nickel finish.
They are a modern design with very durable construction,
The Sconces require an E26 standard base for mounting.
They are LED and incandescent.
---
2
The Folksmate Wal sconces are a modern design for your bathroom.
You get a set of two wall sconces that have a clear glass shade,
They are farmhouse design lamps if you love this design feature.
The sconces support LED CFL and other E26 base bulbs.
---
3
From Kira Home, we have the Duo bathroom wall sconces.
They are 14 inches in size with a very modern design.
The sconces have frosted glass shades and a chrome finish.
The Duo s likewise dimmer compatible.
---
4
From Joosnwell, we have a single wall sconce.
The design is ideal for mounting above your vanity mirror for proper illumination.
It is a no-sparkle and no-glare light that is extremely easy to install.
The wall sconce is available in different colors and finishes options from which you can choose as needed.
---
5
From the ChangM store, we also have the perfect bathroom sconces,
Here we have a set of two 12 W sconces for your bathroom.
They are LED compatible and have a cool light.
They have an energy-saving design and are very easy to install.
---
6
The Industrial wall sconces are also a set of two.
I love the vintage style of these bathroom sconces and the matte Black colors.
They are an E26 base design and mountable lamp.
High quality and wide application design.
---
Index Table: Top Rated Bathroom Sconces
---
---