Bathroom cabinets are a great solution to declutter your bathroom. Choose from the Best Bathroom Cabinets to have an additional organized space in your bathroom.
Moreover, you can get a modern look in the decor as they come in different designs. In this article, we have all that you may need to consider before picking one.
---
Buying Considerations For Best Bathroom Cabinets
You may choose a cabinet that matches your decor or pick a different one to mix two styles. Here are all the things that you may consider before buying a bathroom cabinet.

Material – You may choose from engineered wood, acrylic, aluminum, and MDF material. All these materials have a good life.
Size – This will depend on the size of your bathroom and your storage needs. You may pick an adjustable cabinet to alter the size.
Design – You may choose from a free-standing cabinet or wall cabinet. Moreover, there are some innovative designs with long legs to fit over the toilet. These are space-saving and look stylish.
Installation – For some cabinets, you may require little to no installation. On the other hand, some may require drilling.
---
Benefits of Bathroom Cabinets
Bathroom cabinets are ideal for keeping your bath supplies, skincare products, and grooming tools. Here are some more ways you may benefit from.

Decor – Bathroom cabinets serve as an excellent decor item. You may pick one with glasswork to add elegance to the bathroom.
Multipurpose – You can use large cabinets to store towels, robes, and extra bath supplies. Moreover, you may use these to organize stuff of different family members.
Protection – Storing toiletries in the cabinet will protect them from dust and water damage. As a result, they will last longer.
Clean and Organized – You no longer will have clutter in the bathroom as all the toiletries will be in one place.
---
Features Of A Good Bathroom Cabinet
Here are some features of a good bathroom cabinet.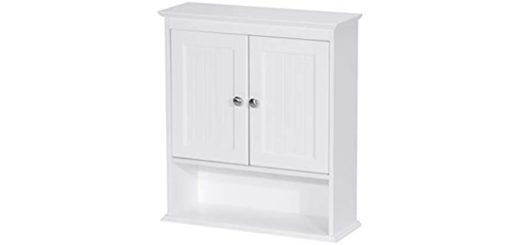 Sturdy – The cabinet material should be sturdy enough to hold the weight of different items. You may secure the cabinet to the wall to prevent it from moving.
Anti-Scratch – Make sure that the material is lacquered to prevent it from developing any scratches.
Non-Toxic – The paint and lacquer should be free from any toxic smells and chemicals.
Adjustable – A good cabinet will come with adjustable shelves and drawers. This is ideal for customizing the cabinet as per your needs.
---
Reviews: Best Bathroom Cabinets
We have listed some of the Best Bathroom Cabinets with their different designs and features for you to choose from. Also, we would like to inform you we shall earn a small commission with every purchase made through the links in the article.
---
1
Choose the VASAGLE entryway bathroom cabinet to have a convenient storage solution.
It is aesthetic and functional with a modern design and ample space to store all your bathroom essentials.
Moreover, the cabinet is made from premium MDF which is durable and stays the same for years.
Besides, the lacquered surface is smooth to touch, ensuring no scratches and peeling from the top layer.
This free-standing cabinet can be fixed to the wall, too, as it comes with anti-toppling fittings.
---
2
Consider getting the Tangkula white premium bathroom cabinet that can be customized as per your needs.
It comes with an open shelf, divider, and two adjustable drawers to store various items.
Moreover, it has a three-part design to make sure you have ample storage space.
The bottom of the cabinet is equipped with a magnetic button to keep the items dust and water-free.
Additionally, it comes with simple instructions to install it quickly with labeled parts.
---
3
The HOMECHO bathroom cabinet provides a large storage solution in ivory white color.
Moreover, it is highly adjustable with its practical design and frosted glass doors.
The door cabinets are useful in keeping your essential stuff dry and getting affected by humidity.
You may add adjustable shelves to the cabinets as per your needs.
Besides, it is made from eco-friendly materials to make a sustainable furniture choice.
---
4
Pick the Fresca shelved bathroom cabinet with a sturdy and waterproof design.
It is made from medium-density fiberboard and has nitro-lacquer paint that is free from any toxic smell.
Moreover, the thick and sturdy panels of the cabinet ensure long use without stripping and fading in the material.
The doors come with zinc alloy knobs to conveniently open and close the cabinet.
You need to wipe the cabinet with a damp cloth to clean and maintain it as the panel is waterproof and anti-stripping.
---
5
The Spirich over the toilet cabinet has a modern and functional design.
It can be installed over the toilet if you have less space in your bathroom.
The cabinet has long legs and comes with installation instructions to securely fix it over the toilet.
Moreover, the cabinet has a white finish that will blend in with any bathroom decor and look elegant.
The cabinet comes with accessories and parts you will need to install at home.
---
6
Consider the SUPER DEAL bathroom wall cabinet with a customizable structure of engineered wood.
It is rust-proof, humidity-proof, and warp-resistant for long use.
The finish of the MDF material is smooth and has silver door knobs for easy access to the compartments.
Moreover, it provides a large space to store shampoos, bath towels, lotions, and bathrobes.
You may adjust the interior shelf to an adjustable height depending upon your storage requirements.
---
7
The Spirich is a freestanding bathroom cabinet.
It has three-tier shelves and a tall and slim design.
The cabinet consists of laminated MDF with nickel hinges.
It has a neutral white finish.
---
8
From Vasagle, we have a floor bathroom cabinet.
It has a larger storage capacity.
The cabinet has a printed marble-like finish.
It is an open shelf and adjustable closed shelf design.
---
9
The Furinno Indo is a slim bathroom storage cabinet.
It consists of MDF and is very durable.
The cabinet is a darker espresso color.
There is ample space for storage and organization.
---
10
The Spirich Home bathroom cabinet is wall mountable.
It has a wood design and doors with shelves.
You can also place it over the toilet.
The color is a crisp white.
---
Index Table: Top-Rated Bathroom Cabinets
---
---