One of the more controversial interior design and decorative trends today is the bathroom or shower rug.
On the one hand, it can be a necessity if you enjoy a nice fluffy pile under your feet when you get out of the tub or shower, and on the other hand, it brings fun and decorative design elements to the table.
---
Pros and Cons of a Shower Rug
Whether to get a Shower mat that is plain and functional or a fun and decorative bathroom rug is up to you; here are a few quick pros and cons of the bathroom RUG, though;
Pros of a Shower Rug
It promotes interest and has a plush and luxurious appeal.
It is comfortable to stand on after a shower or bath.
It aids in absorbing water from your feet and provides an anti-slip area to stand on when you are wet.
There are many colors designs and size options to choose from.
Different materials such as plush, shaggy, and memory foam can create comfort and a decorative appeal.
Likewise, you can get wood or bamboo rugs, which are also a trend.
It is an affordable decoration that you can chop and change.
A right shower rug will easily keep your floors dry by absorbing excess water.
Shower Rugs are easily machine washable and quick drying.
Cons of a Shower Rug
They are not very hygienic and need to be washed regularly.
Many rugs are not designed for the bathroom or shower and may become damaged in time.
You can mold and mildew growing on your shower mat, particularly low-quality brands not designed for a wet environment.
If your shower rug does not have a non-slip bottom design, it may be a slip and fall risk.
---
Shower Rug vs. Shower Mat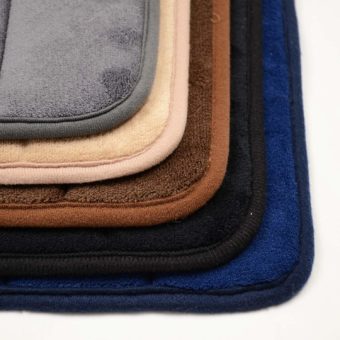 Shower Rug – A shower or bathroom rug serves multiple purposes, as it is decorative and functional and can be coordinated with your towels and other bathroom accessories. The Shower rug helps to absorb water when you get out of the shower, keeps you from slipping, floors dry, and keeps your feet warm and comfortable while you dry yourself off. Bath rugs come in many colors and designs and absorbent materials, and comfort materials to choose from.
Shower Mat – A bath or shower mat is just a visual extension of your towels and is used outside the shower to absorb water after taking a shower or bath. It protects you from slipping and keeping your floors dry, with no actual decorative or visual function.
---
Features of a Good Shower Rug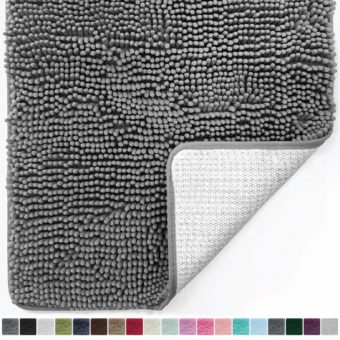 Materails – Memory foam cushioning. Plush or shaggy surface. Bamboo or solid wood. Slip-resistant or rubber bottom to keep it in place. Absorbent materials that will not mold or damage. It provides gentle cushioning under your feet and protects them from cold floors.
Design – Durable construction. You can use PVC or glue at the bottom for slip resistance. Machine washable and quick-drying design.
Ensure it is designed for a bathroom area and can withstand the humidity and moist environment.
Options – Available in many colors and patterns, as well as size varieties.
---
Reviews: The Best Shower Rugs
Here are some of the best Shower Rugs for use Outside your Shower. Also, we would like to inform you we shall earn a small commission with every purchase made through the links in the article.
---
1
---
2
The Gorilla Grip Chenille rug offers you superb slip resistance and extra soft comfort under your feet.
An Ultra Plush Shag chenille fabric top, denser and much more absorbent.
TP rubber backing prevents the rug from slipping.
It is designed for easy washing and rapid drying.
Available in many colors, patterns, and size options to choose from.
---
3
Looking for budget-sized items, the AmazonBasics is a popular seller with a comfortable microfiber shag top and non-slip backing.
Soft and thick shag top from durable and absorbent microfiber.
Non-Slip backing for added safety.
Available in neutral and pastel color options ideal for the bathroom and shower area.
Quick-drying, soft, and super absorbent.
---
4
Something a bit more high-end and for the larger bathroom and shower area is the green lemon design sower rug from INTERESTPRINT.
It is a shaggy round rug with a Pineapple design that is fresh and fun for the bathroom or any other room.
Soft and absorbent underneath your feet, keeping your feet comfortable and your floors dry.
Easy to clean and quick-drying, so you can keep it clean and hygienic at all times.
It is highly durable and of excellent quality; it will not deteriorate in the bathroom or shower environment.
---
5
Get this vibrant-looking shower rug from MACHINE in the turquoise shade.
The color will perfectly go with the grey or white-colored decor of the bathroom.
It has a quick-dry and absorbent material to keep your shower clean.
The rug is safe to wash in a washing machine without damaging the fabric.
---
6
The KMAT brand gives you their Bath Mat range, versatile bath mats, and rugs used by the shower or bath area.
TPR non-slip backing for slip resistance on wet floors and surfaces.
It is easily machine washable and quick-drying, so you can keep it clean and hygienic.
Highly absorbent keeping your floors and feet dry.
A soft, comfortable, and supportive surface to stand on.
It will protect your feet from cold floors and slippery surfaces.
The rug has an elegant and classy design that brings a classy and decorative appeal to your shower area or bathroom.
---
7
The shower rug from Cotton Paradise has a ring-spun fabric for added durability.
It has a vat-dyed cotton material that retains its color and vibrancy throughout its use.
The rug is versatile to style and comes in a two-pack.
It is lightweight and easy to wash in a washing machine.
Additionally, the material is free from any toxic chemicals and colors.
---
8
Consider getting this large Yimobra shower rug that has an ultra-soft touch to it.
It has a no-shed fabric that will stay the same even after prolonged use.
The rug will keep your feet dry and warm in the cold months of the year.
It is made of dense fabric that does not shrink over time or tear off.
---
9
This plush chenille rug from H.VERSAILTEX comes in a two-pack.
It has a thick and comfortable fabric that is warm and soft to touch.
The ivory color of the rug makes it versatile to use with any color scheme.
Moreover, the fabric is mildew-resistant and slip-resistant for safe and secure use.
The rug will maintain its color and fabric even after the machine washes.
---
Index Table: Top Rated Shower Rugs
---
---