One tends to be less stable on your feet and slip easily, particularly on wet surfaces and floors when getting older.
Sturdy and non-slip shower mats for the elderly inside the shower can help prevent slips and provide comfort underneath the feet.
The same goes for a shower mat outside of the shower that provides a soft, absorbent, and cushioned surface to stand on while you dry yourself off and get dressed.
---
Why an Inside and Outside Shower Mat is Important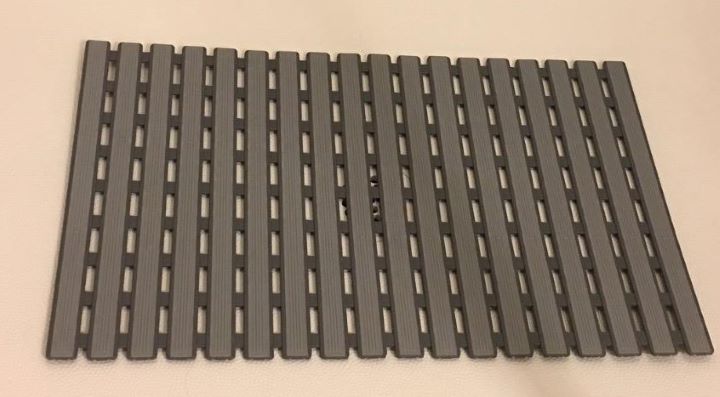 When we get older, our balance seems less effective, and our bodies much more fragile; therefore, a slipping accident can happen much easier and cause much damage and painful injuries. In such cases, the use of the best non-slip bath mat for elderly becomes mandatory to avoid any mishap.
A good slip-resistant Mat inside and outside the shower can be your defense against an injury;

Inside Shower Mat – The Shower Mat on the inside of your shower is mainly there to prevent you from slipping and falling inside your shower. The Inside shower mat attaches to the surface of your shower floor where you stand and provides a slip-resistant platform that drains water for you to stand on. Some inside shower mat has textured surfaces that massage your feet while you shower and provide even better grip and stability. As the shoer floor can become slippery from soap scum and oils from your skin, the slipping risk increases greatly; therefore, a shower mat can be your first line of injury protection.
Outside Shower Mat – Most of us have a tiled floor in our bathroom, and most of us have a mat outside our shower or bath for when we climb out. Tiled floors can be very slippery and the wrong mat even more so, particularly for individuals that are less stable on their feet. Besides, these tiled floors can be tough and uncomfortable to stand on, interrupting balance and stability. A thick and absorbency shower mat outside your shower can make a huge difference. The high grip non-slip bottom keeps the mat in place, so it will not slip around underneath your feet. The plush and cushioned middle and top absorbent layers dry quickly, keep your feet and floor dry, and are soft and comfortable underneath your feet.
---
Benefits of Non Slip Shower Mats For The Elderly
Easily Drains Water – For a shower mat inside your shower, look for something that has solid suction cups first, then either a hole in the middle or all over the mat to drain water.
Durability – The surface of your in-shower mat is your personal preference; make sure that the textures are comfortable and sturdy enough for you. Materials to look for in shower mats are silicone and rubber; these offer the best grip and durability.
Soft to be Touched – There are more options for the mat outside the shower, from plush and shaggy chenille to soft memory foam, toweling, cotton, and many other choices.
Comfort – I would recommend something that offers underfoot cushioning and high absorbency. The most important is to look for a non-slip and high gripping bottom design in your mat that will stay in place.
---
Features of a Good Non Slip Shower Mats For The Elderly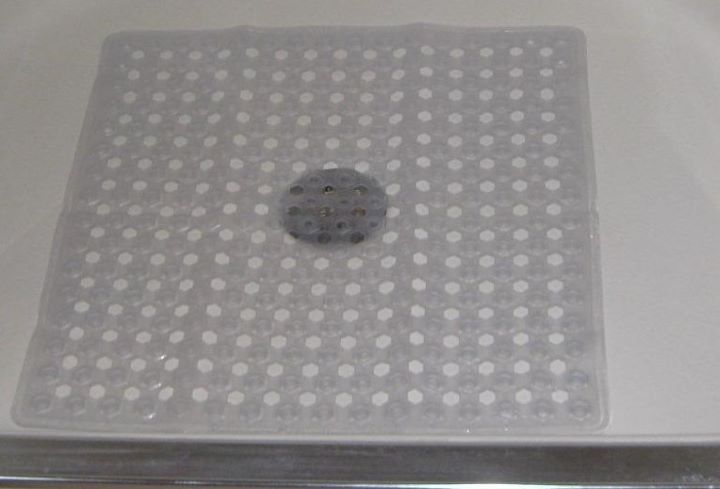 Suction – Strong suction cups on the inside mat. It absorbs liquids from its surface while drawing suction through an interior network of channels.
Materials – Rubber or silicone for the inside mat. Soft and plush chenille or absorbent material top in the outside mat. Comfortable foam or memory foam cushioning on the outside mat. A non-slip high gripping bottom design for your outside shower mat.
Drainage – It has Drainage holes for water draining. The purpose of this is to avoid the leaking of water while showering.
Size – Large enough design to cover your whole standing area.
Options – Color options and variations to suit your bathroom style and décor.
Design – Durable and washable design so that you can use it for a very long time.
---
How We Test and Score Non Slip Shower Mats For The Elderly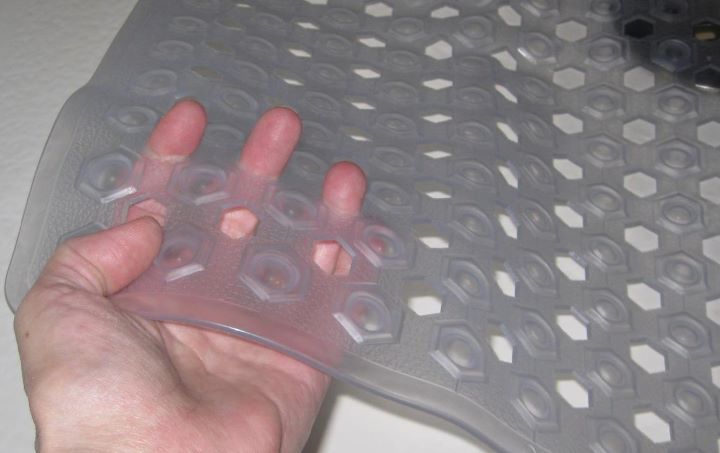 These reviews are based on intense research, analysis, and feedback from our experts and real users from different digital platforms.
We spent 25 hours trying, testing, and scoring these Non-Slip Shower Mats, for different key parameters and then shortlisted the best products in the market, saving you time and effort.
We used the following parameters for our tests and analysis.
Non-Slip – We analyzed how effectively the shower mat material resists the foot to slide its surface to avoid any accidents.
Durability – We researched how long users can use this product without any reported changes in its quality or design.
Comfort – We tested the shower mat's comfort level and pattern to check the overall quality.
Design – We analyzed the product's design to check if it is appropriate for users' liking.
Antibacterial – We analyzed how effectively the shower mat work to fight or resist bacteria.
---
Frequently Asked Questions (FAQ) on Non Slip Shower Mats
---
Reviews: The Best Shower Mats for Elderly
Below are some of the best safe and comfortable Shower Mats for the Elderly.
We hope you love the shower mats we recommend!
So that you know, We may collect a share of sales or other compensation from the links on this page.

---
1
---
2
The state-of-the-art design of the I FRMMY mat offers you excellent stability and a smooth bathing experience.
They are uniquely designed with over 100 suction cups on the bottom to maintain grip with the surface.
Moreover, the mat also has a textured wave design that maintains friction between your feet and the mat.
The mat's design is filled with drain holes that don't let the water stay on it for long.
The plastic used for making the mat is completely healthy and does not smell over long usage.
| Rating Category | Weight % | Score |
| --- | --- | --- |
| Non-Slip | 30% | 100 |
| Durability | 20% | 95 |
| Comfort | 20% | 95 |
| Design | 15% | 90 |
| Antibacterial | 15% | 90 |
| Total Score | 100% | 95 |
---
3
The Giovani from Luxor Linens is a luxury memory foam cushioned, anti-slip backed shower mat, available in many color options.
Safe anti-slip backing and lined with latex spray.
The memory foam interior is soft and plush and will never bunch.
These Non Slip Shower Mats for the Elderly are soft and smooth moisture-wicking top.
Available in 11 colors to suit your home and bathroom décor.
| Rating Category | Weight % | Score |
| --- | --- | --- |
| Non-Slip | 30% | 100 |
| Durability | 20% | 90 |
| Comfort | 20% | 95 |
| Design | 15% | 90 |
| Antibacterial | 15% | 90 |
| Total Score | 100% | 94 |
---
4
The Vive inside shower mat has a non-slip stick bottom and a textured and massaging top layer, with ample drainage holes, making it ideal for use inside the shower by elderly persons.
Firm non-slip suction cup bottom that will stay in place in your shower.
A massaging and comfortable textured top, with a design for added stability and comfort.
A large surface covers most of the shower surface area.
Sleek design and drainage holes to prevent water build-up.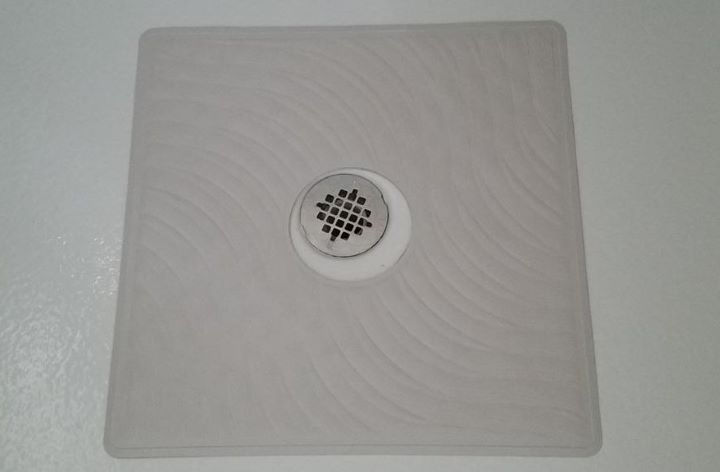 ---
5
A plush and shaggy Chenile shower mat for use outside the shower with superb Gorilla grip bottom design for slip resistance from Gorilla grip.
Available in many color variations to suit any home and bathroom décor exquisitely.
Soft and plush shaggy chenille material uppers are comfortable under your feet and highly absorbent.
A Gorilla Grip patent non-slip bottom design that will stay securely in place.
Machine washable and can be dried in the dryer.
Very durable and ultra-absorbent with fun color to lighten up your bathroom area.
Perfect for use outside the shower for elderly and unstable individuals.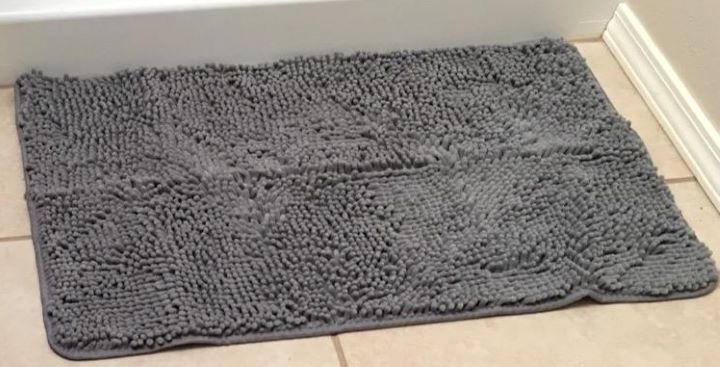 ---
6
A large and long-sized non-slip Mat from the Computer is ideal for use in the shower and bathtub to prevent slipping for unstable and elderly individuals needing a bit of extra grip.
Superb Non-Slip and high gripping design, with 200 large suction cups that are more absorbent and will stay in place.
The domed design with a pebble surface gives you a relaxing massage experience.
These non-slip shower mats for the elderly are an extra-large size.
It has a machine washable and quick-drying design.
There are a few color options that you can choose from, such as blue, pink, green, white, and others.
---
7
A lovely center drainable hole design from Tempelton for slip protection. For your shower, as well as an excellent mold and mildew resistance.
Features a center drainage hole to drain water out.
Non-Slipsuction bottom keeping the mat in place.
Water-resistant and durable strong soft rubber construction.
It Will not soak and is entirely mold and mildew resistant.
Easy to clean and quick-drying as well as very durable.
---
8
A remarkable blend of all the essential features, including suction cups, drain holes, etc.
The mat provides 65% more coverage as compared to other rugs.
Drain holes in the mat help in draining water faster and prevent slippage.
Moreover, the suction cups on the bottom of the mat help it maintain an excellent grip over the surface.
The mat can be machine washed and comes in 4 color variants.
---
9
Huji designs the mat to look like a carpet in your shower.
Huji shower mat has many suction cups that maintain its traction with the floor.
It dries itself faster with the help of draining water through its open-weave texture.
Moreover, the bottom of the shower mat is designed not to slip while you bathe.
The loofah design of the mat makes it ideal for kids and the elderly; you can buy it in a pack of 1, 2, and 3.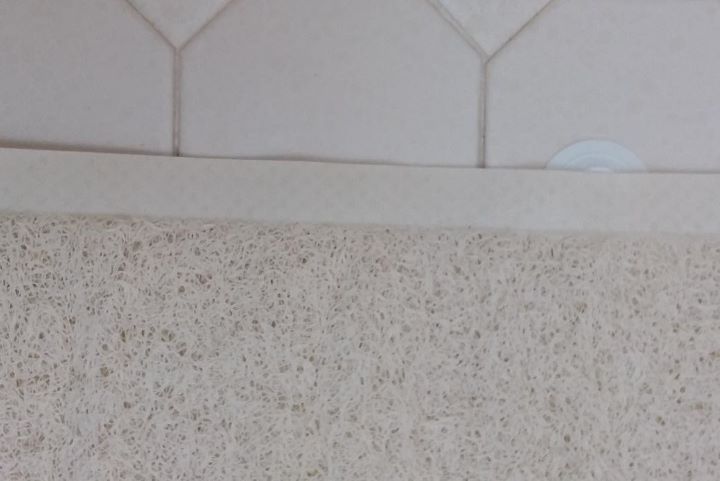 ---
10
The precisely designed Vive shower mat has all you need in a shower or bathtub mat.
It has a textured surface that offers comfortable traction with the user's feet.
Features over 150 suction cups that maintain grip with the bathroom floor.
It is easy to clean and comes in three different colors.
The material of the mat is free from latex and toxic PVC.
---
Index Table: Top Rated Non Slip Shower Mats for the Elderly
---
---