Today a pedicure and taking care of your feet is not just for women anymore; it is also a very simple grooming routine that many men have started to implement for their feet to look better and to feel better.
Healthy feet and toes are essential to keep your feet odor free and prevent bacteria and infections; taking proper care of them will ensure they look good, feel good, and smell good.
One of the best tools men can start with for a pedicure or even relax their feet is the Foot Spa.
Whether using it for aching and sore feet only or complete grooming, the foot spa for men will be the ideal shape, size, and design for your feet.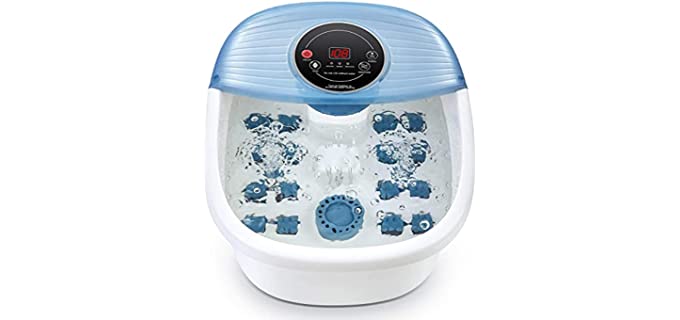 ---
Why Men Need Good Foot Grooming
Men need to groom and take care of their feet just as much, if not more than women do, and here are a few good reasons why;

Better Looking Feet – One of the biggest perks of grooming your feet and using a men's foot spa is that your feet will look great, they will look healthy and well-kept, and you will not be embarrassed to show them off.
Healthy Skin and Toenails – Regular grooming of your feet and using a spa will ensure that the skin on your feet is well moisturized and very healthy. You will also have healthy and well-groomed toenails with no issues.
Healthy Feet – Regularly grooming your feet and using a foot spa for men will ensure you have healthier feet. Thus, there will be no painful bumps, cracked skin, or other foot issues that could be painful and unsightly.
Reduces Stress – Stress is one of the biggest enemies of men. A relaxing foot spa and grooming treatment can give you pure relaxation and reduce stress.
Prevents Odors and Infections – Your feet are constantly exposed to dirt and pollution, which can lead to foot odor, fungal infections, and other issues. Feet not taken care of may also have hardened skin and are prone to ingrown toenails. Grooming your feet removes dirt and build-up and ensures that there are no bacteria that could cause infections.
---
Why Use a Foot Spa for Men
A foot spa is a small bath-like structure in which you soak your feet; some make bubbles or have vibrations and nodules that massage your feet.
You use a nourishing and cleansing foot soak in your spa that can get rid of dead skin cells or soften the skin so that it is easier t further groom and exfoliate your feet.
Some foot soaks are designed specifically for stress relief or to help heal and manage pain and certain foot elements.
The foot spa for men can be used as part of your pedicure routine or simply for relaxing your feet.
---
Features of a Good Foot Spa for Men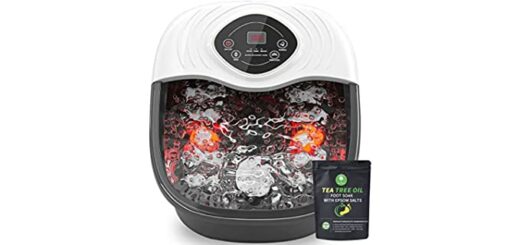 Features – Every foot spa has different features; the basic foot spa may only have nodules at the base where you place your feet and is large enough to put both your feet in. Some models come with bubble jets or vibration; some can heat the water itself, so there is no need to pour warm water into the foot spa. The foot spa that heats will also ensure a consistent temperature.
Settings and Attachments – Most foot spa models have different settings for switching the device on and off or temperature settings. Some may have additional attachments or tools for a full pedicure after your soak.
Size – Men generally have larger feet than women. Thus, getting a size foot spa that will fit your feet comfortably is important. You need to consider your shoe size and compare that to the size of the foot spa to get a comfortable fit.
---
Reviews: The Best Foot Spas for Men
Below you will see we have included some of the best foot spa models that you can use as part of a full pedicure or just for relaxation with your favorite foot soak product;
---
1
The Revlon PedoPrep is a bubbling foot spa for men that gives you a soak and massage before a pedicure.
It will maintain its temperature for full comfort.
The accunode basin has massaging pads, removable pumice stone, and nail care accessories.
It is a full set for a pedicure for men.
---
2
From Xkam, we also have the ideal spa for men that ensures ultimate relaxation and foot acre.
The foot spa for men is the perfect size for larger feet.
It has detachable massage pints and rollers for massaging your feet.
The foot spa is a bubbling foot spa and will keep consistent heat.
---
3
The Misaki Foot Spa for men is a home-based vibration and temperature control foot spa.
It comes with four massaging rollers to help relieve Stress.
The foot spa has good temperature control for optimal heat therapy.
The massage rollers are conveniently removable, including an additional footstone for exfoliation.
---
4
Here we have a large-foot tub and spa ideal for men.
The foot spa has a massage function and three vibration levels.
It is operated digitally and is very easy to use with a digital screen.
The foot spa hears water and has a vibration and bubble function.
---
5
The Rightmell foot spa and soaker is ideal for men with larger feet, relaxation, and pedicure use.
It is a relaxing and massaging foot spa that gas heating functions as well as oxygen bubbles to treat your feet.
You can easily set the temperatures and functions to your liking.
The foot's pa is digital with eight rollers for massage.
---
6
Here we have another foot spa option from Rightmell that has all the functions you need for a relaxing soak and full pedicure.
The Foot Spa comes with Epsom salt and tee treats oil, which will soften your feet, and the tea tree oil is anti-bacterial and anti-inflammatory.
It is a foot spa that offers bubble and vibration functions and digital temperature settings.
There are likewise 8 Acupressure Massage points for your comfort and relaxation.
---
Index Table: Top Rated Foot Spas for Men
---
---