Very few things in this life could provide the warmth and comfort that heats you to the core, such as the Heated Robe.
The heated Robe is a robe-type blanket or wrap that you wear that is heated with heating panels or elements and has different settings for providing heat.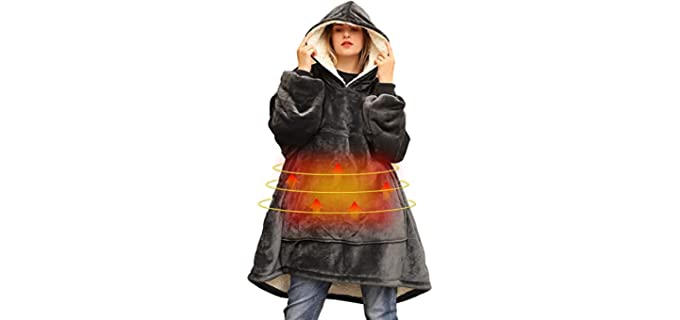 ---
Benefits of a Heated Robe
The Heated Robe usually uses heating panels or Carbon Fibres that heat up with different settings for heat, such as low, medium, and high.
Most heated robes come with an auto shut-off function for your safety after an hour or more.
The heated Robe will either be a corded plug-in or a wireless option that you will need to charge that uses batteries.
The heated Robe is ideal for use at home or the office in extremely cold weather; it is also ideal for camping when you need to heat up quickly on cold nights.

It can warm your body up fast and effectively when you get very cold.
It is suitable to relax tight and sore muscles and ease the pain.
It can reduce back, shoulder, and neck pain.
The heated Robe helps to relieve stress.
---
Heated Robe Options
Heated Robes,s which are actual Robes, are a bit difficult to find. However, many similar options have the same structure and function;
Buy on Amazon
Wearable Blanket – The Heated Wearable blanket is designed to fold around your body with a zip or snap closure and usually a hoodie. It does not have sleeves, though.
Heated Shawl – A heated shawl folds and closes around your shoulders, much like a robe, without sleeves.
Heated Cape – A heated Cape or Robe is around the same thing, as they both are wearable heated garments, the cape having a large hood.
Heated Wrap or Blanket – A heated wrap or blanket can be wrapped around your entire body or used as a blanket that comes in different fabric types.
---
Features of a Good Heated Robe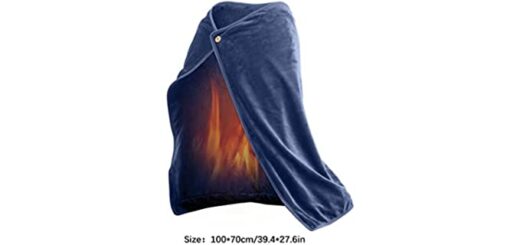 Material – Most heated robes will consist of flannel or Microfleece that is warm and cozy. Some models may also have a comfortable sherpa lining.
Heat Distribution – There should be even heat distribution with large enough panels to keep your entire body warm. Many models will only have heating panels at the back.
Washing – Make sure to check the washing instructions clearly, as the heated Robe is an electrical device. All heating panels and cords must be removed, and the blanket or Robe can be machine or hand-washed.
Power Options – Some robes will have a battery pack that you need to charge with a USB charger. However, some models require a power outlet and may come with a long power cord.
Shedding – Make sure the Robe is made of a fabric that will not pill or shed, as this can be dangerous for electric robes.
---
Reviews: The Best Heated Robes
In our review list is a variety of Heated Ribes; Shawls, and wearable blankets to keep you warm and cozy;
---
1
The MP2 Plush heated shawl and Robe are designed for women and offer different heating settings.
The heated Robe is a one size fits all comfortable design, and the fleece fabric part can be washed.
It has 200GSM fleece with microlight fabric that is pill and shed-free.
The Robe is very soft and comfortable, ideal for cold winters.
It heats up quickly and has an Auto Shut Off safety system for your safety.
It will shut off after two hours of continuous use.
---
2
From Venustas, we have an oversized Sherpa robe and blanket in one that is heated for cozy warmth and comfort.
It has a 305 larger heating area with larger heating panels for your comfort.
The Robe is fluffy and warm, resembling more of a wearable blanket that you can use anywhere.
It heats up fast in seconds with a7.4V 5000mAh certified battery.
The heated Robe can operate for 9 hours on low heat, 6 hours on medium heat, and three hours on high heat on one single charge.
It is a one size fits all option for men and women that comes in a waterproof bag with a battery pack.
---
3
Here we have a USB heated shawl and Robe, a flannel fabric that is washable and suitable for home, office, and other uses such as camping.
The Robe is the perfect size at 100 x 70 cm/39 x 27 inches.
The Flannel fabric is warm and durable, reaching up to 45 degrees Celsius to keep you warm.
The internal heating system consists of heating elements that eat high-grade, durable carbon fibers that will heat up rapidly.
The Robe is likewise available in more color selections.
---
4
From the Woolala store, we have a USB-heated robe and wearable blanket in one design.
It is oversized with a hoody and a large heating area that covers your back.
The blanket has sherpa for insulation and comfort and comes in a few more color options.
The Robe is a size that fits fon and women, with three different temperature settings that you can adjust from low, medium to high heat.
It comprises a soft luxury flannel fabric with a warm, cozy sherpa lining.
The blanket itself is machine washable for your convenience.
---
5
The Serta is a wearable Brushed Microfleece electric heated snuggler wrap and Robe all in one design.
It has five programmable settings for heat.
The blanket is a brushed microfleece consisting of 100% polyester that is silky soft.
It has a 4-hour automatic shut-off function for your safety.
You get an electrically heated robe with built-in heating panels that is ETL certified.
The wrap itself is machine washable and quick drying.
---
6
From Rebussin, we also have a comfortable and soft heated robe and blanket.
It is 55 inches x 44 inches in size and weighs only 2 pounds without the battery pack, meaning it is super lightweight and comfortable.
The Robe has a simple zipper and snaps design, and it comes with a comfortable pillow.
The Robe requires a USB cord for heating and charging and offers full body heating that is fast and cozy.
There are three-speed temperature controls and six heating zones for your convenience.
The Robe itself is likewise machine washable.
---
Index Table: Top Rated Heated Robes
---
---