If you plan a summer trip with your family, you need to know that you may not find warm water everywhere you go, especially while on a trek. Hence, it would be best to carry something that can warm the water for you.
Apart from some bulky gas equipment, you can consider carrying a solar shower bag (for camping) for heating water. We will discuss some of the best solar water bags in the sections below. Check them out!
---
What Is The Need Of A Solar Shower Bag?
Convenience – When you are on a trip, you will not get warm water for bathing everywhere. Hence, it is important to have a solar shower bag.
Better than other alternatives – You can choose to carry some other things to heat the water like matches, utensils, etc. They are a bit heavy, and you need to look for fuel for lighting the fire. A solar shower bag is way better than this.
No fuel – The very best thing about the solar shower bag is that it just requires sunlight for heating the water for you. No need to carry any fuel with you.
---
What Are The Different Materials Used In Making A Solar Shower Bag?
You now know why it is necessary to have a solar shower bag. Let us look at some of the materials used to make these solar shower bags.
Simple Plastic – This is the material used in most of the bags. The bag has clear plastic on one side and a black layer on the other side. The black layer absorbs the heat and heats the water.
PVC – Polyvinyl Chloride is one of those materials with an awesome heat retaining capability. It can heat the water in or under 3 hours while sunlight is direct.
Aluminum – You can also get yourself a water heating bag made of the aluminum layer. Being a metal, it also has high heat absorption.
---
Features to Consider Before Buying A Solar Shower Bag
If you have decided to buy one solar shower bag for yourself, here are some crucial aspects that you need to consider.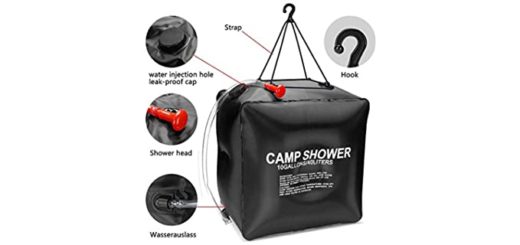 Capacity – The bag's capacity is the number one point you need to consider. Choose as required by you and your family.
Adjustable Hose – Whenever you buy a solar shower bag, make sure you consider the bag's hose. They should have a knob for water flow control and also for On/Off.
Eco-Friendly Material – Keep a close check on the material used for making the shower bag. It should not compromise the odor and quality of water.
Portable – Be sure about the bag's folded size; it should be easy to carry across locations. The very benefit of a solar shower bag is this only.
---
Reviews: Best Solar Shower Bag (For Camping)
After going through some of the valuable information regarding the solar shower bags. Check out some of the best solar shower bags for camping. We want to inform you that we may receive a part of the sales profit when you purchase through the links mentioned below.
---
1
---
2
Unlike other products on the list, this one has a massive 40 liters volume that can store water for more than one person for multiple baths.
Moreover, it also has an adjustable shower head to adjust for low and high water flows.
Its intelligent PVC material absorbs heat and heats the water in under 3 hours.
The material used in making the body of the bag is completely leak-proof and environment-friendly.
It is ideal for family trips as they can be easily folded and carried along.
---
3
You get a classic bag with an awesome heat-absorbing design that can heat water in under 3 hours with direct sunlight.
The state-of-the-art hose delivers an awesome bathing experience with on/off, and water flows control.
The massive 5 gallon capacity of the bag can hold water for multiple showers or baths.
Moreover, it is made from a non-toxic and eco-friendly PVC material.
It features a pocket for you to keep the required soaps and shampoos.
---
4
The unique thing about this bag is that it features a temperature level indicator which is useful for knowing the hotness of water.
Moreover, its environment-friendly material makes it perfectly safe for your use. You can also get the leak-proof feature with the deluxe version of it.
Its 5-gallon capacity makes it ideal for multiple baths when you are out camping.
The single shower head has an improved design that helps you control water flow from low to high and vice-versa.
You can use the front pocket to keep the required soaps and shampoos.
---
5
This elegant-looking bag is your perfect companion if you plan a trip outside with your family.
The 10-gallon capacity bag makes it extremely easy to heat water under the hot sun in minutes. You can go surfing and take a bath immediately after returning with the heated water.
It has a durable four-layer construction along with two hoses for bathing. Moreover, after use, you can easily fold it to carry it along with you.
Lastly, the bag comes with a one-year manufacturer warranty.
---
6
This ASANMU made solar shower bag is a perfect item to take with you on a hiking trip as it is lightweight and gives you a smooth showering experience.
The bag is made from high-quality nylon material and is less prone to wear and tear.
It can store 5 gallons of water, which is enough to provide multiple showers.
The smart heat absorption technology heats your water to a temperature of 40°C in three hours.
An on/off switch is available in the bag to control the shower hose.
---
7
Plan your next hiking trip with this superior quality Sportneer shower bag that offers a hot shower for you.
It has a capacity of 5 Gallons that can provide multiple showers.
It heats water using the shower panels available at its back.
The build quality of this bag is exceptional and is strong and durable.
It also consists of a storage pocket to store your essentials.
---
8
This VIGLT made shower bag is extremely efficient in providing a relaxing solar shower to you.
The bad is designed using PVC material that ensures high durability.
A switch is available in the bag that can control the water flow of the bag.
This amazing bag offers a front pocket to hold soap and shampoo in the bag.
The bag is lightweight and is easy to carry around.
---
9
Do not worry about getting dirty on your next camping trip, as this Dotsog made shower bag is extremely efficient in providing you with a high-quality bath.
It has a large capacity to store 20 liters of water.
The bag can heat the water to a temperature of 113°F in three hours.
An easy-to-open/close switch with a removable hose is present in the bag.
It is an ultra-lightweight bag that is suitable for camping and hiking trips.
---
Index Table: Top-Rated Solar Shower Bags (For Camping)
---
---