A Good Scented candle is not just something that women enjoy; men could likewise benefit from the lovely scent and calming effects of a scented candle.
However, when it comes to scents, men are a little different than women, opting for fresh citrussy or spicier and musk types of scents than women, who tend to go for fruity or floral scent types.
His Scented candles are scented candles designed specifically for men, with scents they would love.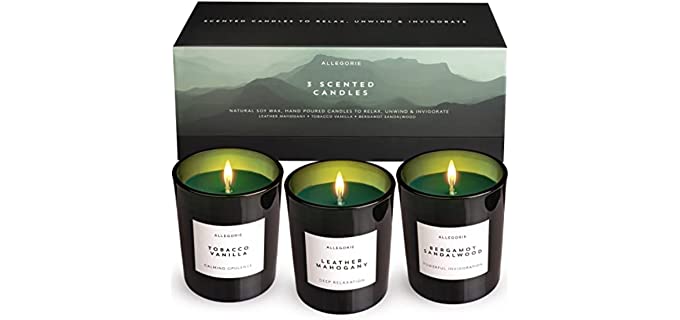 ---
Him's Scented Candles
His scented candles are candles with a scent that men would enjoy, as well as colors and packaging that are more masculine and suitable for men as a gift or use in their home and office area.
A scented candle can create the same warm and calming feel for a man as it can for a woman. However, men tend to be interested in different scent types than women.
That is why we want to look at some scented candles for men with a scent men will enjoy, as well as colors, designs, and packaging that are more masculine for men.
---
Choosing Men's Scented Candles
With so many body products on the market, scented candles are likewise an addition, with many products available and designed specifically for men.
All Scented candle types will smell either good or bad to someone; however, what makes one scent better for men or women?
Everyone has their personal preferences when it comes to scents and fragrances. However, there is mostly a particular difference between scents and fragrances that women enjoy and those that men enjoy more.
When men have masculine scented candles, they relax and keep them well grounded, and floral scents do not have this effect on men as they do on women.

Scents Men Enjoy – Men enjoy natural wood scents like cedar, pine, and balsam fir. They will also opt for more oriental and spicy scents such as cardamom, ginger, and cinnamon. Some men like fresh citrus scents like bergamot, neroli, and grapefruit, while others enjoy more minty scents such as spearmint, peppermint, and wintergreen. Then there are more earthy scents, such as moss, patchouli, tobacco, bourbon, chair, and pumpkin, or Musky scents, which include tonka bean and amber. Cleaner scents such as linen, powder, and bay leaf may also be enjoyable to some men.
Scents to Avoid – There are a few unmasculine scents most men would not enjoy in a scented candle. They include Floral scents such as jasmine, gardenia, rose, and blossoms. Very fruity scents such as apple, peach, strawberry, and raspberry are usually not a favorite for men. Coconut and tropical scents usually also do not sit well with men.
Wood Wick Or Not? – When you have found the best scent but are trying to figure out what the best-scented candle will be for men, you will notice there are two options in wicks, mostly cloth, and some may have wooden wicks. Wooden wicks generally look much better and burn better than cloth ones, but they crackle and pop as they burn, which could be enjoyable. However, cloth wicks are more readily available, and wood-wick candles may be hard to find.
Candle Colors for Men – Even if you get the scent right, no man will enjoy an overly floral style or pink, purple and girly colored candle. It would be best to look for candles in jars and holders that are more masculine in style and color. Dark Blues, Dark Greens, white, browns, and black or grey are all suitable color options for men.
Match the Scent to an Occasion – A candle is not just something used for light and ambiance; a lovely scented candle can set a specific mood or even theme when used in the correct area, and for the right occasions, such as for dancing, romancing, relaxation, or refreshing and area. Musky and earthy scents are ideal for a man cave for watching sports, enjoying a game of cards, or pooling with friends. Clean and fresh scents are perfect for barbershops or bathrooms to add a touch of freshness. Tobacco and vanilla scents are ideal for men's lounges or poker nights.
---
Features of a Good Scented Candle for Men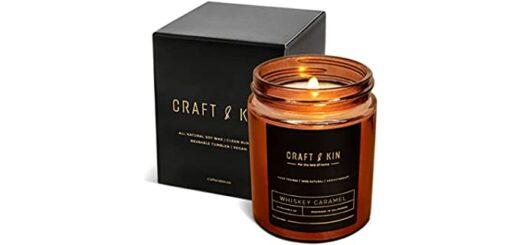 Type of Candle – You get three candles: natural soy, beeswax, or synthetic paraffin wax. Beeswax candles can be expensive, and paraffin wax candles are the cheapest. However, they do leave a residue behind. Soy candles are affordable and do not leave a residue behind.
Candle Scent – The candle's scent for men is very important, and we have discussed that in some detail. However, you can consider a few scents: Bay Rum; Tobacco; Cedarwood; Sandalwood; Amber; Musk; Lemon; Neroli; Grapefruit; Mint; Tea Tree; Eucalyptus; Black pepper; and Bergamot. You can also consider candles with blends that give a specific fragrance, such as fresh, citrus, spicy, or musky.
Wick – Candles will come with either a wood or a cloth wick. The cloth wick models are more affordable and easily available, whereas the wood wicks burn better.
Size – Candles come in many size and color options, and you will need to choose a specific size. Stick to more manly colors such as blue, browns, greens, white, and greys.
Container – Look for a more masculine container, or you can purchase a candle without a container.
---
Reviews: The Best Scented Candles for Him
In our list below, we have some of the top favorite Him's candles with some lovely masculine scents and designs;
---
1
From Yankee candle, we have the Midsummer Night's two-wick candle that comes in a lovely jar for men.
It offers you 75 to 110 burn time and has two wicks.
The candle contains premium-quality wax to deliver a clean and consistent burn.
It premium-quality scent with musk, patchouli, sage, and mahogany cologne.
---
2
The Manly Indulgence Dark Forest Scented candle comes in a jar and has a wood wick.
The candle has a fragrance combination of cedar, herbs, and lavender to give you the sensation of a forest or outdoor trail.
It is a carefully crafted 15-ounce candle that is a navy color with a clear jar.
The wood wick offers better and longer burning time.
---
3
From the Craft and Kin store, we have the Premium Whiskey and caramel scented candle for men.
The candle is the perfect gift in an amber-colored glass jar that is decorative.
It is a premium-scented candle with a masculine whiskey and caramel scent.
The candle is non-toxic and has a very long burning time.
---
4
Another option from Craft and kin is their lavender and wood-scented candle for men.
The scented candle comes in a masculine jar and is black for men.
It has a Lavender and Wood type scent that is natural and fresh.
The candle is a natural soy candle with a very long burning time.
---
5
They make Life Exclusive men's candles a Bonfire, Mahogany, and teakwood-scented candles.
It has a wood wick with a longer and healthier burning time and design.
It is a natural soy candle that comes in a decorative masculine jar, ideal as a gift for men.
The candle has a masculine and woody fragrance that most men will love.
---
6
From Allegorie, we have a set of three scented candles for men.
The scented candles are bergamot and sandalwood, Leather and Mahogany, and Tobacco and vanilla, giving you different options.
They come in a gorgeous glass jar and will be an ideal gift for him.
The candles offer clean burning and are non-toxic.
---
Index Table: Top Rated Scented Candles for Him
---
---