Do you like broken tiles and cracked glass shower doors that completely ruins the aesthetic charm of your bathroom? Neither do we. And that's why Glass Shower Door Stopper should be declared an essential.
These tiny stoppers are extremely convenient and compact. They protect your precious bathroom tiles and walls from the constant banging of Glass doors. Below, we have explained every facet of these wonderful door stoppers and shortlisted the top-6, only for you!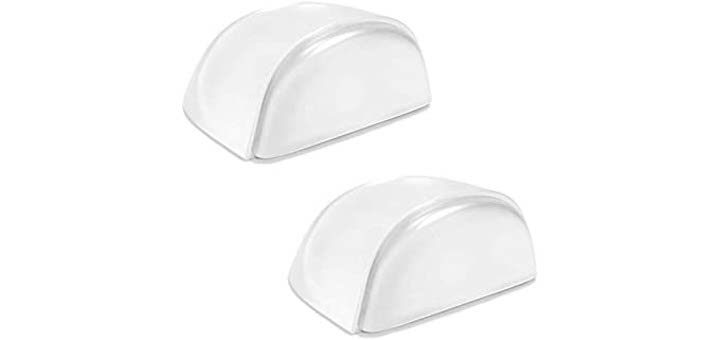 ---
Why Glass Shower Door Stopper are so Important?
Glass Shower Door Stopper is definitely a necessity in a modern-day bathroom. Below, we have explained why they are so important.

Prevents Damages – This is a no brainer. A door stopper works both ways as it prevents your glass doors from breaking down as well as protecting your bathroom tiles from cracks due to heavy door banging.
Saves Money – Who likes spending money on repairs? These door stoppers help you save from repairs worth hundreds of dollars.
Maintains the Aesthetic – A cracked glass door or a scratched tile will definitely lower-down the aesthetic value of your bathroom. So why not install a door stopper instead, and avoid this issue forever.
Conveneint – Other than stopping your glass shower doors from banging in walls, most of the stoppers can be placed anywhere in your house to accomplish same motive.
---
Type of Glass Shower Door Stopper
There is several different type of Glass Shower Door Stoppers available in the market. We have mentioned them so that you choose the one which will suit your requirements.

Silicone – This specific type of stopper is made from silicone, and it is usually gentle on touch. However, they are made soft so that they provide cushioning to your glass door.
Chrome – The chrome-plated glass stopper are usually more stronger and long-lasting. They also look far better and can easily match the look of your bathroom.
Plastic – Plastic shower door stopper are the most commonly used stoppers that you can get. These are partially-durable and are transparent in nature so that they don't interfere with the aesthetics of your bathroom.
---
Buying Considerations for Glass Shower Door Stopper
There are several factors that you need to consider before buying the perfect glass shower door stopper for yourself. For instance, we have mentioned the most crucial buying considerations below so that you don't make the wrong decision.

Adhesive or Drilled – Some Glass door stopper can be fixed through an adhesive, whereas others are installed using a drill and nails.
Longetivity – Adhesive stoppers are convenient, but they don't last you as long compared to a stopper that is drilled and fixed permanently.
Fuss – Again this is completely subjective to your needs. Drilling can create a lot of fuss, but its a one time process. Whereas, an adhesive is convenient, but it still leaves some marks behind, which can be cleaned.
---
Reviews: Best Glass Shower Door Stopper
So, based on our research, We have compiled a list of the best Best Glass Shower Door Stopper you can buy. Just a quick word, we collect a very small amount of profit through every purchase that is made through the links mentioned below, without any additional charges on you. That said, let's start with our list.
---
1
Made from transparent plastic, these shower door stopper are extremely long lasting.
It has a very straightforward installation process as it doesn't require any drilling.
The minimal footprint of the door stopper allows it to be placed anywhere in your bathroom.
It has the self-adhesive material in the bottom end, which keeps it in one place.
This glass shower door stopper can be placed on a tile, concrete or wooden floor.
---
2
This glass shower door stopper has a beveled design which allows it to be highly efficient.
Made from solid chrome, this stopper can easily bear heavy physical beatings such as door bangs.
This stopper doesn't require any drilling or hammering to get installed, just an easy in-and-out movement.
The chrome finish makes it look premium, and it will easily match the aesthetic of your bathroom.
It prevents the glass door from going into shower enclosures.
---
3
This knob designed shower door stopper is mounted on the wall of your bathroom.
It is transparent in nature and won't interfere with the aesthetics of your bathroom tiles.
This stopper is self-adhesive, and it can be placed pretty much anywhere.
The adhesive used in this chemical-free so it won't leave a stain on the tiles or walls.
Knob design allows incredible strength to the structure and makes it shocks absorbent.
---
4
These stoppers has a see-through pad design and they come in a pack-of-twelve.
The entire back of stopper is adhesive so that they can be fixed wherever you want them,
Based on the design, these are the most compact stoppers that we have tested to date.
They come in a carry packet so that it is easy for you to store them in one place.
The adhesive is not very strong, and it won't damage your bathroom tiles.
---
5
This glass shower door stopper is specifically made for sliding doors.
You need to drill these stoppers inside the sliding grill through the screws that come packed with stoppers.
The stopper is completely transparent, and you won't notice it after the installation.
Its rectangular design makes it shock resistant, and it effectively stops the sliding doors from banging.
The plastic walls inside of the door stopper, which stops the sliding doors are rigid and strong.
---
6
The doorstop pad design of these stoppers gives them a lot of durability.
Other than being compact, these door stoppers are highly convenient, and they can be placed anywhere in your house.
They are white in colour and can easily camouflage in any given surroundings.
Made from soft silicone, they are exceptionally soft yet durable.
They come in a pack of three, five or ten. So you can choose one according to your preference
---
Index Table: Top-Rated Glass Shower Door Stopper
---
---