Shower safety is always an essential issue for many individuals, particularly those at risk of slipping and falling.
Older individuals, disabled people, and even children are at much higher risk of slips and fall and may need an extra hand in the shower.
This is where a shower grab handle can come in handy and necessary.

---
Why do You Need a Shower Grab Bar in Your Shower
Well, to start, did you know that over 70% of all home accidents occur in the bathroom, many because of slips in a shower or bathtub or on slippery tile floors.
It is straightforward to lose balance and fall in the shower; even young and flexible, accidents still happen.
Take, for example, when shaving your leg in the shower. Would it not be much safer and more comfortable to have something to hold on to rather than trying to balance on one leg on a wet and soapy floor.
Other than that, some individuals are in dire need of support, such as those who struggle with a handicap or immobility and older people who do not have the grip and balance they used to have.
---
Great Benefits of the Shower Grab Bar
So that said, here are some excellent benefits that you can look forward to with the attachment of a safety grab bar in your shower;
Adjustability – You make your shower so much more user-friendly for people of all heights with a handlebar as they can easily adjust. Most Grab Bars for your Showers can be adjusted or placed at any height or position, or even angle to fit our specific needs.
Temporary Solution – In the Case of a suction attachment Grab Bar in your shower, you have a temporary and portable solution. You can use and adjust to your heart's content.
Permanent Solution – If you need a more permanent solution and a more stable and reliable Grab Bar, the fixed mountable grab bar is your best bet. It can be mounted to your shower wall in any position you choose, with most models offering a concealing design to hide unsightly screws and holes.
Disabled Individuals – If you have people in your home who are disabled or lack efficient mobility and balance. This is one of your best options to keep them safe and help them enjoy a shower.
---
Features of a Good Shower Grab Bar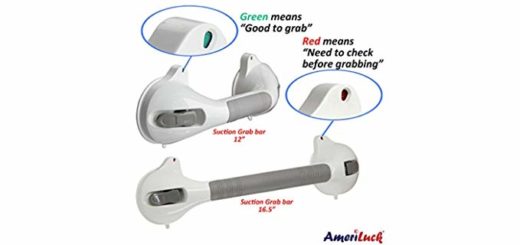 Suction or Vacuum Bars – A grab bar with reliable suction cups that is portable and can be placed anywhere on a smooth surface.
Mountable Bars – It needs to be mounted on your shower wall with tools and accessories included for installation and usually has a concealed design.
Plastic – Plastic options are more available in the suction design and come with a easy grip handle.
Metal – Stainless steel or aluminum is used in the metal options, usually mountable and come with a Chrome or brushed nickel finish in different color options.
Portable Suction – This is a smaller and more easily stored Grab Bar made from plastic when traveling.
---
Reviews: The Best Shower Grab Bars
As you can see, I have listed some of your safest, and most reliable Shower Grab Bars for your shower. You can choose to buy any product from the list. However, we would get a part of the proceeds collected from the products mentioned below.
---
1
---
2
From Safe-Er-Grip, we have the Traveler Shower Bar assistant portable and ideal for taking with you for support wherever you need it.
A white traveler bathroom assistant for a shower or tub works with a suction cup.
Simply position and squeeze the handles together on any smooth surface to secure the handlebar.
It prevents slipping and helps maintain your balance in the shower or tub.
Ideal for children and adults.
---
3
The Moen 12 Inch Bathroom Grab Bar is made from durable stainless steel and can easily be mounted inside your tub or shower.
A brushed nickel finishing Stainless steel grab bar that is 12 inches long.
Mounts easily to your shower or tub wall.
It is designed to provide a hassle-free and safe installation.
Built to last with quality construction and materials.
---
4
A beautiful and sleek suction bar bathroom grip best for elders made by OXO is available in two color variants.
It is best to use in showers to get extra stability and support.
The suction cups are strategically placed that can work with different tile styles.
There is no need to use any kind of tool for its installation.
The bar's underside will not slip even if it gets wet and is laden with moisture.
---
5
A large stainless steel self mountable shower handle grip bar from Zuext with a lovely Chrome finish.
16-inch long stainless steel grab bar that mounts to the wall of your shower with a smooth Chrome finish.
A mountable design that can handle up to 500lbs in pulling weight.
The mount design is concealed, so no unsightly holes or screws.
Safety grab bar with a non-slip safety design.
---
6
The Moen Home Care is another superb model from this brand in safety handgrip Bars for your shower or tub.
This is a secure safety handle that can be mounted with suction cups.
No installation or extra tools are required.
It can be used in both your shower or your tub.
Molded contoured design for a stable handle and grip and easy transport when traveling.
---
7
The Ameriluck Suction Bath Grab bar is a 12-inch long grab bar ideal for your shower that comes fully equipped with indicators.
No tools for installation work with strong suction cups attached anywhere in your shower.
Portable and easy to travel with.
There are indicators on the suction cups that will change from red to green when the bar is fully attached and safe to use.
Ideal for elderly and senior individuals can make the perfect gift for them.
Easy to clean and ensures a safe and comfortable hold.
---
8
A strong and fastened grip bath grab bar is made to last longer and provide solid support in the shower.
The grip design is unique and patented to MedGear.
Different Color variants are also available that suit best with the bathroom decor.
Sleek design with a mounting stud to cover the screws giving it a good finish.
It can support weight up to 500 lbs.
---
9
The PCP shower and bathtub bar can be installed at 360° angles, and it boasts a clean and non-penetrating design.
Suction Grip removes the need to drill holes in the bathroom tiles.
Available in three different sizes.
Easy to install and dismantle with a simple suction lock system.
Works well with a rubber strip on the inner side for better handling and tight gripping.
---
10
With its super strength and strong gripping ability, the Carex suction handle is an ideal support bar for people of all ages.
Available in dual sizes of 12 and 16 inches.
It can be mounted on a smooth, porous, and flat surface with better stability.
One of the best products to use until the weight is up to 300 lbs.
Easy to install with the lever system and safety indicators that tell whether the bar has locked in its place or not.
---
Index Table: Top Rated Shower Grab Bars
---
---