If you are designing a new bathroom or just remodeling the old one, you need to choose the best shower pan or base. You must know that it might lead to severe consequences if you made the wrong choice.
Your bathroom floor may start leaking, or you may slip while bathing.
To avoid these consequences and choose the best shower pan, you need to take various things. Keep reading to know all the essential factors you need to keep in mind.
---
Benefits of Shower Pan
Protection of the floor – Your bathroom floor may not be leakproof like the shower pan. This may lead to damage to the floor. Hence, a shower pan is necessary.
Surface for tiles – One of the best uses of a shower pan is to put tiles on it. Existing tiled shower pans can be tiled over as long as they are structurally sound, have no visible damage, and do not leak.
Prevents slippage – Slippery bathroom floor may lead to serious consequences like slipping and hurting yourself. To prevent this, the use of a shower pan is necessary.
---
What are the Various Materials Used in the Best Shower Pan?
A good shower pan's choice depends highly on the material used for making it. Hence, you must know the type of material used in the shower pan before buying. Take a look at the list below for various shower pans' materials.

Fiberglass – Fiberglass is a much cheaper alternative than other materials for a shower pan. Moreover, it is likely to get damaged sooner and may require frequent repairs. It is made by mixing polyester resin with woven glass fibers.
Composite – Composites are engineered materials made by combining two or more elements. They are strong, lightweight, and stable. This is why they are easy to install and can last for decades. On the negative side, composites are expensive.
Acrylic – Acrylic shower pans are made by heating the acrylic sheet and molding it into a pan shape. Acrylic is durable, easy to maintain, and requires fewer repairs. Though repairs can be costly.
---
Features of a Good Shower Pan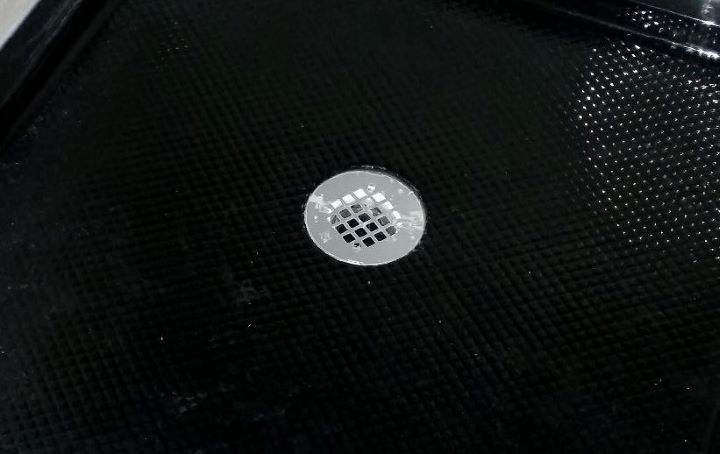 Here we will look into some of the primary features of the shower pan you choose. Let's start!

Slip-resistant design – One of the crucial things you need to consider in a shower pan is slip-resistant. A good shower base always has a slip-resistant surface that ensures safety while bathing.
Curb and splash walls – You don't need to make your whole bathroom wet, do you? Hence, it is necessary to look for a shower pan with high splash walls and a curb.
Leakproof – The primary reason you are buying a new shower pan is a leakproof design. Make sure that the surface of the shower pan is leakproof. This will protect your concrete bathroom floor from damage.
Drainage – You also need to make sure that the shower pan's design has an effective drainage outlet that can be connected with a drainage pipe. If your shower drain is integral to the shower pan, you may also have weep holes in the pan. In addition, in order for this to maintain clean and safe, you can a Shower Drain Cleaner.
---
How We Test and Score Shower Pans
These reviews are based on intense research, analysis, and feedback from our experts and real users from different digital platforms.
We spent 31 hours trying, testing, and scoring these Shower Pans, for different key parameters and then shortlisted the best products in the market, saving you time and effort.
We used the following parameters for our tests and analysis.
Slip Resistant – We analyzed how effectively the shower pan material resists the foot to slide its surface to avoid any accidents.
Leakproof – We checked how well designed or constructed the shower pan was to prevent leakage.
Maintenance – We researched how long users are able to use the shower pan without any reported changes in the quality and how easy was it to clean.
Non-Porous – We took note of how smooth and sealed the surfaces of the shower pan so liquid and air cannot move through it.
Easy Installation – We noted how easy it was to install without exerting much effort.
---
Frequently Asked Questions (FAQ) About Shower Pan
---
Reviews: Best Shower Pans
To make it easy for you to choose a shower pan, we have compiled a list of some best shower pans.
We hope you love the shower pans we recommend!
So that you know, We may collect a share of sales or other compensation from the links on this page.

---
1
---
2
Get the ICON shower pan that has a combination design to fit alongside a toilet.
It allows the installation of a holding tank under the toilet.
The shower pan is made of durable ABS material sturdy and stain-resistant.
It has a molded-in drain that you can drill during the installation.
The polar white color of the pan gives it an exquisite look.
Moreover, the pan has a universal fit and is ideal for most showers.
| Rating Category | Weight % | Score |
| --- | --- | --- |
| Slip Resistant | 30% | 100 |
| Leakproof | 20% | 95 |
| Maintenance | 20% | 100 |
| Non-Porous | 15% | 95 |
| Easy Installation | 15% | 90 |
| Total Score | 100% | 96.75 |
---
3
Get this single constituted DreamLine SlimLine shower pan that has a 3-wall design.
It has a left-side drain location for a comfortable fit.
The shower pan has a glossy white look that appears classy and functional.
It is made of non-porous acrylic material that is long-lasting.
The pan can be installed quickly and prevent any flexing in the shower.
| Rating Category | Weight % | Score |
| --- | --- | --- |
| Slip Resistant | 30% | 100 |
| Leakproof | 20% | 95 |
| Maintenance | 20% | 95 |
| Non-Porous | 15% | 95 |
| Easy Installation | 15% | 90 |
| Total Score | 100% | 95.75 |
---
4
The ingeniously designed PROFLO shower pan has a slip-resistant surface for a safe bathing experience.
It has a single curb with raised splash walls to prevent water from spilling outside the pan's boundary.
The base is designed in a way that is easy to install.
It is a spacious 34 by 34 Inch surface that provides enough area for you to turn around while bathing.
In addition to this, you can also use this shower base for a custom shower project.
The shower base's water drain is in the center of the structure.
---
5
The shower base from Tile Redi has an excellent blend of both design and function.
It has an innovative design that requires no preparation for installing tiles on it. Hence, you can model the pan according to your bathroom.
The shower base's waterproof and leakproof design offers you peace of mind for a long time.
The shower pan prevents the surrounding surface from getting wet with its curb and splash walls.
In addition to all this, the shower pan has a rectangular design featuring a two-inch PVC drain.
---
6
Get this Lippert shower pan that is white in color.
It is made of a sturdy ABS design that is coated with fiberglass.
This shower pan does not need to be painted or tiled.
The shower pan has a chip-resistant material for secure use.
Moreover, it is light in weight due to the use of fiberglass.
---
7
The state-of-the-art shower base from KBRS has all that you need for a comfortable shower.
First of all, it features a single threshold and raised edges to prevent water from spilling outside of it.
Tiles can customize the material used in making the shower base.
The shower pan's anti-slip base offers the user a safe bathing experience.
Moreover, it has a left side drain that helps in water drainage. It is available in two different color variants.
It also includes a white grid strainer made of acrylic.
---
Index Table: Top-Rated Shower Pans
---
---