Shower getting clogged is a common problem that happens to all of us. Hair, paper towels, soap scums, etc., are the leading causes of the shower's blocking.
It gets peculiar and icky when the water does not drain and creates a pool of dirty water in your bathroom.
To get rid of it, one can use a shower drain cleaner and clean their bathroom in no time.
Many people view it as a dirty job and prefer calling a plumber for the job.
However, this frequent event does not make it feasible to call the plumber every time.
So, it is better and more efficient to do these tasks hands-on with various available products that make the job easier.
---
Where Can Drain Cleaners be Used?
Drain cleaners are a super-effective way that helps to de-clog the water channels in the house. These effectively remove the water from your bathroom and all other water outlets of the house. Please look at the places where they can play a great role in removing water.
The Bathroom – Your bathroom is the most dominant place where water clogging occurs. This is so because it has high usage, and while bathing, we lose plenty of hair that gets stuck into the shower or bathtub's water outlet.
The Kitchen – The most blockage in the kitchen drain happens due to soap scum, food waste, and grease. Liquid drain cleaners are the most effective in handling kitchen drains' water clogs as they are much easier to use daily.
The Toilet – The situation is worse if your toilet gets blocked and accumulates much water. It is unpleasant both to the eyes and the nose. A drain cleaner is a saver in such a situation to get rid of this nasty and unpleasing event.
---
Different Types of Shower Drain Cleaner
There are several kinds of shower drain cleaners available with their unique properties. The most useful drain cleaners are as follows:

Drain Stick – It is a strap or a flexible stick with several hairs all over its body that you need to insert in the drain to remove the required materials.
Gel – Drain gels are easier to use and are thick material that stays in the pipe for a long time and prevents grease or grime from accumulating.
Liquid Drains – Liquid drains have various chemicals that break the grease in the pipe and let the water flow freely.
Drain Brush – There are brushes available with designed hair that you can use to clear the clogged water from the drain.
---
Features of a Good Shower Drain Cleaner
One must look for the following features when buying a drain cleaner.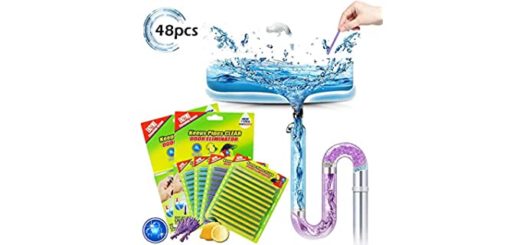 Odor – Clogged drains usually create pungent smells, and many cleaners are pre-equipped to fight these unpleasant smells.
Time Taken – Always consider the cleaner that has high efficiency and takes the least time to do their job.
Ease to Use – Cleaning your drain can be a nasty job, so that you might prefer a cleaner with an easier application.
---
Reviews: Best Shower Drain Cleaner for your Home
Below is the list of the best cleaner you can take to unclog your home's shower drains. Also, we would like to mention that for every purchase you make via the links given, we may receive a little credit for it.
We hope you love the products we recommend!
So that you know, We may collect a share of sales or other compensation from the links on this page.
---
1
---
2
The pipe has a unique combination of three styles of five-piece shower snakes that helps it to clean all kinds of pipelines.
The pipe is safe and more economical than other chemical cleaners.
The four-grabber spring design of the drain pipe unclogs more substances in a single stroke.
You can use it in toilets, bathrooms, tubs, floor drains, sinks, dredge pipes, etc.
---
3
Coodoo shower drain sticks help clear the drain and make it work effortlessly.
You can drop one stick into the water, and it slowly dissolves into the water and breaks the stuck food and grease from the drain pipe.
This drain cleaning treatment is highly effective and cost-saving as you only need to put one stick per month into the drain line.
The stick also takes care of all kinds of odors from the clustered particles.
---
4
The drain cleaning brush is simple and effectively clears out the stuck food materials from the drain.
The brush consists of numerous spiral bristles that remove all materials in the drain pipe.
This Link cleaning brush is value for money as it does its job effortlessly and fully.
The brush is multipurpose and can be used for cleaning the tub, toilet, washbasin, etc.
---
5
The drain stick has a loop on one end, making it easier to do the necessary operation.
The stick is easy to use and provides highly efficient results.
Insert the stick into the drain and pull it back to clean it.
The stick can flex at the p-trap region, where most of the clutter is present.
---
6
The Senhai shower drain cleaner stick is an excellent tool for removing unwanted stuck particles from your shower drain pipe.
The stock has a length of 20 inches, which helps deep clean the pipes.
The package comes with a set of two tools. One helps capture the solid material, while the other hooks hairs and debris.
The stock is environmentally friendly and is less expensive than other toxic drain cleaners.
---
7
This drain cleaner comes with a 360-degree rotation and removes clogs instantly.
It has an extra-long design that can clean hard-to-reach drain pipes as well.
The easy-to-use drain opener works in just three steps for hassle-free convenience.
The shower drain cleaner is a durable product that must-have in all homes.
---
8
This clog remover is long enough to reach sink pipes that go deep.
It is easy to bend into pipes to clean them thoroughly.
The stainless steel cleaner has a claw grip that can handle all the dirt.
You can use this hair clog remover to clean most clogged drains.
---
9
This package contains seven toilet snake plumbing tools.
The stainless steel cleaner can reach narrow, bent places and catch hair and debris.
Not only that, you can use it widely for multiple purposes.
It is easy to use and offers a tool to capture a solid obstruction.
---
10
The Faithrizing toilet drain clog remover is very light and easy to use.
It quickly removes even the hardest of clogs in minutes.
These go through rigorous tests and have been proven to unclog the shower or sink drain faster.
It helps to bring hair and debris to the surface efficiently.
---
Index Table: Top-Rated Shower Drain Cleaners
---
---