We all know a shower niche is a great way to add some much-needed storage space in the bathroom. The best part? You don't have to do any of the work! It's like getting an extra room added to your house without lifting a finger.
Keep reading for information on its design elements and best features, and then see our gallery of prefab shower niches we've found for you online.
---
---
What is a Shower Niche
A shower niche is a term used to describe a storage space inside a wall inside your bathroom or shower. This storage space allows you to neatly and easily store and place your shampoo, soap, shower sponge, and other bath accessories inside your shower or bathroom and within easy reach.
A built-in shower shelf or recessed shower shelf or insert are other terms that may likewise be used to refer to a shower niche. Besides a niche for the shower, you also get a bathtub, bathroom, or even a kitchen niche, a similar stare space.
The shower niche can come with one or more shelves to choose from for storage space and different forms, shapes, sizes, and materials.
The Two Main Types of Shower Niches that you will find are;

Tiled – The Custom Tiled Niche in the Tiled Niche section requires the construction of a framed box between your wall studs. In this case, the niche box is covered with a tile backer board, waterproofed, and sealed. This method is the most costly and time-consuming for a niche as well as error-prone. However, it is the most customizable option. You can also go for the Prefab Tiled Niche, which is the easiest tiling niche form to choose and install and the most waterproof. This type of niche can be made from foam, plastic board, or even stainless steel, with a surface that is designed to be tiled. However, this option is only available in a few size options and is not at all customizable.
Prefab – In the Finished Prefab Niche type, we start with the Membrane Bonding niche, which has an outer flange for bonding and waterproofing all the attachments attached to the framing. This niche is made from either stainless steel or porcelain and is much easier and quicker to install than any tiled niche. Secondly, the Retrofit Finished Niche will mount into a hole in the finished tile and fasten to the area's surface with an included adhesive. This is by far the most accessible Niche type to install but, unfortunately, the least waterproof.
So as you can see with every Niche type, there are pros and cons concerning installation, waterproofing, and durability or sealing properties.
---
Shower Niche Design Elements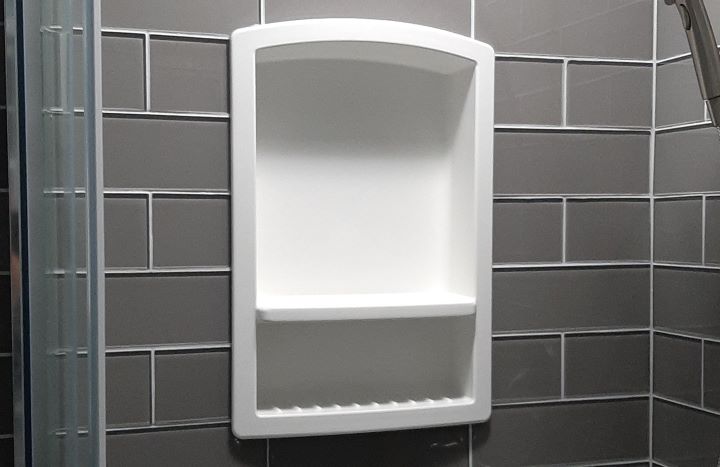 There are plenty of variations when it comes to niches besides just the tiled or finished niche type;

Custom Built Tiled Niche – The Custom Built Tile Niche is nice because you can customize it to any form, shape, and size.
Custom Built Horizontal Tiled Niche – Like the Custom Built Tiled Niche, the difference here is in size; with is much larger and horizontally designed. However, this type of niche is complicated to install and can lead to your shower wall's structural issues.
Ready Preformed Shower Niche Insert – The tile ready prefabricated preformed niche product is already sealed and waterproofed with a foam board construction and your quickest and easiest to install.
Finished Niche With Membrane Bonding – A pre-made shower niche needing no tiling or any other pre-work is easily installed and has a self-adhesive material. It is completely sealed, treated, and waterproof as well.
Finished Niche without Membrane Bodning – Very similar to the Membrane Bodnng Finished Niche that does not require any tile or pre-work, although it does not come with an adhesive, rather attachments that need to be installed into holes drilled into the shower walls.
---
Features of a Good Prefab Shower Niche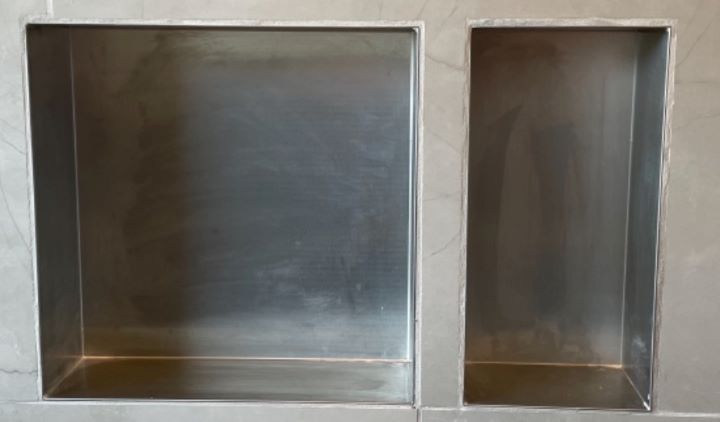 Shelves – Offers an all in one storage solution with one or more shelves. Since the shelves aren't built into the walls, it's best to utilize lightweight materials.
Materials – It has Plastic, porcelain, Stainless steel, or tiling materials. It comes with attachments and accessories needed for installation. Rust and waterproof.
Construction – Air Sealed and water sealed construction. Durable and hard-wearing design.
Size – The right size for your shower or wall space. The most popular standard shower niche size is 12″ wide x 28″ high x 3-1/2″ deep.
---
How We Test and Score Prefab Shower Niches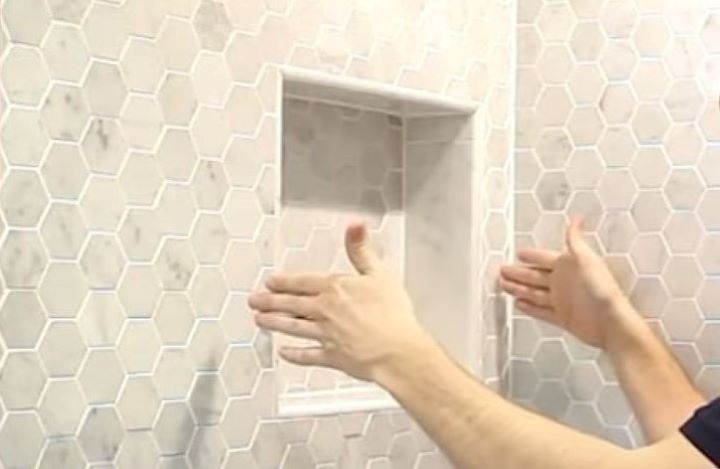 These reviews are based on intense research, analysis, and feedback from our experts and real users from different digital platforms.
We spent 19 hours trying, testing, and scoring these Prefab Shower Niches, for different key parameters and then shortlisted the best products in the market, saving you time and effort.
We used the following parameters for our tests and analysis.
Space-Saving – We checked whether the dimension of the shower niche is just adequate for its function.
Mold Resistant – We analyzed how effectively the shower niche resists mold and algae growth.
Waterproof – We analyzed how effectively the shower niche repel water.
Design – We analyzed the shower niche's design to check if it is appropriate for users' liking.
Easy Installation – We noted how easy it was to install without exerting much effort.
---
Frequently Asked Questions (FAQ) Regarding Prefab Shower Niche
---
Reviews: The Best Prefab Shower Niche
Below are some of the top-rated Shower Niche ideas in different designs and materials.
We hope you love the prefab shower niches we recommend!
So that you know, We may collect a share of sales or other compensation from the links on this page.

---
1
---
2
It is a single-shelf solid surface and very durable design Shower Niche from Swanstone that is available in many color options for you to choose from.
It has an elegant and well-finished design with a single shelf.
Available in many color variations to perfectly suit your background décor and style.
It installs vertically between studs and comes with a tube of clear adhesive for easy installation.
You can choose the finish color and have to include matt white, which is the most versatile.
| Rating Category | Weight % | Score |
| --- | --- | --- |
| Space-Saving | 35% | 100 |
| Mold Resistant | 25% | 95 |
| Waterproof | 20% | 95 |
| Design | 10% | 95 |
| Easy Installation | 10% | 90 |
| Total Score | 100% | 96.25 |
---
3
This stainless steel niche is genuinely the best choice!
The niche by Neodrain is ready to install.
The high-quality material makes it durable.
It is ideal for keeping all your toiletries in one place.
The design looks gorgeous.
| Rating Category | Weight % | Score |
| --- | --- | --- |
| Space-Saving | 35% | 100 |
| Mold Resistant | 25% | 95 |
| Waterproof | 20% | 95 |
| Design | 10% | 90 |
| Easy Installation | 10% | 90 |
| Total Score | 100% | 95.75 |
---
4
This wholly waterproof and vapor-tight sealed niche with a single shelf and Kerdi Board design from Schluter, a sought-after name in shower accessories.
Made from heavy-duty, durable Kerdi Board and is sized 12 by 28 inches for ample space.
The Kerdi Board shelf is already prefabricated.
Fully waterproof and vapor tight design, for long-lasting durability and resistance.
Handy shelf design and comes with all the parts needed for easy installation.
---
5
This is ready to tile and easily install a niche from tile Redi USA, with a handy storage shelf and ample storage space.
An all-in-one storage solution for your shower is in a one-piece niche with a recessed shelf.
You can install the niche either vertically or horizontally directly onto the surface.
It has a completely leak and waterproof design made from high-quality Plastic for heavy-duty use.
Dimensions include; 16 inches in width, 20 inches in height, and 4 inches in depth.
---
6
A gorgeous rustic style and color-designed niche from Houseables in a neutral color should suit almost any bathroom and home décor.
This niche has rustic-styled prefab tiles with watertight spacing.
It is a heavy-duty design and very easy to install.
It is made from lightweight and durable XPS foam with fiberglass cement mesh.
Waterproof and vapor tight.
Modern and sophisticated design and colors.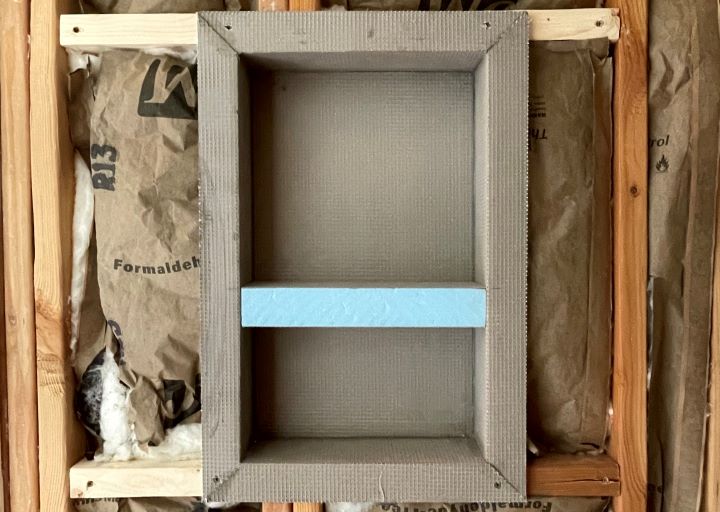 ---
7
A shower niche by modern decor that is both aesthetic and waterproof will serve various purposes!
This niche has an effortless and quick installation procedure.
It is 100% leakproof and waterproof.
The niche is constructed with durable ABS material.
You can either install it vertically or horizontally according to your needs.
---
8
Make sure you have this ready-to-install shower niche in your shower!
This ready-to-tile shower niche is perfect for your bathroom.
It comes with easy instructions.
The niche is checked beforehand for leaks.
No framing is required.
---
9
Modern heavy-duty shower storage by Cantrio is a perfect choice for installation.
The Cantrio shower niche is everything you want in your shower.
It is decorative as well as durable.
This shower storage is fully sealed and prevents water from leaking.
You may clean it within minutes for a new-like look.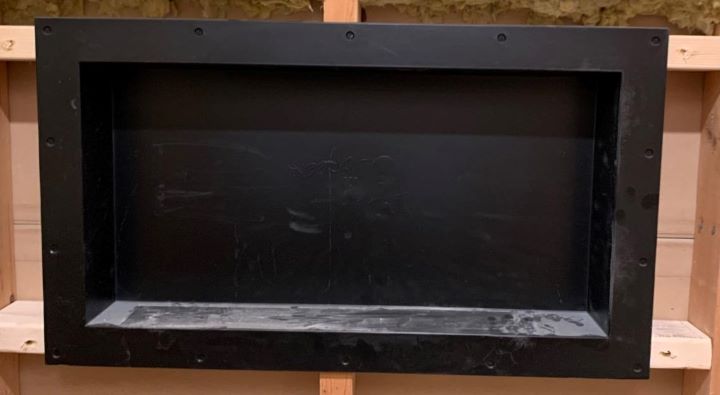 ---
10
Prevent mold and mildew with Suteck's rectangle niche.
This shower niche is super strong and durable.
It gives a beautiful finish to your shower.
Besides, it is made up of quality material and prevents water from leaking.
The material is constructed with strong bonds and prevents mildew and rust.
---
Index Table: Top Rated Shower Niche
---
---