One of the most obvious benefits of essential oils is their lovely aroma; however, essential oils are so much more than just an aroma and can have so many more health benefits.
There are many ways to use essential oils, topically, by inhalation, and some can even be ingested as a medicine.
However, one of the favorite methods to use essential oils is diffusion, which is a method that you use to smell and inhale essential oils safely.
An essential oil diffuser provides physical and mental benefits and will create a lovely aroma in your home, spa, or office that will linger on.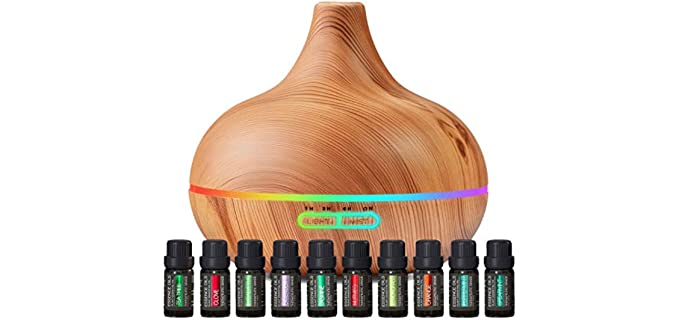 ---
Benefits of Using Essential Oils in a Diffuser
Essential oils have many benefits, especially using them in a diffuser;
Minimize the Effects of Seasonal Conditions – Aromatherapy with essential oils using a diffuser can help strengthen your immune system during winter and keep you healthy.
Improves Circulation and Drainage Beneath Your Skin – Using essential oils in a diffuser or topically will encourage good blood circulation in lymph drainage. It will improve the skin and reduce swelling and irritation in your skin.
Helps to ease Moods Swings During Hormonal Times – many women become hormonal during their menstrual cycle or when they hit menopause. Men may also become hormonal as there may be some hormonal changes as they age. Aromatherapy is calming and relaxing and will help to promote feelings of calmness and stability when you go through cycles of moodiness or irritation.
It Encourages Healthy Eating Habits – Your smell is a very important aspect of feeling hunger and satisfaction. Sometimes merely smelling food can reduce hunger cravings. Some essential oils can boost your appetite, while others may suppress your appetite, which leads to more healthy eating habits.
Reduces Muscle and Joint Tension and Soreness – Aromatherapy or using essential oils as a massage oil and carrier oil will help to soothe sore muscles and joints. After a workout or even after an injury where there is damage to the muscles or joints, you can use essential oils to relieve pain and soothe stiff muscles.
Encourages Sleep – Using a diffuser in your bedroom with the right essential oils can encourage Sleep. The oils have a calming effect that induces Sleep. Lavender is a well-known and affordable essential oil to encourage Sleep. At the same time, Neroli oil has soothing effects if you are extremely tense and struggling to sleep.
Clears Air Ways for Easy Breathing – Essential Oil Diffusers are an excellent choice if you have asthma, flu, or a cold, as it eases symptoms that affect the chest and lungs. Some essential oils can help clear your air and improve breathing, and some also help with blocked noses and other symptoms. Eucalyptus and peppermint oils are ideal for opening the airways and clearing your sinuses.
Reduces Stress – Diffusers are often used with essential oils that reduce stress and create a sense of calmness. Many essential oils have calming effects that can help reduce stress levels.
Mental Clarity and Concentration – Some essential oils used with your diffuser may likewise improve your mental clarity and create a state of concentration when you need to work or focus.
---
Some essential Oils that You can Use
More than 90 different types of essential oils are available, and each has unique benefits and uses.
However, here is a list of 10 of the most popular essential oils that you can use;

Eucalyptus and Peppermint – These oils are ideal for blocked sinuses and congestion and help with asthma.
Lavender – Lavender oil can be used for almost anything and is the most versatile of oils. It claims to repel insects and help with respiratory issues.
Sandalwood – sandalwood oil calms your nerves and improves your focus.
Bergamot – Bergamot Oil is used to reduce stress and can help with skin conditions such as eczema.
Rose – Rose oil improves your mood and reduces anxiety.
Chamomile – Chamomile is very relaxing and improves your mood; it is ideal for stress.
Ylang Ylang – Ylang Ylang can treat headaches, nausea, and some skin conditions; it also has a gorgeous smell.
Tea Tree – Tea Tree Oil fights infections and boosts your immunity.
Jasmine – Jasmine oils smell lovely, they help with depression, your libido, and childbirth.
Lemon – Lemon Oil aids digestion, enhances mood, and helps with headaches.
---
Features of a Good Essential Oil Diffuser
Electric Diffuser – The electric diffuser generates heat with electricity to heat the oil and disperses it into the air. Some electric diffusers also have fans to disperse the oil.
Terracotta Diffusers – Unglazed Terracotta is very porous and will absorb and release essential oils very well. Terracotta pots or diffusers disc may diffuse essential oils into the air.
Reed Diffusers – The reed diffusers uses a small reed with many tiny channels that release essential oil aroma into the air passively and around the clock. The tiny channels absorb essential oils and push them toward the top of the reed to be released into the air.
Ultrasonic Diffusers – the Ultrasonic diffuser atomizes water and essential oils by using sonic waves instead of heating or burning the oil, which can lead to destroying its original structures. They diffuse tendrils of mist and also have an aesthetic appeal.
---
Reviews: The Best Essential Oil Diffusers
In our list, we have incorporated a few types of the best essential oil diffusers on the market today;
---
1
The Asakuki us and Ultrasonic essential oil diffuser and humidifier all in one.
It uses water and is a five-in-one aromatherapy device with LED lights and a large water tank.
The device is easy to use and clean with a patented water baffle.
It comes with a remote control and different settings for use.
The container is completely BPA-free.
---
2
The Vamoar is a complete essential oil and diffuser set.
You get a diffuser and humidifier that also comes with ambient lights.
There are ten natural essential oils included in popular scents.
There are no additives or fillers in the essential oils to create better oil purity.
The diffuser has a large water tank and easy to clean design.
---
3
From Wanlola, we have a terracotta ceramic essential oil diffuser.
The essential oil diffuser is a silent Ultrasonic design with an automatic shut-off function.
It is a handmade ceramic design that comes with two fogging modes.
The design is fully waterless.
---
4
Another Ultrasonic diffuser from the Pure Daily care store.
It is a diffuser and humidifier with seven ambient light options and a modern design.
The diffuser comes with ten therapeutic grade essential oils that are pure with n additives.
The essential oils include all the popular essential oils you will need for use with your diffuser.
---
5
I have also included a Reed diffuser kit from Craft and Kin.
The Kit includes eight rattan oil diffuser sticks, an elegant amber glass vase, and a premium natural jasmine & lily mixture of essential oil, ensuring a con, ensuring a continuous fragrance ensuring continuous fragrance for excellent housewarming.
The Kit is safe and natural, and very easy to use.
---
6
From Feelpop, we have a ceramic terracotta essential oil diffuser that is ultrasonic and very quiet.
It has seven lights and two misting options for a large room or area.
The diffuser is BPA and handmade with ceramic materials.
Four-time setting modes, a waterless option, and a safety auto-off function exist.
---
Index Table: Top Rated Essential Oil Diffusers
---
---