Frosted Glass Film for Shower Doors is an excellent option for people on a budget looking to add privacy and a decorative aspect to their bathrooms. These films are very readily available and come in various designs and patterns.
Moreover, these privacy films prevent condensation in the shower and do their job without blocking any natural light. Hence, we have accumulated the best-frosted films on sale on Amazon for you.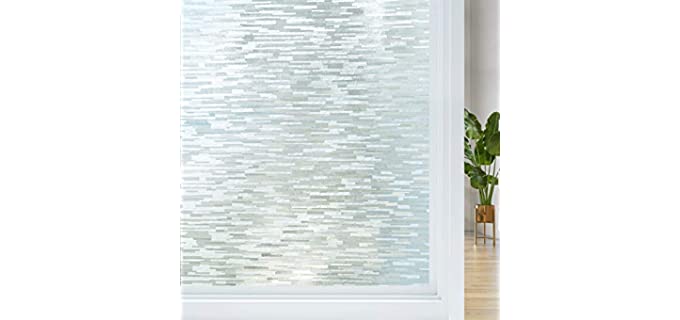 ---
---
How to Frost Clear Glass Shower Doors?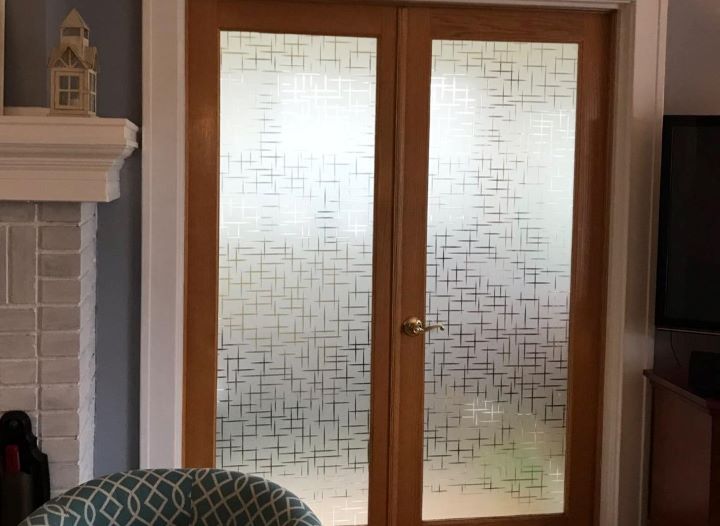 Let's read about the various ways we can frost glass shower doors.

Frosted Spray Paint – No matter what method you choose, frost your shower door. Firstly, take it off and outside, clean and dry the glass. Cover the edges to protect against the paint. There are various paints and glazes available for this job, so pick the one you like best. Make sure to paint it from the outside to prevent any water damage to the paint. Spray it on, wait for the coats to dry, and repeat the process till you get the desired effect.
Etching Acid – For an etched effect, apply the etching cream to the glass, and you can even use stencils for a creative design. However, make sure to apply the cream away from the reach of pets and children and use hand protection. Once applied, leave it on for the amount of time instructed on the cream packaging. Rinse off the cream and let the door dry.
Window Film – Most stores nowadays carry static cling shower door film that is easy to apply. Make sure to clean the glass with water and baby soap before application. Peel off the backing on the film, start from the top and work your way down slowly. Use a squeegee to remove bubbles and trim any excess around the sides.
---
Does Window Film Work in Bathrooms?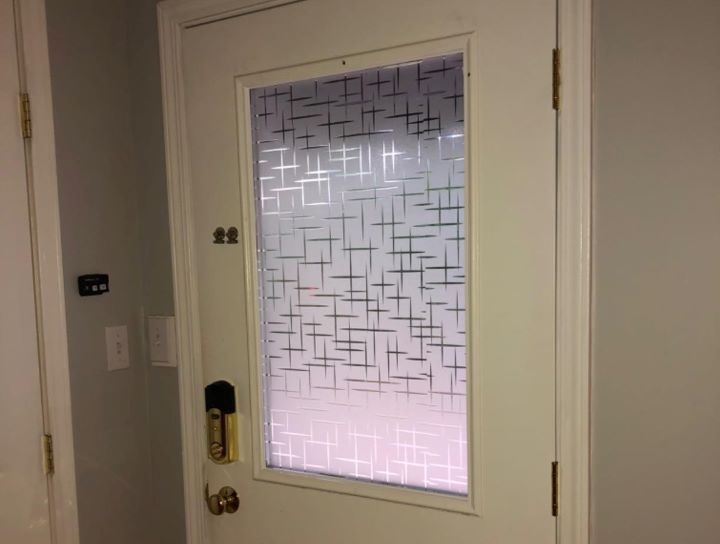 Here are pointers to help you decide if window films are a good option for the bathroom.

Durable – Window films are highly durable, therefore a great option to use in a bathroom. These privacy films do not deteriorate from humidity, mildew, or mold.
Privacy – Frosted films are a great way to add privacy to your bathroom shower door without adding extra material to the space. It is an excellent choice to cover up a bathroom window that can be looked through from the outside.
Anti-Fogging – Most of these frosted films are water-resistant, anti-fogging, and prevent condensation. So, these frosted films are a great option if you are looking for some glass shower privacy ideas.
---
Is a Frosted Glass Film Better Than a Shower Curtain?
It's fair to be confused between choosing something traditional, like a shower curtain, and something modern, like a frosted film.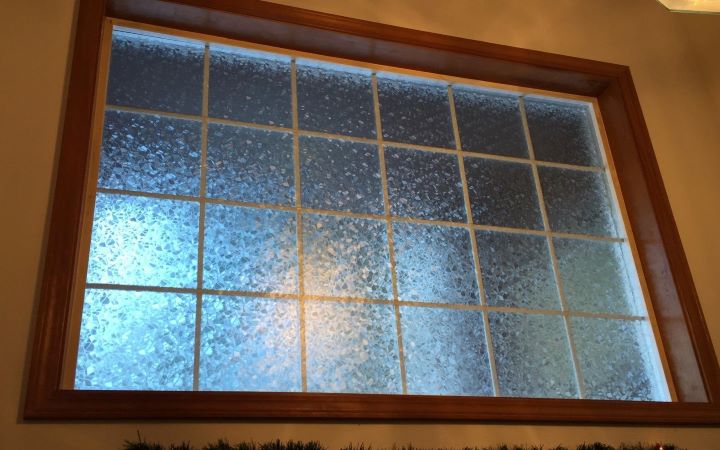 Ideal for Small Bathrooms – If you have a bathroom already a little tight on space, adding a shower curtain would add to the stuffiness. Therefore, a privacy window film is a good option for adding privacy without compromising space.
Budget-Friendly – Frosted films are half the price of a shower curtain, if not less. So, if you roll on a tight budget and need to add some style and privacy to your bathroom, frosted films are the way to go.
Easy Installation – These films are super easy to install and take no time. The process is pretty much like using a sticker. Plus, you would have to install a curtain rod for a shower curtain first, which sounds like more work.
---
Reviews: Best Frosted Glass Film for Shower Doors
Enlisted beneath are the top-rated frosted glass film for shower doors, with additional details to help you choose the one you love. Also, all purchases made using the links on this page enable us to make a small commission. This does not incur any extra charges on your bill.
We hope you love the products we recommend!
So that you know, We may collect a share of sales or other compensation from the links on this page.
---
1
Rabbitgoo Frost Film for Shower Door is designed to give your shower door an etched glass effect.
Also, the anti-fog coating prevents condensation on the shower door, allowing you to enjoy privacy while taking a refreshing shower.
The Frosted glass film for shower doors is made of premium material, which can effectively reduce annoying glares and protect your skin and toiletries from getting directly exposed to sunlight.
The waterproof bathroom window film is a semi-private decorative glass film that serves a functional purpose of adding partial privacy to your personal space.
---
2
Niviy Frost Film is the frosted film for shower doors. It even provides more than 96% UV protection.
Also great for temperature regulation as it insulates heat in summer and preserves heat in winter.
Niviy's make excellent-quality shower door privacy decals, as they are made of vinyl static cling films.
Besides, the frosted glass film for shower doors works wonders in adding style while providing maximum privacy.
This film comes in a large roll and can be cut according to size and shape preference.
---
3
D-C-Fix Frosted glass film for shower doors transforms your shower, glass door, window, glass tabletop, and smooth glass surfaces into a decorative and personal space.
Moreover, the self-adhesive film can also offer the privacy of varying degrees.
This static cling shower door film is an easy, quick and affordable way to keep your shower door clear of fog and frost.
It's completely removable and leaves no residue on the glass or frame.
The kit also includes an applicator squeegee for easy installation.
---
4
The Lemon Cloud Frost Film for Shower Door is the perfect shower accessory to help reduce fogging and condensation.
Moreover, the film is made of premium vinyl material designed to withstand heat and steam for long-lasting quality.
It's simple, fast, and easy to apply with no tools needed. Just clean your glass, apply the film, squeegee out any air bubbles (it'll be like magic), then let it dry overnight before hopping into the shower.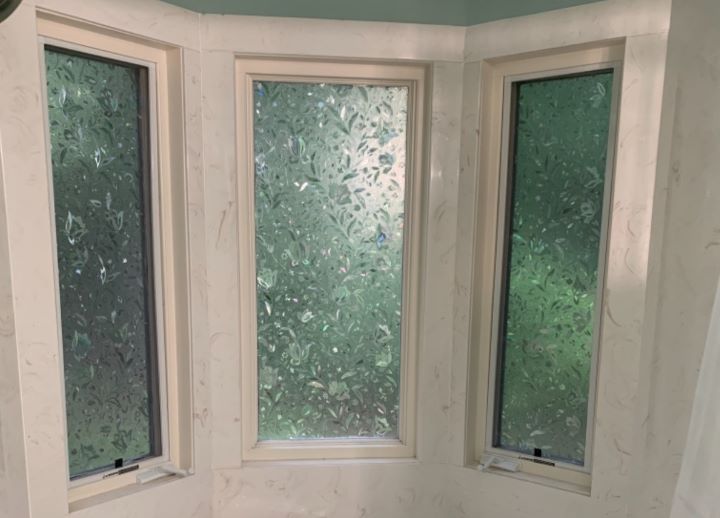 ---
5
This Frosted glass film for shower doors features a frosted texture and decorative patterns. It brings a brand-new design sense to your shower closure and gives it a modern feel.
It is the perfect substitute for a shower curtain.
Haton Frost Film for Shower Door is a non-adhesive and static cling window film that can be removed effortlessly without leaving any traces on the glass.
It's a great alternative to traditional plastic shower curtains, allowing you to enjoy a clear view of your bathroom while protecting it from water damage.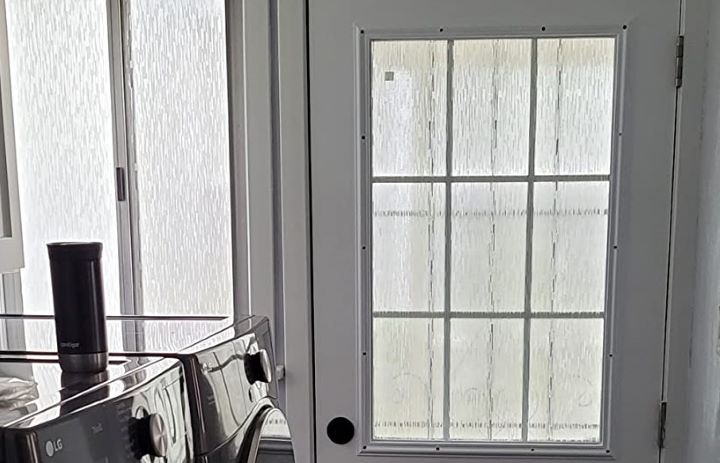 ---
6
The VELIMAX Frost Film gives your glass a frosted look while allowing light to pass through. This creates privacy without blocking natural light from entering your home. In addition, it also stops UV rays.
Also, it is Anti-fog, anti-mildew, and anti-static. It can keep the shower door clean and clear.
Besides, the Frosted glass film for shower doors can keep heat inside during winter and eliminate hot spots near the windows in summer, significantly saving your electricity bill.
---
Index Table: Top-Rated Frosted Glass for Shower Doors
---
---