Often, it is said that if you want to see if a person takes care of them or not, take a look at their feet.
This can tell us a lot about the importance of keeping clean feet, not to mention its necessity from a hygiene point of view. Feet need to be cleaned and scrubbed regularly, like every other body part.
Please scroll down to find out about foot scrubber for showers, their necessity, and the best ones available out there.
---
Benefits of Foot Scrubber for Shower
Cleans the Feet – The first and foremost benefit of using a foot scrub regularly is that it cleans your feet thoroughly, even getting into the areas between the toes. It is excellent from a hygiene point of view since the foot scrubber exfoliates away the dead skin cells.
Smoother Skin – A huge advantage of using a scrubber is that it leaves you with soft and smooth skin. As the dead skin is peeled away, the soft skin underneath gets a chance to shine.
Removes Calluses – Calluses form when your skin is under pressure, especially when you are wearing high heels or are in contact with hard surfaces. Using a foot scrubber at least two times a week mollifies the skin and reduces calluses. Otherwise, calluses can become extremely hard and may start to cause pain. In accordance with Mayo Clinic, using a foot scrubber can help to remove dead skin from your feet.
Relieves Foot Aches – Proper foot care can reduce foot pain. Using a scrubber on your feet acts as a massager and increases blood circulation in the area. This can relieve already existing pains. Another reason is that regular foot care can eliminate the risks of cracked heels, calluses, and rough skin, which can be painful when you walk.
Better Pedicure – Last but not least, if you are doing your pedicures at home, regular use of a foot scrubber while showering will visibly improve your pedicure results. The steam and moisture from the shower soften the skin, making cleaning all the easier.
---
Types of Foot Scrubber for Shower
Pumice Stone – A pumice stone is formed when water and lava mixes together. It's a lightly abrasive stone that has been in use for foot care for centuries. When rubbed on, it removes dead, dry skin as well as calluses and corns.
Scrubbing Mats – Using scrubbing mats in the shower is the easiest way to clean the feet. The bristle covers the mats' surface and massages the skin while removing dead skin cells. The small bristles even get in the area between the toes. This is multi-tasking at its best!
Electric Scrubbers – Electric, rechargeable scrubbing machines are also used to peel off dead skin cells and the layer of dry, cracked skin. They effectively eliminate even the hardest calluses.
Foot File Sticks – Foot Files are the most common product to scrub the feet. Most spas choose similar products for pedicures. They quickly remove calluses and dead skin from the feet, leaving them soft and smooth.
Scrubber Brush – Scrubbing brushes are the ideal choice for seniors or anyone who has trouble bending in the shower. The brush handles make them easy to handle without putting a lot of strain on you.
---
Features of a Good Foot Scrubber for Shower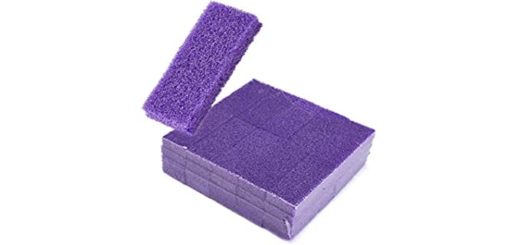 Durability – The first and most important thing to consider before buying anything is durability. Opt for a foot scrubber that is going to stay with you for a while, without forming mold.
Sturdy Material – Just like how sturdy the materials are used in the back scrubber for shower, foot scrubber should also consider what materials are good to use. Make sure the bristles are soft but firm, or the pumice stone is high-quality, depending on your product.
Ease of Use – Choose a foot scrubber that is easy to use in the shower. It must not require you to bend over at awkward angles and risk falling.
Bristles – Located on both the top and bottom, pumice stone on the heel for smooth and soft feet, and 9 suction cups on the bottom to secure to the shower floor.
---
How We Test and Score Foot Scrubbers for Shower
These reviews are based on intense research, analysis, and feedback from our experts and real users from different digital platforms.
We spent 23 hours trying, testing, and scoring these Foot Scrubbers, for different key parameters and then shortlisted the best products in the market, saving you time and effort.
We used the following parameters for our tests and analysis.
Removes Calluses – We compared different products to come up with the most effective in reducing and lessening calluses.
Relieves Foot Aches – We assessed how effective it was to ease or reduce foot pain.
Antimicrobial – We analyzed how successfully the product work to resist microbes.
Stretchability – We tested the foot scrubber's stretchability by using it and hand stretching.
Lightweight – We observed if the product felt light while using it or did not show any heaviness.
---
Frequently Asked Questions (FAQ) Regarding Foot Scrubber for Shower
---
Reviews: Best Foot Scrubber for Shower
The below list consists of the best foot scrubbers to use in the shower.
We hope you love the foot scrubbers we recommend!
So that you know, We may collect a share of sales or other compensation from the links on this page.

---
1
The foot scrubbing shower mat comes covered with soft and firm bristles to clean the feet and remove dead skin gently.
It even gets to the areas between the toes.
The non-slip mat sticks safely to the floor with the help of 128 suction cups.
It eliminates the need to bend over and risk falling.
This product is beneficial for individuals with poor flexibility, spinal pain, or hip problems.
It promotes circulation in the feet by massaging them and relieves aching feet.
This mat is made with antibacterial, mold, and mildew-resistant material.
| Rating Category | Weight % | Score |
| --- | --- | --- |
| Removes Calluses | 30% | 100 |
| Relieves Foot Aches | 25% | 100 |
| Antimicrobial | 20% | 100 |
| Stretchability | 15% | 95 |
| Lightweight | 10% | 90 |
| Total Score | 100% | 98.25 |
---
2
The shower foot scrubber mat can massage your feet and improve the blood flow and circulation of the feet.
Get enhanced massages and soothe your tired feet without bending. Suitable for people of every age group.
It provides the perfect feet cleaning treatment covering exfoliating, massaging, and smoothing.
The new generation is large and has a unique dual-bristle design to provide better deep cleaning.
It has non-slip suction cups that allow you to stand on both of your feet without worrying about slipping.
| Rating Category | Weight % | Score |
| --- | --- | --- |
| Removes Calluses | 30% | 100 |
| Relieves Foot Aches | 25% | 100 |
| Antimicrobial | 20% | 95 |
| Stretchability | 15% | 95 |
| Lightweight | 10% | 90 |
| Total Score | 100% | 97.25 |
---
3
Newthinking Shower Foot Scrubber provides high-quality feet cleaning and treatment by massaging and exfoliating.
The 11.6x 11.6 inches foot scrubber is big enough to keep both feet, and it has a hanging loop for convenient storage.
It helps you propagate a healthy and hygienic habit and improves blood circulation.
The premium Polyvinyl Chloride material adds to its durability and prevents accidental slips.
It provides you with a comfortable foot massage relieving fatigue and getting rid of the athlete's foot.
| Rating Category | Weight % | Score |
| --- | --- | --- |
| Removes Calluses | 30% | 100 |
| Relieves Foot Aches | 25% | 100 |
| Antimicrobial | 20% | 95 |
| Stretchability | 15% | 90 |
| Lightweight | 10% | 90 |
| Total Score | 100% | 96.5 |
---
4
This is a straightforward product aimed at giving you baby-soft feet.
The waterproof grit and handle are durable and resistant to mold.
The coarse shaver grit removes dead skin and callouses safely, without causing any cuts.
It comes with a wooden handle that is easy to grip without causing any strain on your body.
---
5
The foot-shaped pad comes with a soft-bristled surface for massaging and cleaning the feet.
It has an anti-slip bottom along with suction cups that make it stick.
Over 1500 bristles cover the surface of the pad and clean even between your toes.
It relieves aching feet and increases blood flow.
Air dry after use.
---
6
This electric scrubber gently and effectively buffs away rough and dry skin as well as calluses.
After just one use, it quickly turns rough and cracked heels into smooth ones.
The callous remover machine is rechargeable and easy to use.
It offers multiple speed settings that you can choose according to your needs.
The soft-touch handle allows for easy gripping, whether wet or dry.
---
7
Scrub away all the dirt present in your feet with this supreme quality shower foot scrubber.
This scrub brush set is ergonomically designed and is highly functional.
Three fine foot files are available in the pack to remove cracked, minor rough, dead skin from the heels.
The brushes have a friendly design and provide good gripping.
The dual-sided brushes let you clean your feet from either side and ensure long workability.
---
8
Remove all the dead callus skin from your feet using this BTYMS made scrubber for feet.
It is designed in a double-sided pattern that offers you the convenience to use it from either side.
It comes in a set of three and has a foot rasp and two dual-sided foot files available in the pack.
The file has one rough and one smooth side for better usage.
It can exfoliate dead skin from dry and wet feet.
---
9
This extremely sturdy and efficient foot scrubber provides you with a fantastic cleaning experience.
It is made of professional surgical stainless steel that lifts off the dirt in a few minutes of scrubbing.
The brush consists of an ergonomic non-slip handle that provides an excellent grip to the user.
It works well on both wet and dry feet.
The brush consists of small holes for the thin callus and large holes for the thick callus.
---
10
Do your pedicure yourself with this quality shower foot scrubber built by Joovre.
The high-quality stainless steel material used in its making removes callus and gives you smooth feet.
It has a thirty days money-back guarantee if you don't like it.
The brush has a lightweight design and is easy to carry.
It works amazingly well on dry feet for providing softness to calloused and cracked heels.
---
Index Table: Top-Rated Foot Scrubber for Shower
---
---