Exfoliating your skin regularly is ideal for removing dead skin cells, so moisturizing products absorb better and improve blood circulation.
However, not all exfoliating products are very good for your skin, especially if you have more sensitive or dry skin.
A good loofah is the perfect light exfoliator for daily skin care. Most loofahs contain unhygienic materials and are quite harsh on your skin, so why not opt for a safer and gentler silicone loofah?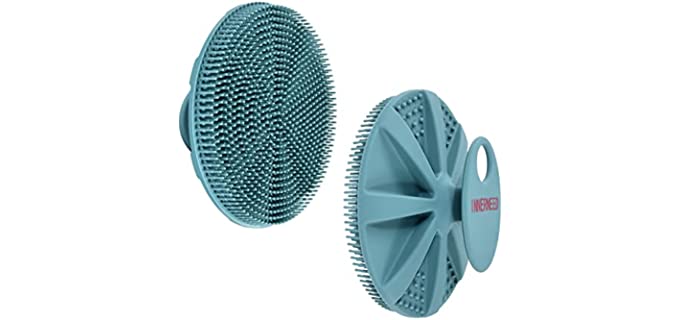 ---
The Loofah
So let's talk a bit about your loofah, the colorful frilly plastic thing that hangs in your shower every night to wash with and the affordable one that looks good and harmless.
The Loofah is a bacteria paradise that can grow mold and bacteria fast when handed In your shower for days or even hours without being rinsed properly. Worse yet, many plastic loofahs t
Longer Lasting – Silicone will not fray or tear easily, such as cloth or plastic loofahs; because it does not harbor bacteria and germs, you can use it for much longer without replacing your loofah regularly.
gentle on the Skin – Using a Plastic or other type of loofah can be slightly abrasive to your skin, which in turn may lead to tiny little cuts and damage to the skin. Silicone, while still exfoliating, is completely non-abrasive and will not cause any harm to your skin.
Recyclable – Silicone is degradable and can be recycled even after a lifetime of use. When it lands on a landfill, silicone breaks down into harmless ingredients such as amorphous silica, carbon dioxide, and water vapor.
Non-Toxic – Unlike most plastics, silicone is completely non-toxic to aquatic and most soil organisms and will not leech any harmful substances back into the environment.
Anti-Bacterial – Because silicone has a completely non-porous surface, it is almost impossible for bacteria to grow on or in a silicone loofah. Silicone is naturally antibacterial and thus much cleaner and healthier for your skin. Thus, you will not be placing any bacteria on your skin that could lead to infection, acne, or breakouts.
---
Keeping Your Silicone Loofah Clean and Hygenic
Because silicone is hydrophobic and antibacterial, it is extremely low maintenance to keep your loofah clean and in good shape.
However, you will still need to clean your silicone loofah now and again. If you use it regularly, you can use any type of soap to clean your silicone loofah once every two weeks thoroughly. Remember that you need to rinse it with warm water and pat it dry with a lint-free towel.
Try to avoid any cleaning products that contain alcohol or acetone on your silicone loofah or cleansers with granular exfoliants, as they may damage your loofah.
---
Features of a Good Silicone Loofah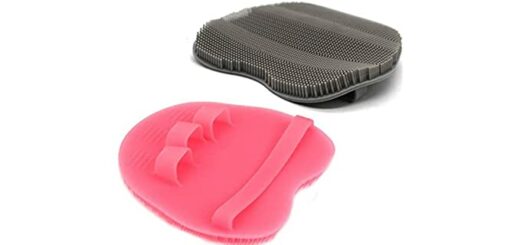 Design – Look for a loofah design that you can easily hold or that will easily wrap around your hand for use. Most silicone loofah options come in sets of two or more loofahs that you can use in the bath and shower for when you may need a replacement or have a larger family.
Size – Get a good loofah to cover your entire body, and you can always choose a smaller option as a facial cleanser.
Easy To Clean – Look for a silicone loofah that has a design that is easy to clean and without too many holes and crevices that could collect mold.
Materials – The Silicone loofah needs 100% pure and natural silicone. Some of the attachments and the packaging may be synthetic, and some will come with biodegradable packaging.
Colors – The silicone loofah may come in some color options you can choose as needed.
Hanging Loop – Some silicone loofahs will come with a loop or design that allows you to hand the loofah in your shower easily.
---
Reviews: The Best Silicone Loofahs
In our list below, we have some excellent options in pure silicone loofahs for you to use in the bath or the shower;
---
1
The Silicone Body Scrubber and loofah set is the ideal set for sensitive skin and even for children.
It consists of 100% pure silicone and comes in three body scrubbers that can be used as an exfoliating loofah.
The design is gentle on your skin and very easy to use.
The loofah offers you a comfortable and ergonomic grip.
---
2
From Hommiesafe, we have two-pack of silicone loofahs and body scrubbers in one.
The loofah offers gentle exfoliation for your body and has a hygenic design.
It consists of complete food-grade silicone that is safe and eco-friendly.
The loofah brush gives a comfortable and refreshing massage feeling.
---
3
The Nampula Silicone loofah has a comfortable glove design that easily fits on your hand and allows you to reach all areas of your body.
The silicone loofah has an exfoliating and massage side that removes makeup and dead skin cells.
It consists of skin-friendly, natural,l and safe silicone only.
You can use the loofah brush as a dry or wet brush for exfoliation.
---
4
The HieerBus silicone loofah is a flat shower brush and loofah all in one.
It has long bristles for a comfortable massage and exfoliating experience.
The loofah consists of natural silicone and is extremely hygenic.
It is easy to hold with a handle and comes with a hang hole for storage.
---
5
The LoveXiran loofah consists of all-natural silicone and is available in many colors from which you can choose.
It is a loofah and exfoliating brush that is much more hygenic and eco-friendly.
The silicone loofah is heat resistant and can be used wet or dry.
You can use it as a body washer or wash your hair.
---
6
From Innerneed, we have the handheld shower brush and loofah that consist of natural silicone.
The loofah is hygenic and ideal for all skin types.
It offers a deep cleaning experience and will lather up very well.
The handle has a convenient and easy-grip design,
---
Index Table: Top Rated Silicone Loofahs
---
---