Shaving in the Shower can be time-saving and a bit more cost-effective. In the Shower, your skin is already wet, and the heat has opened up your pores, making this the ideal time for shaving.
Although a few extra accessories will be needed for shaving in the Shower, particularly for men, where a fogless shower mirror is required.
---
---
Shaving in the Shower Pros and Cons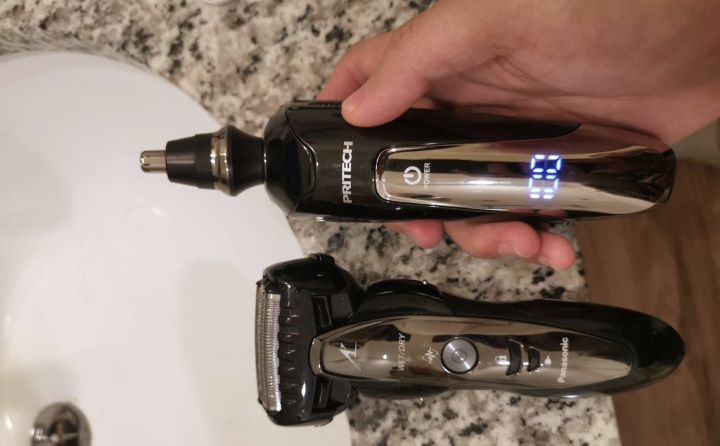 For men fortunate enough to have a fog-resistant mirror in the Shower and women who find it comfortable to shave in the Shower, the steamy water makes the ideal pre-shave treatment that softens your skin for an easier shave.
Shaving in the Shower is ideal for men who suffer from razor burn and irritation as the skin is kept supple and wet, preventing cuts and nicks.
The logistics may become tricky depending on the available tools, yet you can quickly get the job done with the right Shower shaver, whether electrical or manual.
Here are some Pros and Cons of shaving in the Shower;
Pros

Saves you time on your grooming routine.
You can quickly rinse away the lather and hair with clean water.
Your skin stays wet and supple from the warm water and steam.
It prevents skin irritation, razor burn, and nicks and cuts.
Cons

The razor slips easily and jumps or skims with too much water.
Not enough lather is created as the water rinses it away too quickly.
If you do not have a fog-resistant mirror in the Shower, you will not be able to shave your face.
You might not always get the closest and most efficient shave.
Choosing between the bath for ladies or sink for men and the Shower all has to do with personal preference and mostly boils down to the available tools. An in-shower razor must withstand constant humidity and wetness and have a rustproof design. Remember that you will likewise need an area in the Shower to store your shaving tools, and men will need a fogless mirror.
---
Tools You will Require for Shaving in the Shower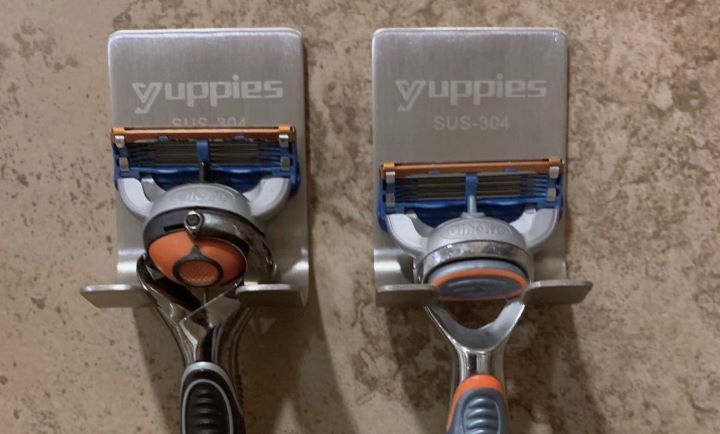 For men, a Fogless shower mirror is an absolute must.
You will need a hanging rack, hook, or holder to keep your razor and shaving products.
It is an electric razor that you can use in wet conditions.
A rustproof blade that can withstand constant humidity.
Easy to clean design and a protective hood.
---
Features of a Good Shower Shaver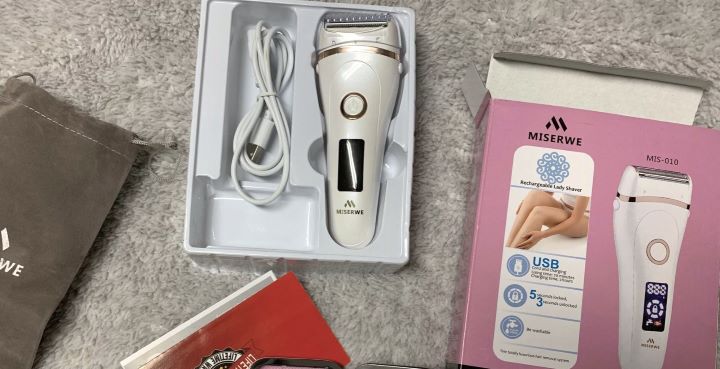 Grip – Easy-grip handle that will not slip when wet from metal, plastic, or rubber.
Design – Waterproof. Wet and Dry Options. Electrical or Manual.
Safety – A protective film or moisturizing strip.
Cleaning – Easy cleaning design or self cleaning.
---
Reviews: The Best Shower Shavers
Below you will find some of the top-rated shower shavers available today.
We hope you love the products we recommend!
So that you know, We may collect a share of sales or other compensation from the links on this page.
---
1
---
2
This is not an actual shower razor but a tool that you may find very handy for holding your manual razors and other objects such as a loofah, toothbrush, and shower brush. A holder for your shower shaver is necessary, and this model is one of the best options for a manual razor.
Versatile featuring multiple uses and purposes inside the Shower holding your razor and other accessories.
It is made from durable and rustproof stainless steel.
It comes with self-adhesive hooks included.
Attaches easily to your shower walls or doors.
Durable and strong enough to hold up to 1 kg.
---
3
This is one of the best available electrical razors in the Shower for men.
Charges fast and easily with one full hour of use before having to recharge,
Versatile can be used inside and outside the Shower, wet or dry.
Features 4 Directional flex heads and a 3D rotary system that adapts to the contours of your face for a smoother and more comfortable shave.
There is a pop-up trimmer for further convenience.
A completely waterproof and rustproof wet and dry shaver ideal for the Shower.
The LED display screen indicates low battery, shaving time, travel lock, and cleaning requirement time.
---
4
We have the Miserwe cordless electrical shaver for the Ladies to use in the Shower.
A 3-in-one shaver with a straight blade for arms and legs, a curved blade for underarms and bikini line, and a floating foil to clean off residual hair.
The stainless steel blade adjusts to different angles for different shaving areas, gliding gently and smoothly along the curves of your body.
An anti-slip grip design and sealant technology for complete waterproofing.
Moreover, the stainless steel blades are hypoallergenic and will not irritate.
It easily charges with a USB Cable.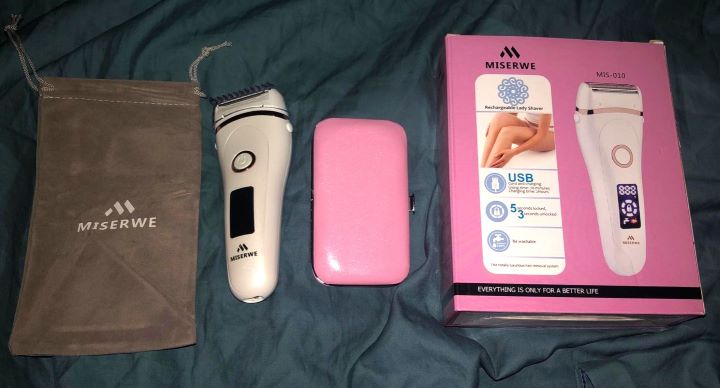 ---
5
For men, a complete body groomer for the Shower from Philips protects your skin and comes with a handy hanging rope for easy in-the-shower storage.
It comes with a battery included.
Features an integrated skin protector, which guards your skin while you trim.
The shaver has a Bi-Directional trimmer that cuts hair in both directions.
It is a 3mm comb for trimming longer hair quickly.
Showerproof and very easy to clean and maintain inside or outside your Shower.
It comes with a cord for easy in-the-shower storage.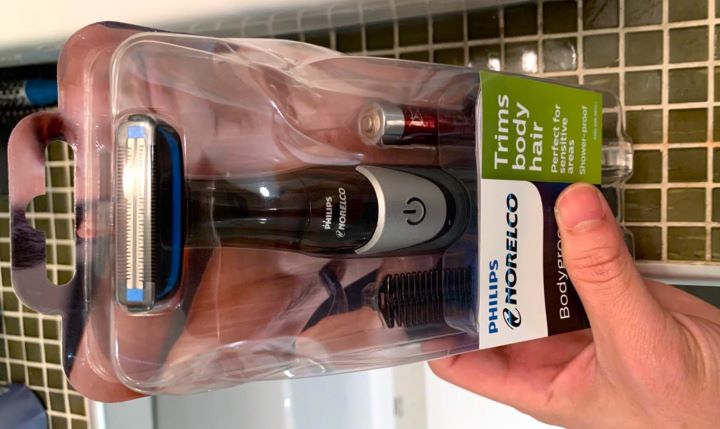 ---
6
Gilette is a trusted brand among many men and women regarding quality razors. The Platinum Plus has the perfect design for use in the Shower.
A solid metal handle that perfectly fits a woman's hands.
There are five diamond-like coated blades to glide over your skin in perfect balance.
The protective water-activated moisturizing ribbon protects you against nicks and cuts.
The head is rounded and can pivot and curve for hard-to-reach areas.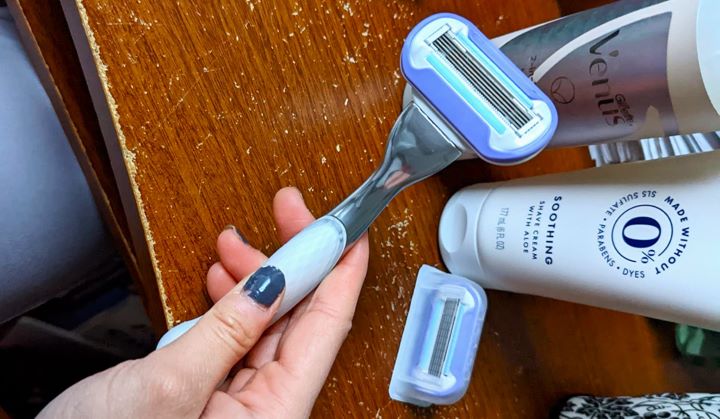 ---
7
Get this sleek, powerful shower shaver from Wahl with a five-minute quick charging feature.
The shaver has flexible foil cutters with a pivoting head for a comfortable shave.
It has a non-slip grip and a travel lock to safely carry it in your bag.
You can shave for a long time with a 90-minute run time in one hour.
The design of the shaver is precise and has a pop-up trimmer for details.
---
8
Consider getting this SweetLF shower shaver with a pop-up trimmer and rotating head.
It has an LED display and a run-time of 120 hours in just an hour of charging.
The LED gives a 5-level battery remaining indicator for your convenience.
With its 4-direction floating heads, you will get a smooth shave each time.
The 3-d rotary shaver will safely remove all the hair without any cuts and knicks.
---
9
Consider the Jack and Rose Direction Contouring shower shaver for a precise and smooth shave.
It has an adjustable contouring mechanism along with the body's curves.
The shaver comes with a nose trimmer and hair clipper for all-purpose use.
It operates on a powerful Li-Ion battery for ninety minutes in one go.
A single shave can quickly charge the shaver in just five minutes.
---
10
Get the Buling shower shaver specially designed for women.
It has a gold-plated head that is gentle and effective on the skin.
The shower shaver has a gliding technology that will ensure painless shaving.
It has a curvy design to give a close and better shave all over the body.
The electric shaver has built-in lights to guide you while shaving.
---
Index Table: Top Rated Shower Shavers
---
---