Sandalwood is a deep and rich fragrance with woody tones and a sweetness to it that is much loved all over the world.
Sandalwood works very well in soaps and body scrubs and can be used as a skincare product.
It can likewise be blended with other essential oils to create a lovely fragrance and positively benefit your skin and mood.
Sandalwood soap is the ideal skincare product to promote health and wellness, and it has a refreshing and soothing scent.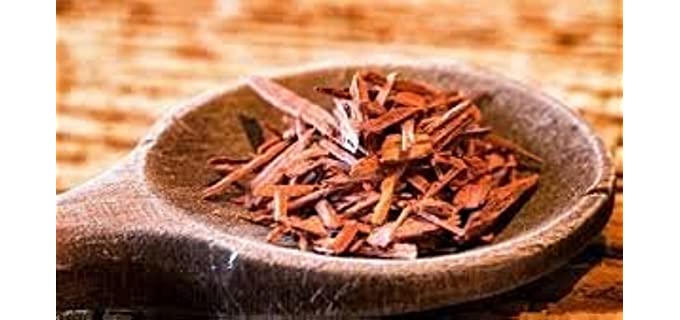 ---
Sandalwood Oil
Sandalwood oil, whether used as an oil, soap, cream, or scrub, has so many wonderful benefits;
Scarring – Sandalwood oil nourishes the skin and improves the elasticity of your skin cells; it also evens out your skin tone, which fades scars.
Wrinkles – Because sandalwood contains many antioxidants, it can help to maintain the buoyancy and structure of the cells in your skin. It will also reduce dry skin and replenishes moisture in your skin which will increase its elasticity. Antioxidants can help to reduce and prevent wrinkles because they fight free radicals.
Ideal for Skin Conditions – Sandalwood oil can help with skin inflammation, Eczema, psoriasis, and healing wounds. It has strong anti-inflammatory properties and is ideal for treating common warts and conditions. Sandalwood cream or soap paired with turmeric can reduce rashes and skin discoloration, especially if caused by chemotherapy radiation. Sandalwood likewise has properties that will help with wound care.
Acne – Sandalwood is recommended for acne and fungal skin infections and will reduce lesion counts by 90 % in most acne patients. Sandalwood has anti-inflammatory properties and balances sebum on the skin, which could cause breakouts, making it ideal for acne.
It Evens Your Skin Tone and Whitens Skin – As an Ayuverdic or traditional Indian medicine, sandalwood is used for skin tone and whitening. According to traditions, excessive skin discoloration may indicate excessive heat in your body. From the Ayurvedic perspective, sandalwood appears to have a cooling and calming effect on your skin, which can benefit the heat in your skin. More scientific evidence relates to the alpha-sotalol component in sandalwood oil that inhibits tyrosinase, a key enzyme in the synthesis of the skin pigment melanin. It can also act as an inhibitor or abnormal pigmentation, which may be caused by exposure to UV rays and aging.
---
What is Sandalwood Soap
Sandalwood soap is a soap that contains sandalwood oil and essential oil in the soap. Sandalwood is fragrant and aromatic, often used to make perfumes, creams, scrubs, and other body products.
Most sandalwood soaps are all-natural and only consist of natural oils or vegan ingredients that are safe and healthy for your skin.
Sandalwood soap may contain other essential oils and ingredients that have nourishing and healing benefits for your skin.
Sandalwood soap will cleanse, refresh and nourish your skin, leaving it with a lovely scent and a healthy soft feeling.
As we have mentioned, sandalwood has anti-inflammatory and nourishing benefits, skin tone-enhancing benefits, and contains antioxidants that are ideal for the skin.
The smell of sandalwood, when combined with other essential oils such as lavender, sage, bergamot, or spicy and woody scents, will have a more masculine scent, especially in a soap.
Sandalwood soaps with a combined scent of honey and floral essential oils such as roses are more feminine or unisex scents.
Remember that sandalwood has a musky, woody fragrance that may be more masculine and not very pleasing to many women.
---
Features of a Good Sandalwood Soap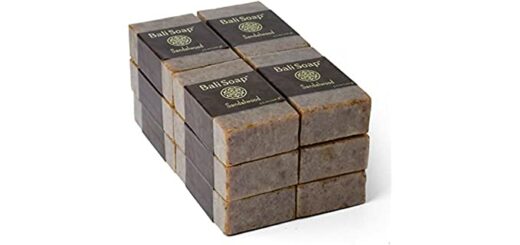 Ingredients – Sandalwood soap will contain natural sandalwood essential oil, other essential oils, carrier oils, and natural oils to moisturize and take care of your skin.
Colors – Depending on the ingredients and colorants used in the soap, sandalwood soap bars may have either a reddish brown, transparent, white, or light cream color, which usually indicates the natural color of sandalwood. Though, the soap may come in any color.
Packaging – Sandalwood soaps may come in eco-friendly natural and biodegradable packaging or regular plastic or paper packaging. You may receive a set of soaps or single soap, depending on the brand of sandalwood soap that you choose.
---
Reviews: The Best Sandalwood Soaps
We have reviewed and listed some of the best available sandalwood soap bars that you will find, which will mostly contain natural elements and ingredients that are healthy for your skin;
---
1
The Ness Mess sandalwood soap bar has a lovely sandalwood and sage scent that is more masculine and suitable for men.
The bar is completely organic with high-quality ingredients such as; Kaolin Clay, Dead Sea Mineral Salts, Oat Protein, Activated Charcoal, Organic Coconut Oil, and a few other natural ingredients.
It contains premium 100% pure sandalwood essential oil and organic Sage essential oil.
Ness Soap bars are handmade in the USA.
---
2
The Bee and Flower sandalwood soap bar originates from China.
It contains natural ingredients and essential oils rich in vitamins and oils to nourish your skin with a lovely scent.
The soap bar is beautifully packaged and ideal for giving as a gift.
It contains natural sandalwood essential oil and honey with a scent suitable for men and women.
---
3
Casswell-Massey offers you their three sets of soaps in sandalwood.
The sandalwood oil comes from Triple Milled Heritage sandalwood and is organic and natural.
It is a completely plant-based soap that is cruelty-free.
The soap has a deep spicy fragrance and natural nourishing ingredients for your skin.
---
4
From Splendor, we have the sandalwood and Rose bar soap that is suitable for men and women, with a more floral scent.
It is a natural moisturizing coconut-based oil soap that can be used on the face and the body.
The soap is natural and vegan, consisting of cold processed ingredients.
It is a handmade luxury sandalwood soap.
---
5
The Pre de Provence Artisanal sandalwood soap is a French sandalwood soap.
The soap contains natural sandalwood essential oils and shea butter for its moisturizing effects.
The soap is traditionally crafted using old methods from the French Provence.
It contains no parabens or harmful chemicals and is safe for your body and face.
---
6
The Bali sandalwood soap is a fragrant and exotic soap option.
It is a natural Glycerine based soap for your face and your boy with plant-based ingredients.
The soap contains exfoliating botanicals giving the soap a slight texture.
It contains natural sandalwood essential oils.
---
Index Table: Top Rated Sandalwood Soaps
---
---