Nothing is more handy and efficient than having an exfoliating back and body scrubber in your shower.
This article will discuss the different types of back and body scrubbers, their excellent benefits, and the best brands and models available.

---
---
The search for the best back scrubber for showering can be challenging, especially if you are looking for a product that will effectively cleanse your skin while providing a relaxing experience. With so many options available, it can be overwhelming to choose the right one. But fear not, because we have researched for you and compiled a comprehensive guide to help you find the best back scrubber for the shower.
Silicone Back Scrubber
One of the best back scrubbers for shower options is a silicone back scrubber. This type of scrubber is perfect for those with sensitive skin, as it is gentle yet effective. The silicone bristles are flexible and can be adjusted to fit your body shape, ensuring a thorough cleanse. Additionally, silicone is a durable material that is easy to clean and maintain.
Natural Loofah
Another great option for a back scrubber is a natural loofah. These are made from the fibrous skeleton of the loofah plant and are a sustainable option for those looking for an eco-friendly product. Natural loofahs also effectively remove dead skin cells, dirt, and oil from the skin. However, it is important to note that they can be rough on sensitive skin and may not last as long as other materials.
Exfoliating Gloves
Exfoliating gloves are another popular option for a back scrubber. These gloves are typically made from a blend of nylon and polyester and are designed to exfoliate and massage the skin. They are also durable and easy to clean. However, some people may find them to be too abrasive, especially if they have sensitive skin.
Back Brush
A back brush is a classic back scrubber option used for decades. These brushes are typically made from wood or plastic and have bristles designed to exfoliate and cleanse the skin. They are versatile and can be used for other body parts, such as the legs and arms. However, some people may find them too rough on the skin.
Back Scrubber Towel
Finally, a back scrubber towel is another option for those seeking a convenient and effective back scrubber. These towels are typically made from a blend of cotton and polyester and have a rough texture that is perfect for exfoliating. They are also machine washable and can be used multiple times. However, they may not be as effective as other options, as they do not have bristles or other scrubbing mechanisms.
In conclusion, when it comes to finding the best back scrubber for showering, it ultimately comes down to personal preference. Each option has its unique benefits and drawbacks, so choosing the one that works best for you is important. Whether you opt for a silicone back scrubber, a natural loofah, exfoliating gloves, a back brush, or a back scrubber towel, make sure to use it regularly for the best results.
---
Benefits of Back Scrubber for Shower
There are so many benefits to an active back and body scrubber; the design of a back shower scrubber allows you to reach your entire back and all those hard-to-reach areas and can similarly be used on other areas of your body. All in all, a back scrubber is an excellent method of exfoliation that is very beneficial to your body; here are just a few reasons why;
Removes Dirt and Dead Skin Cells – Using a Back and Body scrubber to exfoliate removes dirt and grime as well as built-up dead skin cells for clearer and cleaner skin.
Improves circulation – Exfoliation and scrubbing improve your blood circulation and aids in cell renewal.
Better Product Absorption – An exfoliated skin with removed dead skin cells that is clean is more viable in absorbing your moisturizer and skin products.
Cellulite Reduction – Exfoliating, scrubbing, and massaging your skin will help reduce the appearance of cellulite.
Massaging – Some scrubbers come with soft massaging nodes that massage sore and stiff muscles while you are scrubbing and washing.
Clears Toxins – Massaging, exfoliation, and scrubbing help relieve toxins from your body and lymph nodes and improves your overall health.
---
Back Scrubber and Exfoliator Types for Your Shower
Long Handle Brush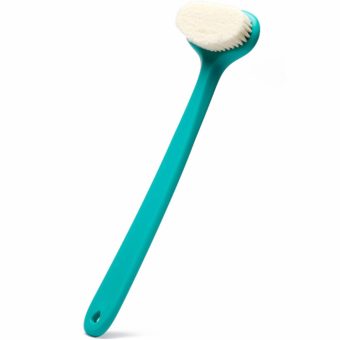 the long handle scrubber brush is designed for you back and body to reach where your arms cannot. The handle is made from wood or plastic with an easy-grip design, and the brush has soft bristles.
Back Scrubber Loofah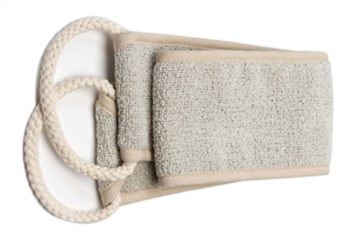 The back washer loofah is a large and long material usually made from mesh or microfiber, some with a soft and textured side. There are two handles on each end that you hold on to. The wrap is wrapped around your back, held with your hands on either side, and moved side to side or up and down to clean and scrub your back.
Loofah Sponge With Handle Brush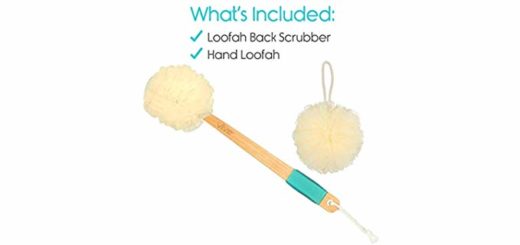 A general mesh loofah sponge on a brush handle can also mak ea very effective and easy reaching back scrubber.
Silicone Loofah Brush and Massager


The Silicone Loofah brush is a small handheld brush like loofah with many silicone brush tips. This is much more gentle and ideal for sensitive skin as well as very hygenic and durable to use.
Hand Held Body Brush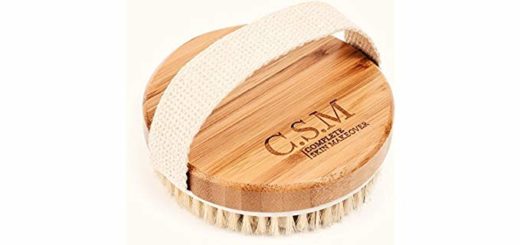 The hand held body brush is very similar to the long handled body brush, just without the long handle. This brush fits in your hand with a strap or without and can be used all over your body.
General Loofah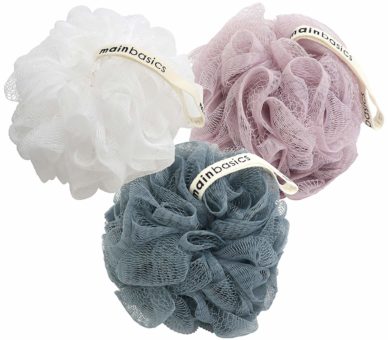 Last and most common is the general mesh loofah that we have all come to love, with its handy hanging strap and squishy handheld design that reaches everywhere and give a good gentle cleansing scrub all over.
---
Features of a Good Back Scrubber for Shower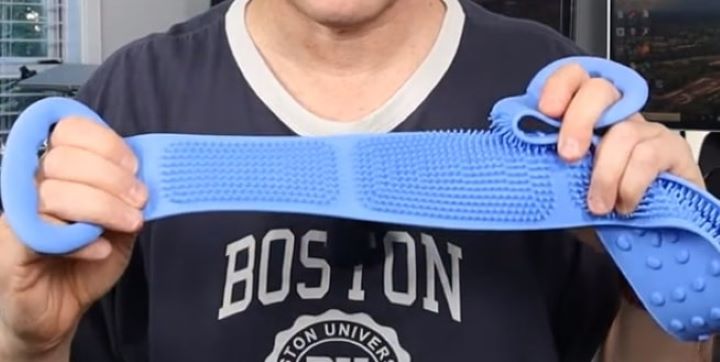 Design – Strong and durable bristles or nodules on a silicone or bristle brush. A sturdy wood or plastic handle with an easy-grip design. It has a durable mesh loofah. Easy to clean.
Storage – There is a hanging hook or loop design. So you can place or keep it everywhere you want.
Reach – It will reach your back comfortably and other body areas. For that, you can exfoliate the areas you want to be exfoliated especially those areas that are always hidden.
Brush – The brush can massage nodes. Smooth and rough surface for washing or exfoliation.
---
How We Test and Score Back Scrubbers for Shower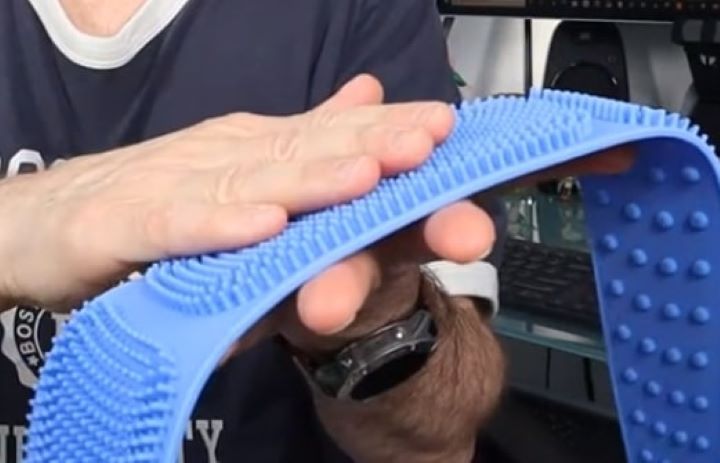 These reviews are based on intense research, analysis, and feedback from our experts and real users from different digital platforms.
We spent 23 hours trying, testing, and scoring these Back Scrubber for Shower, for different key parameters and then shortlisted the best products in the market, saving you time and effort.
We used the following parameters for our tests and analysis.
Improves Blood Circulation – We analyzed how effectively this scrubber improved blood flow in the body.
Hygienic – We checked how effectively the scrubber could support the cleanliness of the body.
Flexibility – We tested the scrubber's flexibility by using it and hand stretching.
Lightweight – We observed if the scrubber felt light while using it or did not show any heaviness.
Quick-Drying – We observed how quickly the scrubber dry after getting wet.
---
Frequently Asked Questions (FAQ) on Back Scrubber for Shower
---
Reviews: The Best Back Scrubber for Shower
Below are some of the best available Shower Back Washer that you will find available today;
We hope you love the back scrubbers we recommend!
You know, We may collect a share of sales or other compensation from the links on this page.

---
1
---
2
Suitable for all skin types, this exfoliating brush from Toem works wonders!
This fantastic loofah belt is suitable for all skin types.
It comes with superb flexibility for those who can't reach behind their back.
It also has loops at the end to hold it in position.
The shower belt has full coverage and can be hung to dry.
It is durable and resistant.
| Rating Category | Weight % | Score |
| --- | --- | --- |
| Improves Blood Circulation | 30% | 100 |
| Hygienic | 20% | 95 |
| Flexibility | 20% | 100 |
| Lightweight | 15% | 90 |
| Quick-Drying | 15% | 95 |
| Total Score | 100% | 96.75 |
---
3
A luxury full body and back scrubbing and exfoliating Loofah sponge and brush with a long handle for easy reaching from Vive.
Practical and ideal for sensitive skin.
A soft mesh loofah brush on a long handle that you can also use separately.
Hanging loop on the handle for secure storage.
The long hade has a textured rubber sleeve for a more relaxed grip in the shower.
Coated with a clear waterproof layer so the wood on the handle will not crack or split.
| Rating Category | Weight % | Score |
| --- | --- | --- |
| Improves Blood Circulation | 30% | 100 |
| Hygienic | 20% | 95 |
| Flexibility | 20% | 95 |
| Lightweight | 15% | 90 |
| Quick-Drying | 15% | 95 |
| Total Score | 100% | 95.75 |
---
4
A fun and colorful silicone exfoliating loofah brush and massager from Agirlvct, made from 100% pure and durable silicone.
Manufactured from <strong.100% pure soft silicone with a gentle design for sensitive skin.
Deep cleanses, exfoliates, and massages for better circulation.
Very flexible and completely non-toxic design.
Durable and long-lasting, that is much safer and more hygienic than other loofah designs.
Easy to handle, portable, and comes in fun color options.
---
5
A handy and useful all-over back and body scrubber and exfoliator that improves circulation and will help rid you of cellulite and toxins in your body.
Enjoy smooth, glowing, and cellulite-free skin with soft and sturdy bristles, which improve circulation and collagen production.
Natural bristles and a genuine wood design handle with a canvas strap that is safe and natural against your skin.
Easy hanging and handling design.
Soft massaging nodules that soothe and massage while you exfoliate.
Lightweight and portable for easy traveling.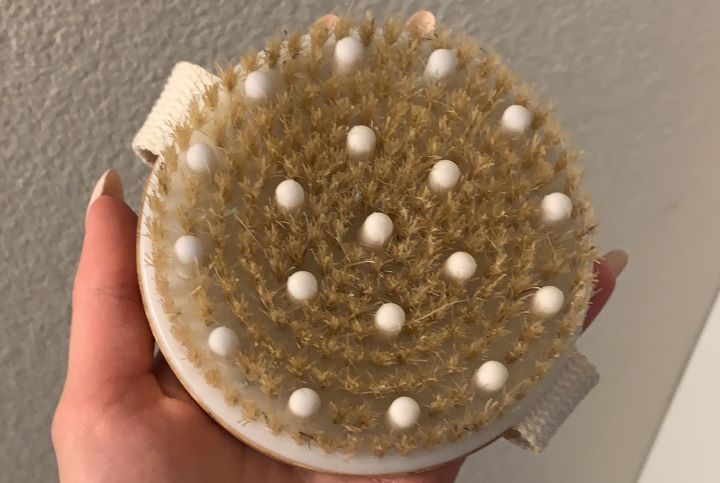 ---
6
A versatile and handy broad back and body scrubber with two comfortable handling handles and a textured and soft side for washing and exfoliating.
It has a customized and versatile large back exfoliator and washer that is easy to use.
There is a textured side for exfoliation and a soft microfiber side for washing.
It has easy-to-grip handles and a large surface area.
Quick-drying and machine washable.
---
7
The sponge comes with a dual-use design for effective use.
It has a long handle for a comfortable hold.
Not only that, but it has an extended handle as well.
This sponge is excellent for rejuvenating the skin.
It can easily be hung to dry after the bath.
---
8
The brush has a 100% natural boar bristle for a soft touch.
It increases blood flow and promotes healthy skin.
The all-natural bamboo is sturdy and super hygienic.
It comes in a set of three versatile brushes, which clean up with ease.
---
9
The brush head can be rotated 360° freely.
It is safe and durable to keep the cleaning comfortable.
The bristles are super soft and remove dead skin with ease.
Its extra-long handle scrubs every inch in seconds.
The brush has a perfect ergonomic design.
---
10
The Bath and Shower Body brush from Greenrain can be used for wet or dry brushing and has a handy longer handle so you can easily reach your back and other hard-to-reach areas of your body in the shower or bath.
Comfortable nylon brushes are ideal for wet or dry brushing in the shower for gentle and effective exfoliation.
Brushing improves your blood circulation and the condition of your skin.
An ergonomically designed handle for a more comfortable grip and longer length to reach all areas of the body.
Very hygienic, easy to clean, and long-lasting design.
Storage hook design for easy hanging on a hook in your shower.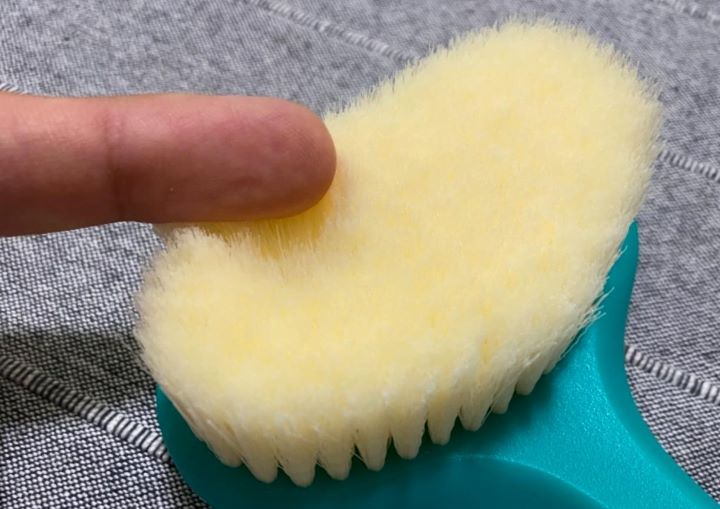 ---
Index Table: Top Rated Shower Back Scrubbers
---
---