A Lightening or whitening soap can work in two ways, you get exfoliating soap that removes dead dark skin cells, and you also get whitening soaps that contain whitening actives and ingredients.
The best whitening soaps contain Turmeric, kojic acid, and Alpha Arbutin.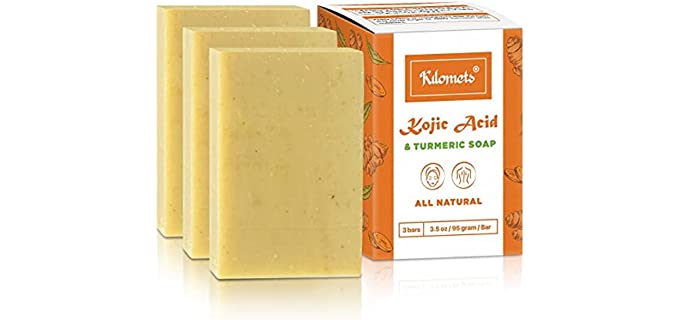 ---
How Whitening Soaps Work
Whitening soaps will work if you use the right active ingredients and if you invest in the right type of whitening soap, though keep in mind there will many times not be drastic changes.
Whitening soaps need to be used consistently and regularly for you to enjoy the benefits, and the lightening will not last forever.
As we have mentioned, you have two options Exfoliating soaps and soaps with actives;
Exfoliating – Most effective whitening soaps will help your skin to exfoliate faster. Your skin tone may look dull and uneven, which could be because of your natural exfoliation process that is slowing down, especially with age. An exfoliating whitening soap can contain granules that manually exfoliate or an AHA such as Lactic acid or other acids that naturally exfoliate your skin.
Actives – Whitening soaps that contain whitening ingredients or actives work well to lighten your skin. The ingredients and actives are absorbed into the skin and temporarily reduce your skin's ability to make melanin, which causes dark and uneven skin tone. Because you wash a whitening soap off, it can contain much higher active ingredients than most whitening creams and serums. Whitening actives and ingredients include Kojic acid, Alpha Arbutin, Turmeric, Papaya, and Goji Berry Extracts.
I recommend using a good body exfoliator to remove dead skin cells and clear your skin. Then your whitening soap can be used on the skin to do its magic. You can likewise invest in a serum or whitening moisturizer that contains whitening ingredients such as Kojic acid and alpha arbutin.
---
Ingredients to Use and Avoid
Most whitening soaps and products are designed to inhibit the production of melanin that naturally gives skin its colors.
The dangerous ingredient that is used many times is Hydroquinone, which contains high concentrations of mercury that could be quite dangerous.
Hydroquinone is believed to cause cancer and other diseases even though it is naturally occurring.
Much safer alternatives are Kojic Acid, Vitamin C, Alpha Arbutin, and antioxidants.
Turmeric and papaya are also known to whiten your skin.
---
Features of a Good Whitening Soap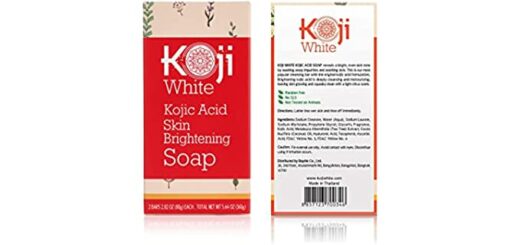 Ingredients – Look for whitening soaps that contain ingredients such as Vitamin C, Kojic Acid, Alpha Arbutin, and Turmeric Extracts as their active ingredients.
Other Ingredients – Your soap also needs other cleaning and moisturizing ingredients to take care of your skin. Vegetable oils, Glycerine, Shea Butter, and Coconut oils provide a safe base and take care of your skin.
Exfoliating Soaps – You could also opt for exfoliating soaps containing granules for manual exfoliation, along with whitening ingredients. Some soaps may contain Alpha Hydroxy Acids such as Lactic acid or glycolic acid to exfoliate your skin.
---
Reviews: The Best Whitening Soaps
In our reviews,,, we have some excellent options for exfoliating whitening soaps, as well as whitening soaps with whitening ingredients;
---
1
From Fair and White, I have added one of their Alpha Hydroxy Acid Exfoliating whitening soaps.
As we have mentioned,d, using an exfoliating soap will help remove dead skin cells that can cause an uneven skin tone, and it will help your lightening products to be absorbed more easily.
The AHA soap will cleanse and buff away dead skin cells easily to leave your skin fresh and clean.
It is the ideal prep for your treatment or body moisturization and will allow for much better absorption.
The soap does not contain Hydroquinone which is an ingredient in whitening products that does more harm than good,
The soap will form a rich lather and gently cleanse the skin on your body, and your have.
---
2
From Citygoo, we have the Kojic acid-based skin-lightening soap; this is more of a treatment soap and not an exfoliating soap.
Kojic acid is the main ingredient that you will find in almost all whitening products for your skin.
The soap is whitening and helps to correct dark spots.
It has Vitamins E, C, Retinol, and Turmeric, which are powerful anti-aging agents for uneven skin tone.
The soap will rejuvenate and whiten your skin.
It comes in a set of two soap bars.
---
3
The I-Soap bar is an all-natural ingredient whitening soap bar for your body,
The soap is safe for sensitive skin and can similarly be used on your face.
It is a handcrafted soap will natural ingredients that are SLS and paraben free.
It has a natural Acai Berry Scent and is alcohol-free.
The soap contains Acai berry that helps to lighten your skin.
---
4
The LightenUp soap is an Exfoliating soap that clears your skin to reveal a better skin tone overall.
It contains Lactic acid, a milk-derived acid that is mild and safe on your skin, offering excellent exfoliation and skin cell turnover.
After using the exfoliating soap, you can follow with a whitening moisturizer or rich body lotion that will be well absorbed on cleaner, clearer skin.
The soap also contains Apricots, Milk proteins, and Shea butter for moisturization and exfoliation.
It is ideal for normal, oily, and even irritated skin.
---
5
The Kilometers kojic acid soap is a top favorite for lightening the skin.
Kojic acid is a well-known skin whitening ingredient that is more natural; and mild.
The soap has a rich lather and is suitable for normal to oily skin as it is drying.
The whole formula is safe and vegan, containing mostly natural ingredients.
The soap has a high concentration of Kojic acid and Turmeric.
With your purchase, you get a set of three soap bars.
---
6
The Koji White store brings you pure kojic acid whitening soap bars for more glowing and radiant skin.
The soap will help to reduce dark spots and eliminate uneven skin tone.
It is a rejuvenating and fresh soap that is maximum strength, SLS-free, and paraben-free for your safety.
The soap is Dermatologist tested and safe for most skin types.
---
Index Table: Top Rated Whitening Soaps
---
---