Getting the Best Shower Loofah is one awesome way to show your skin some love. Not only do they exfoliate and remove all of the built-up dead skin cells on your body, but they're also super affordable and easy to use.
But with all of the options, which one should you choose? Could you keep reading for our top picks?
---
---
Why Use the Best Shower Loofah?
Versatile Designs – The Loofah allows you to clean everywhere and anywhere with easy scrubbing or gently washing by simply increasing or decreasing pressure.
Deep Cleanses – A Loofah deep cleanses your skin, removing pore-clogging, dirt, and bacteria and building up more effectively than any other washing aid. Yet, the Loofah is gentle enough for everyday use and not damaging to sensitive areas of the skin.
Exfoliates – The Loofah removes dead skin cells and dramatically improves the texture of your skin. This, in turn, allows for better penetration and more effective results from your moisturization and skin products.
Easy To Use and Store in The Shower – The Loofah is so convenient and easy to use and even comes with a handy string to hand on your shower head, some with a suction cup string for secure storage.
More Foam Than Wash Cloths and Other Cleaning Devices – The Loofah can create much more foam than any other washing aid, giving youmoreure effective cleanse.
Less Soap Required – Because of the design of the Loofah, it does not absorb soap, so you need to use much less and still get ample foam.
---
Different Loofah Options to Choose From

Basic Shower Loofah – Made from Netting material in a round shape with a rough texture that scrubs dirt and grime easily. This is your most basic and easy-to-come-by type of Loofah that is ideal for the shower and bath and available in many colors. Most of these are handheld and come with a hanging rope or ribbon for storage inside your shower or bathroom.
---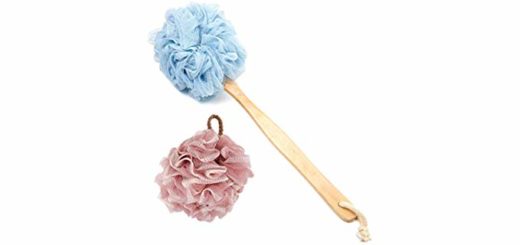 Basic Loofah on a Stick – This is still your basic netting Loofah, but it has a stick handle that can be made from wood or plastic wi a water and mold-resistant finish loop for handing inside the shower. With the longest-length handheld handle design, the Loofah Stick lets you reach your back and other hard-to-reach areas.
---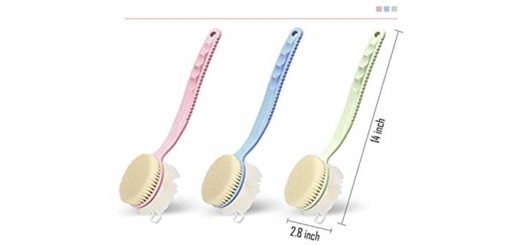 Long Handle Brush and Loofah Set – This is an extremely versatile piece of equipment with a long plastic or wood handle option with a loofah on the one side and a bristled brush on the other. The ideal exfoliator and cleanser will easily clean and exfoliate all those hard-to-reach areas effectively.
---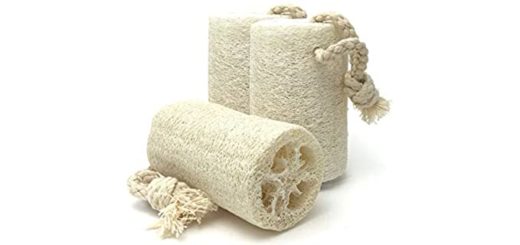 Exfoliating Loofah – This is an all-natural Loofah Pad sponge made with natural Loofah material on the one side and Cotton Toweling on the other that deeply cleanses and refreshes your skin. Some models have a pocket design where you can place your hand for easy use.
---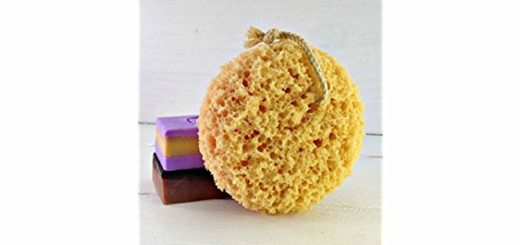 Sea Foam Sponge or Natural Sponge Loofah – Sea Foam Or Sponge Loofah is made from natural materials and can also be made from synthetic materials. This is a more foam-like loofa that is very spongy and a bit soft and gentle on the skin.
---
Features of a Good Shower Loofah
String for Attachment – It has an attachment string with or without a suction cup.
Design – It has a netting or sponge design.
Options – You can choose from many color options. Comfortable handheld size.
Handle – It comes with or without a wood or plastic stick handle.
---
Reviews: The Best Shower Loofahs
We have listed some of the best loofahs with their features for you to choose from. Also, we would like to inform you we shall earn a small commission with every purchase made through the links in the article.
We hope you love the products we recommend!
So that you know, We may collect a share of sales or other compensation from the links on this page.
---
1
---
2
The Almooni Loofah is the Best Shower Loofah that is lightly abrasive for deep cleaning and exfoliation.
Lightly texture Loofah design that sweeps away dead cells and dirt.
A reversed cotton toweling side to remove dirt and body oils.
Easy to use, a glove-like design that fits over your hands.
Flexible and will bend and contour to the natural curves of your body.
Packed in biodegradable packaging.
---
3
Get this best shower pouf that is soft yet cleansing on the skin.
It comes in a three-pack for multiple uses and changes whenever required.
The Loofah has a strap to hang it for drying.
You will feel clean and energized from the rich foamy lather of this Loofah.
---
4
This is from MainBasics, the best shower puff and sponge in one that gives you a cleansing and exfoliating experience.
A standard 4.9-inch size.
Premium design and material sponge available in a few color options.
You can use it with any soap or body wash.
The Loofah gently cleanses and exfoliates.
Ideal for both adults and children.
---
5
An easy-to-use handled shower loofah for easy reaching of all those hard-to-reach areas.
A soft and silk mesh-like loofah design with a delicate texture.
The handle is extended and made from mold-resistant wood.
Comes with a soft back scrubber.
The handle is easy to grip and will not slip,
Designed with a hanging loop for storage in your shower.super_list]
---
6
Comfortable, luxurious shower body brush and double loofah design on an extended handle.
Available in a blue, grey, or pink color selection.
Multifunctional brush on the one side for exfoliation and a loofah on the other for cleaning.
You can use the brush for both dry or wet brushing and exfoliation.
Easy hanging design for storage in your shower,
The long handle enables you to reach all areas of the body.
The extended handle is made of durable and water-resistant wood.
---
7
A Natural Exfoliating Sea Sponge Loofah from Michelle's Melting Pot
It produces rich and creamy lather with all body soaps and washes.
The Loofah has natural materials that have an exfoliating function.
It needs replacement monthly, though, because it is natural.
The Loofah comes in a pack of three at a very affordable price.
It is five inches in size for easy use.
---
8
Get this WhaleLife bamboo shower loofah with the richness of charcoal.
It has a soft mesh design to give an exfoliating effect to your skin.
The Loofah comes in a four-pack for more prolonged use.
It has natural ingredients that make it skin-friendly for sensitive skin.
The Loofah is of an ergonomic size to hold easily in hand.
---
9
Consider this AmazerBath durable shower loofah to exfoliate your skin in the bath.
It has a tight knot that makes it last long without falling off.
Moreover, it has a firm sponge core to deliver optimum strength while exfoliating.
The Loofah will create a milky and foamy lather for you to feel refreshed post-shower.
---
10
The BIO301 shower loofah is made of natural, non-toxic fibers.
These fibers are rough and have a robust exfoliating effect on the skin.
The Loofah helps in promoting blood flow in the skin to improve circulation.
Your skin will feel supple and clean after the scrubbing effect of this natural Loofah.
---
Index Table: Top Rated Shower Loofahs
---
---