Many of us usually go to the salon to get our hair done, one favorite treatment being the Brazilian Blow-Out or Keratin treatments to smooth and straighten hair.
However, salons can be quite expensive, and not everyone has the time for long appointments that need to be pre-booked. So why not try your Keratin Treatment kit in the comfort of your home?
There are different options in Keratin treatment kits for all hair types and desired results that we will be discussing.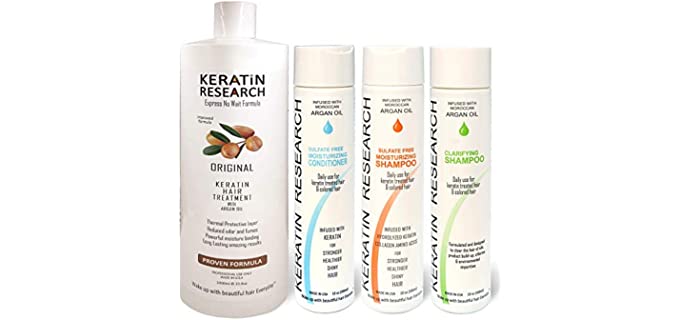 ---
The Keratin Treatment
A Keratin Treatment is a treatment that helps to repair your hair by replacing proteins in the strands of hair. The treatment can likewise have a smoothing and straightening effect on your hair.
Keratin Treatments have many benefits for your hair, such as reducing frizz, and fly-aways, rebuilding the strands and adding shine and softness to your hair.
---
How to do a Keratin Treatment
Though there are different keratin treatment Options, your basic treatment kit will involve the following process;
Wash Your Hair – Use the provided Keratin shampoo or clarifying shampoo and wash your hair twice for straight hair and three times for curly hair. You want extremely clean hair before using the treatment for maximum absorption.
Use the Treatment – Dry your hair lightly with a towel. It should still be quite damp. No, apply the treatment from the tips and stop one inch from the roots. Massage the treatment into your hair, and use the provided comb to comb it through thoroughly. You will need to wait around 30 minutes or as indicated for the specific product.
Rinse – Rinse your hair thoroughly and ensure no product build-up is left. You can also brush out or comb out your wet hair.
Heat Treat – To seal in the Keratin Treatment, you need to Blow-Dry your hair and use a Straightening iron which will lock the Keratin into the strands of your hair.
Wait – You will need to wait 48 hours, or as guided, to give the Keratin treatment time to seep into your hair and do its magic before washing.
Wash and Condition – After around 48 hours, or as instructed on the treatment, you can wash your hair and use a conditioner. It is good to use a provided conditioner that is smoothing and contains keratin.
---
Features of a Good Keratin Treatment Kit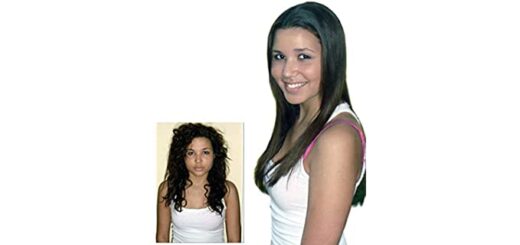 Express Keratin Treatments – The Express Keratin Kit contains a Keratin protein that you use on your hair and the seal with heat, such as a blow dryer and hair straightener. Results are instant but do not last as long. The Express Treatment can be used more often.
Japzilian Keratin Kit – If you want to straighten your hair effectively with less damage, you can use the Chemical base Japanese straightening product that is blended with the less harsh and natural Brazilian treatment. Thus, you are getting the best of both worlds with a safer formula with better results.
Soft Keratin Treatment – This is a very light Keratin treatment for reducing frizz without losing all your curls. The treatment will create waves rather than straight hair.
Brazilian Keratin Treatment – Also known as the Brazilian Blow-dry, it is a treatment kit that you use to completely straighten your hair, that also nourishes your hair and is less damaging. The treatment does require heat to be activated, and the kit usually includes a Keratin treatment, clarifying shampoo, and conditioner.
---
Reviews: The Best Keratin Treatment Kits
In our list, we have a few types of the best available DIY Keratin Treatment kits for you;
---
1
The Bivore professional Bio Liss is a keratin hair Treatment Kit that smoothes and rejuvenates your hair.
The natural treatment includes argan oil, amino acids, and cocoa to reduce frizz.
You are guaranteed results depending on your hair structure results may vary.
The treatment has a high keratin content that will give your hair a lustrous shine that will last for months.
---
2
From Tresemme, we have a top favorite softer Keratin treatment serum that comes in a kit of two.
It is called the seven-day treatment that, is activated with heat and uses thermal technology to work.
The Keratin will smooth out frizz and give you lovely straight, and shiny hair.
It is safe to use and more light and soft than most chemical Keratin treatments.
---
3
From Keratin research, we have the Complex Brazilian Keratin Blowout treatment.
The value kit contains the basic keratin treatment products that you need for a Brazilian straightening blowout.
It has a sulfate-free composition that is safer on your hair.
In the Kit, you get a 300ml Original Formula Keratin, 300ml Clarifying Shampoo, 300ml Sulfate Free Shampoo, 300ml Sulfate Free Conditioner, and an Easy Comb.
The formula contains natural argan and coconut oils to nourish and straighten your hair.
Clear instructions are included to help you use the product effectively.
---
4
The Magical Keratin Treatment set consists of a nourishing deep, conditioning Keratin treatment that is softer and gentler on your hair.
It is suitable for dry and sensitive hair, as it is very moisturizing.
The mask deeply nourishes the hair and helps to ease frizz.
It is a two-piece advanced Professional treatment that treats the roots and strands of your hair.
The deep conditioner takes five seconds to penetrate and soften your hair.
---
5
We also have the Brazilian Blowout full treatment Kit from the Keratin Research Store.
The kit includes a Clarifying Shampoo, treatment condition, and everything you need to straighten your hair fully.
The conditioner is nourishing and moisturizing with natural oils, and the shampoo clarifies without harsh chemicals.
The formula is an express formula that will give you almost immediate results.
---
6
Another option from the Keratin research store is their Blowout straightening treatment, which has four 1000ml bottles with a sulfate-free shampoo and conditioner.
The kit contains a 1000ml Original Formula Keratin treatment, a 300ml Clarifying Shampoo, 300ml Sulfate Free Shampoo, and a 300ml Sulfate Free Conditioner.
It is a complex treatment that almost instantly smoothes and straightens your hair.
The conditioner nourishes your hair with argan and coconut oils.
---
Index Table: Top Rated Keratin Treatment Kits
---
---