The body scrub and your razor are your leg's two best friends.
Shaving is much more comfortable and efficient after exfoliation, and you are less likely to suffer razor burns or bumps on your legs.
So, we want to consider the best Pre-Shave Leg Exfoliators that all work well to enhance your shaving experience.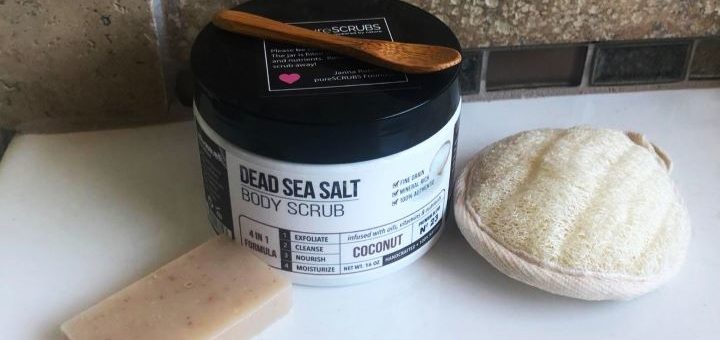 ---
Shaving Before or After Exfoliation
It would be best never to exfoliate right after or before shaving your legs. I would recommend exfoliating the day before you are planning to shave your legs, as doing both at the same time could be slightly harsh on your skin.
Exfoliating your legs before shaving removes dead skin cells and can help open up small ingrown hairs to expose them so you can easily shave much closer with less irritation.
Small hairs that have ridges that fold inward underneath your skin cause ingrown hairs, and the only way to prevent and help treat them is with proper exfoliation before shaving.
---
How Exfoliation Helps
Exfoliating before shaving is almost as important as applying proper moisturizers and hydration afterward, along with using a good shaving gel or cream.
Removes Dead Skin Cells – Exfoliating your skin before shaving removes dead skin cells, dirt, and grime, as well as excess oils that could all cause build-up in your razor, preventing you from getting a smooth shave.
Lifts Hairs – Exfoliation helps lift flat and ingrown hairs so that they stand up. This allows your shaving cream or gel to penetrate better and the razor to shave off smaller hairs for a much closer shave.
Less Nicks and Tuggs – Because there will be no build-up on your razor, and your skin will be clearer and smoother after exfoliation, you will have less chance of suffering a nick or cut from your razor.
---
Features of a Good Pre-Shave Leg Exfoliator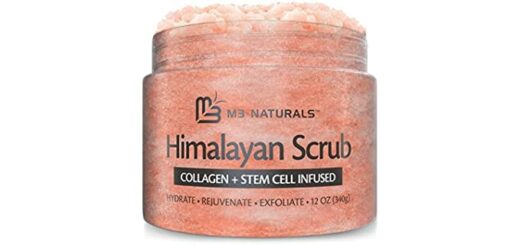 Type – You get different types of scrubs for exfoliation of your legs. You can use gentle scrubs containing granules and other ingredients in the bath. There are also exfoliating mitts or loofahs with a rougher texture. Then you get dry or wet brush exfoliators.
Scrubs – Most exfoliating scrubs contain light granules such as sugar, small silicone beads, or apricot kernels. They contain other nourishing ingredients and are ideal for healthier and proper leg exfoliation.
Dry Brushes – Dry brushes are used, well dry, as it says. They are a more harsh method of exfoliation to remove excess dead skin cells. However, this method is also ideal for improving blood circulation in your legs which scrubbing will not generally do.
---
Reviews: The Best Pre-Shave Leg Exfoliators
In our list, we have a variety of Exfoliators that you can use on your legs before shaving;
---
1
From Olivia Aurora, we have a more moisturizing and exfoliating shea butter and cocoa butter body scrub for pre-shaving.
It contains soothing calendula oil, soft poppy seed granules, coconut and mango oils, and butter.
Overall, this is a very rich and moisturizing scrub for your body that is perfect for drier skin types to nourish and smooth the skin before you shave.
---
2
The Dylonic Exfoliating body scrub is the best smooth skin solution pre-shave.
Women can use the formula on all areas of the body, and men on all body areas.
The formula is light and gentle, doubling the results by gently massaging it into your skin.
The bottle is easy to grip and hold while you apply the product to your skin.
---
3
The NYK1 exfoliating glove is likewise a good idea for exfoliation before shaving.
The shavings exfoliation glove allows you to use your products to exfoliate your skin.
It helps to remove dead skin cells and improves circulation in your legs.
You can revitalize your whole body and buff away patchy skin with ease,
The glove has a comfortable, handy fit and is available in two colors from which you can choose as needed.
---
4
The Strawberry Legs exfoliator is specially designed to exfoliate your legs for shaving.
It is ideal for more sensitive skin and is used in skins prone to ingrown hairs and razor bumps.
Ideal for the treatment of Keratosis Pilaris.
The Scrub is natural, containing green tea and rosemary, with Centella and other ingredients.
The Scrub contains many antioxidants, which are healthy for your skin and can help with aging.
---
5
From M 3 Natural, we have a lovely Himalayan salt base natural body polish and scrub for you to enjoy a lovely and relaxing exfoliating experience with a natural element.
The Scrub is safe and ideal for your body, face, and even sensitive areas such as your lips for regular exfoliation and before shaving.
The Polish is infused with collagen and Stem Cells; it also contains grapeseed oils which are all excellent antioxidant and firming agents that will improve the texture and tone of your skin.
The Scrub can help with varicose veins, stretch marks, and cellulite, as it improves circulation.
It gives a clear and clean surface for your to shave to reduce ingrown hairs and razor burn.
---
6
Here we have an Exfoliating body brush from Wizke, an effective method of exfoliating your legs to remove dead skin cells before shaving.
The exfoliating brush is ideal for treating ingrown hairs and razor bumps, it will help reduce irritation caused by shaving, and your razor will be kept clean and free of build-up.
The Body brush, in turn, helps improve circulation, creating a firmer skin feel and a more even skin tone.
The brush has a waterproof design and is very lightweight to hold.
It offers gentle exfoliation that will not cause damage and redness to your skin; you can use it a day or two before shaving your legs for a clearer and closer shave on your legs and other body parts.
---
Index Table: Top Rated Pre-Shave Leg Exfoliators
---
---