Hairstyles are a magical thing; they can easily transform your look and give you much confidence.
However, keeping a hairstyle is something that usually only a good hair spray can do. But have you noticed the odd chemical smells that most hair sprays today have, and the smell lingers with you becoming nauseating and sometimes even overpowering your perfume?
So, why not try the best-smelling hairsprays to get a hair spray that also has a lovely lingering scent.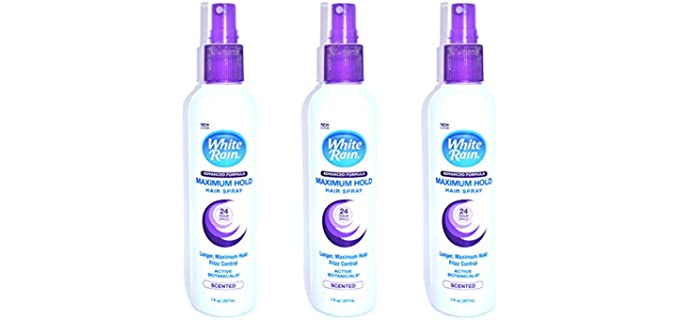 ---
Hairspray Types
Hair spray is a spray that comes in a regular spray or aerosol bottle that is formulated to protect your hair against heat and humidity and to keep your hair in the style that you have created.
Hair spray can generally do wonders for any type of hair, whether dry, oily, frizzy, straight, or curly.
Hair sprays have the ability to hold light and even more complex hairstyles in place for much longer, and they can even add some body to limp and oily hair.
There are so many types of hair sprays available that all have different functions and holds;
Texturizing Hair Spray – Texturizing hair spray will add some texture and volume to your hair, and is ideal for creating wavy styles or beach strands.
Finishing Hair Spray – Finishing hair spray can be a hold or shine hair spray that you spray on your hair after it has been styled. It can offer a light, medium, or firm hold.
Volumizing Hair Spray – Volumizing hairspray can have a firm or light hold, but it adds some volume to your hair strands and style.
Freeze Hold Hair Spray – Freeze Hold hair spray literally freezes your hairstyle into place and will keep the style. It is ideal for runway models and red-carpet events.
Shaping Hair Spray – Shape hair spray is a hair spray that you use while you are styling your hair rather than afterward or before.
Thermal Hair Spray – Thermal Hair Spray is not quite an actual hair spray but rather a nourishing and protecting spray before heat styling your hair.
---
Scented Hair Sprays
Hair spray can generally smell much like chemicals, and the smell may be quite overpowering.
However, there are many brands that have opted to add natural or synthetic fragrances to their hair sprays to give it a more inviting smell that will not hit you over the head with strong chemical smells.
The best-smelling hair sprays will have a light scent and still provide effective old and volume as you need from a regular hair spray.
---
Features of a Good Scented Hairspray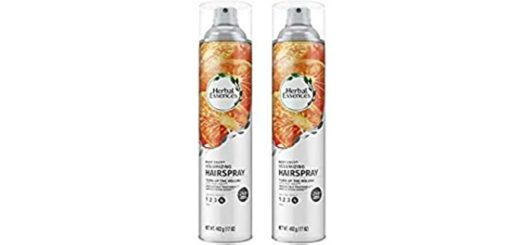 Scent – The best-smelling hairspray will have a lovely scent that will linger in your hair, rather than the strong mechanical and nasty-smelling chemical hair sprays. The scent may be tropical, coconut, floral, citrus, or a fresh rain scent. Scents can be a synthetic fragrances or from natural herbs such as green tea and citrus oils.
Hold – Hair spray can have a light, medium, strong or extra strong hold. You do get hairspray more suited for curly nd frizzy hair, and those suitable for a blow out and straight styles or up styles. Some hairsprays offer a more flexible hold or a softer hold, and some offer more texture.
Container – The container will be a regular spray bottle, or an aerosol spray bottle.
Other Ingredients – Some hair sprays also contain ingredients that moisturize or give shine to your hair, such as coconut oil, shea butter, Vitamin E, or silicones.
---
Reviews: The Best Smelling Hairsprays
Here are some of our top favorite fragranced hair sprays;
---
1
The Pacifica beauty is a lovely scented hairspray that ideally offers big waves and a soft hold.
The hairspray is ideally a volumizing non-aerosol hairspray that has a coconut, sea salt, and vanilla scent.
It is ideal for frizzy hair and gives long-lasting soft hold.
The hairspray can also be sued to create beachy waves and has a lovely tropical scent.
It is 100% vegan and formulated without parabens, phthalates, SLS, or mineral oil.
---
2
The White Rain Smelling Hairspray is a maximum Hold hair spray with a fresh smell to it.
The hair spray contains water, Dimethicone, glycerine, Candidum (White Lily) Bulb Extract, Camellia Sinensis (Green Tea) Leaf Extract, and Hydrolyzed Rice Protein, which takes care of your hair and gives a strong hold.
It has a fresh fragrance and comes in a pack of three hair sprays that are 7 ounces.
The White Rain range also includes some other options.
---
3
Cake Beauty is a popular brand that makes some of the best-smelling hairsprays.
Here we have their flexible hold vegan hairspray that contains vitamin E to nourish your hair.
The hair spray is lightweight and creates lovely volume,
It is ideally suited for wavy and curly hair and helps to keep frizz under control.
The product contains high-performing natural ingredients.
---
4
The Herbal Essences of Body Envy hairspray is a lovely scented volumizing hairspray.
It has a Citrus essence fresh scent, and a weightless feel.
The hair spray provides a level 4 maximum hold that is lightweight.
The holds last for 24 hours, and it offers humidity protection.
You get a twin pack of 17-ounce hairsprays with your purchase.
---
5
The Marc Anthony Coconut Oil Volumizing, scented hairspray is good for your hair and has a lovely scent,
It comes in a single 8.8-ounce bottle.
The hairspray contains coconut oil and shea butter to nourish your hair, and it provides a maximum hold with a more flexible finish.
It has a moisturizing and shiny finish and a lovely coconut smell.
The hair spray is salon created and professional.
---
6
Another Option from White Rain is their Extra Hold Aerosol hairspray that is scented.
The Hairspray comes in a 7-ounce aerosol bottle and has a lovely scent.
It contains ingredients such as Water, Dimethicone, and fragrance to give your hair a smooth, nourished finish.
The hairspray provides an extra strong hold and has a lovely fresh scent.
It dries fast and is lightweight on your hair for a more comfortable and natural look and feeling.
---
Index Table: Top Rated Smelling Hairsprays
---
---