Are you looking to upgrade your hair game? Consider switching to a Solid Conditioner Bar from the usual bottle conditioner. They are nourishing for the hair with natural chemical-free ingredients.
Besides, the conditioner bars last longer than your typical conditioners. Read and find out more about these solid conditioner bars.
---
Benefits Of Solid Conditioner Bar
Solid conditioner bars are economical and work on any hair type. A single conditioner bar will last you longer than bottled conditioners. Here are some more benefits of the bars.

Vegan – The conditioner bars are formulated with natural and vegan-friendly ingredients to maintain effectiveness and shape.
Environment Friendly – There is no useless plastic packing in the conditioner bars. Additionally, you will not have to deal with empty bottles.
Safe – The natural ingredients are safe to use as they do not cause any reactions on the scalp.
Portable – Solid conditioner bars are small in size and low on weight, which makes them portable and easy to store.
---
How To Use A Solid Conditioner Bar
A solid conditioner bar is a great switch for your hair and the environment. Read and learn how to use a solid hair conditioner bar effectively.

Swipe – Take the conditioner bar in your hand and swipe it along the length of your hair. It is advisable to apply the conditioner to the ends of the hair.
Re-Apply – Some bar conditioners are gentle and need re-application. Repeat the first step and let the conditioner sit in the hair for a few minutes.
Wash Off – Use plenty of water to wash off the hair conditioner. Leaving any traces of hair conditioner in hair may weigh them down and cause oiliness.
Drying – For your conditioner bar to last longer, you must place them on a soap dish. This will dry the bar and help it stay in a solid state.
---
Features of a Good Solid Conditioner Bar
Solid bars are easy to use and come in different variants. Here are some things to consider while purchasing a solid conditioner bar for your hair.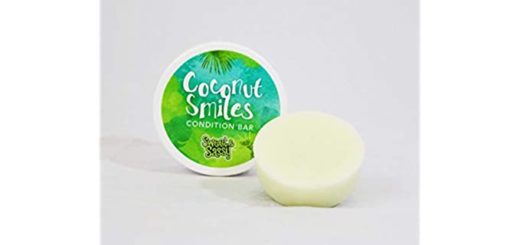 Hair Type – Consider your hair type before getting a conditioner bar. You can choose from normal, dry, frizzy, and all hair type conditioner bars.
Ingredients – You can choose from different ingredients like murumuru butter, kokum butter, olive oil, and coconut oil. See that the bar is free from parabens, SLS, and silicone.
Fragrance – Several fragrances are available with warm and refreshing notes. You can choose lavender, ocean-mist, lime, green tea, and citrus variants. Besides, you can find fragrance-free variants.
Packaging – These usually come in a plastic-free packaging. See that they come with a holder, or you can purchase one to store and dry them.
---
Reviews: Best Solid Conditioner Bar
We have listed some of the Best Solid Conditioner Bars with their features for you to choose from. We would also like to inform you we shall earn a small commission with every purchase made through the links in the article.
We hope you love the products we recommend!
So that you know, We may collect a share of sales or other compensation from the links on this page.
---
1
---
2
Get the Sweet & Sassy organic solid conditioner bar with the goodness of coconut extracts and oils.
The conditioner bar is made from all-natural ingredients to improve the texture and volume of your hair.
This comes in a three-pack variant with one bar lasting equivalent to three medium-sized bottles.
The conditioner bar is ideal for traveling without worrying about the weight and liquid limits on the flight.
---
3
The AERWYNA conditioner bar is vegan friendly and comes in a refreshing ocean-mist scent.
Your hair will feel healthier with the conditioner bar's effective rice protein and butter.
The conditioner bar is free from parabens, sulfates, phthalates, and SLS that harm the hair and the environment.
Using this conditioner bar is economical as it can last as long as two medium bottles of conditioner.
---
4
The Clever Yoga solid conditioner bar is suitable for all hair types and is portable while traveling.
This conditioner bar is safe for hair without any SLS and parabens in the ingredients.
Moreover, the conditioner bar is ideal for color and chemically treated hair to maintain luster and volume.
You can choose from citrus, argan oil, and unscented variants to add shine to the hair after each use.
---
5
Consider this Nature Skin Shop conditioner bar that has a stimulating effect on hair length.
The conditioner will help revive your hair with kokum butter and marula oil stimulating action.
It is an all-purpose bar that will cleanse and condition your hair simultaneously to prevent any dryness.
Moreover, the botanical infusions will remove the hair's dullness, grime, and build-up.
---
6
This bar conditioner from Sunset has essential oils that provide deep nourishment to the hair.
Besides, the bar is free from harmful chemicals responsible for hair fall and dryness.
The conditioner bar will help strengthen the hair with the organic extracts and keep the greasiness away.
You can get this conditioner in green teas, coconuts, lavender, and citrus variants.
---
7
From J.R Ligget, we have a solid conditioner bar.
It has all-natural plant-based ingredients.
The bar is eco-friendly and will leave your hair healthy.
To is also cruelty-free.
---
8
HiBar offers you their conditioner bar with zero waste.
It is moisturizing for your hair and ideal for damaged hair.
It also contains natural and eco-friendly ingredients.
Completely plastic-free.
---
9
The Naples Soap company has an excellent conditioner bar.
It will leave your hair silky and hydrated.
Eco-Friendly with a fresh and uplifting scent.
Enriched with Jojoba oil and olive oils.
---
10
From the Clever Yoga Store, we have a solid conditioner bar.
Vegan and natural.
It is the perfect conditioner for traveling.
Reduces frizz and adds volume to your hair.
---
Index Table: Top-Rated Solid Conditioner Bar
---
---