Hand dryers are a great way to make your bathroom experience more streamlined. They help you dry your hands without having to touch any paper or fabric towels or even any switch. Plus, there are just so many variants available that you can choose one at your convenience.
This blog post will cover how to find the best bathroom hand dryer for your needs, as well as what features to look out for when shopping around.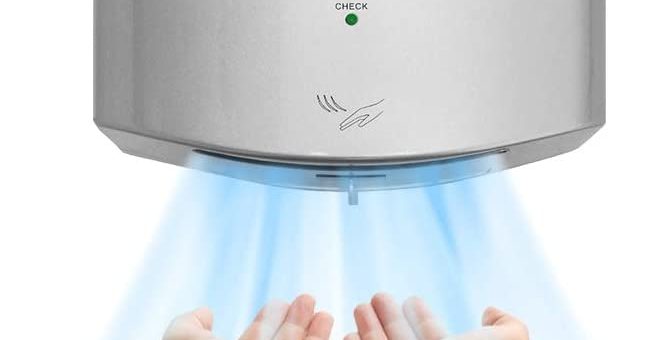 ---
Types Of Hand Dryers
There are three types of hand dryers for homes and commercial spaces. These are:

Hands Under Dryer – As the anime suggests, one has to place their hands under the dryer body, and it automatically blows air on sensing movement.
Hands in Dryer – These dryers are a bit rare to find, but they are pretty quick as they
V SHaped – The V-shaped dryers are very similar to the Hand Under Dryer models, except for a V shape at the bottom, instead of the usual flat.
---
Buying Considerations for the Best Hand Dryers
Keep a tab on the following features while you go through different dryers for hand.
Energy Efficiency – Since hand dryers are switched on, the motion sensors are at work all the time and blow the air whenever they sense some movement. So make sure to get energy-efficient models that consume minimal energy and save you expensive power bills.
Speed – The high-speed dryers usually consume more energy and dry your hands faster. So you have to make a good choice here, in terms of cost and functionality.
Noise – Pick a hand dryer that makes minimal noise, or else your bathroom will be too noisy to bear.
Durability – Hand dryers for the bathroom is a good investment, and to ensure that you make the best one, pick one built from durable materials.
ADA Compliance – This ensures that the device is easy and safe to use.
---
How to Install Electric Hand Dryers?
Here's a short video to guide you through this simple process
---
Reviews: Best Hand Dryers
These are the best hand dryers for homes and commercial use. While you check this list, we would also like to tell you that this page includes affiliate links.
---
1
These Dyson hand dryers are available in two voltage options, low and high.
The high-speed variant can dry your hands in 12 seconds but consumes less energy than the previous same voltage variant.
This Airblade V model makes 30% less noise than its previous version.
Also, it has an IP24 rating for water ingress protection.
The capacitive proximity sensor is pretty accurate, and it also has a convenient filter changing.
---
2
The Excel hand dryers are known for their super-fast drying action, which takes almost 8 to 12 seconds.
The best feature about this hand dryer for home is that you can adjust its sound and speed settings.
The heating element can be set among four settings: low, medium, high, and low.
Besides, these Excel hand dryers are about 80% more energy efficient.
---
3
This hand dryer has been crafted from heavy-duty stainless steel and is all set to last your bathroom for years to come.
It also has an automatic heating feature that blows warm air when it senses the room temperature to be less than 25℃. This automatic heating feature helps save up to 70%of energy consumption.
The HEPA filters filter out 99.97% of germs and microbes and clean the air before blowing the air out.
All it needs is 7 to 10 seconds to dry your hands completely.
---
4
This hand dryer has a patented design and takes up less space on the wall.
Besides, it has been built for heavy long-term usage and has been lab-tested for the same a lot of times.
Also, these are completely contactless, safe, and energy-efficient.
Teh stainless steel body makes it easy to keep clean as well as safe from rusting and wear.
---
5
These are some of the best High-Speed Hand Dryers that fast dry your hands in 10 to 15 seconds.
They have been designed for compact spaces and are easy to install as well.
The ABS Polycarbonate Construction ensures that these are extra durable and corrosion-proof, and long-lasting investments for your bathroom.
You will also get a two-year warranty with this hand dryer.
---
6
These ADA Compliant hand dryers can be the perfect addition to any bathroom with their fast-drying action.
It has a Polished Chrome that goes well with most bathroom decorations, while the Aluminum body makes it lightweight.
This product also comes with a 5-year manufacturer's warranty.
---
Index Table: Top-Rated Hand Dryers For Bathrooms
---
---