With so many different bathing and skincare products available today, it can be quite a hassle to find the perfect product, especially when it comes to a somewhat controversial showering product. That is the BAR of SOAP.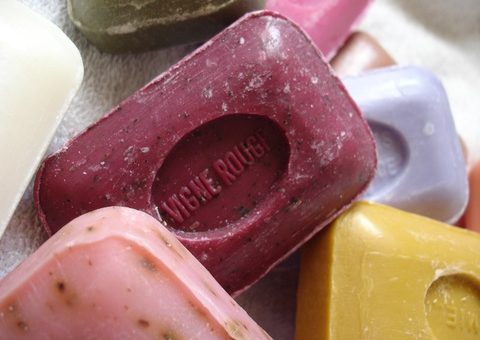 ---
Using Bar Soap in the Shower
Though liquid soaps are the recommended choice for showering, many of us remain loyal to our old fashioned soap bar, which has many other benefits that liquid soaps may not hold.
If used correctly, you can easily keep your soap bar in the shower, given that it is kept out of direct water stream and on a draining soap dish that allows water to run through and not build up in a puddle of soapy slime.
The other issue with bar soap in the shower is that it easily slips out of your hands. The trick here, however, is to quickly lather your face body and hands with as much soap as possible, place the soap down, and then wash.
Or you can always use a loofah, sponge, or washcloth to use with your soap.
---
Advantages and Disadvantages of Using Bar Soap in the Shower
Bar soap in the shower has both its advantages and disadvantages, and here are a few of them;
Advantages

Most bar soaps contain glycerine, which is ideal for sensitive skin and issues such as Eczema.

Fragrance-free bar soap is more natural to find that fragrance-free liquid soaps, and most bar soaps have much fewer perfumes used in them.

Bar soaps are much more affordable than liquids soaps, and there is less waste as no plastic containers are needing to be thrown away.

A bar of soap also takes up much less space in your shower.

Bar soaps are much more effective at cleaning that most liquid soaps.

Disadvantages

Most bar soaps have a higher Ph level and offer more cleaning power making them more drying to the skin.,

Bar soaps can become slimy and slippery in the shower if not allowed to drain and dry out properly.

Bar soaps can be challenging to handle and easily slip out of your hands in the shower.

Bar soaps can also accumulate germs because they are used by other persons in the family and are open.

---
Features of a Good Shower Soap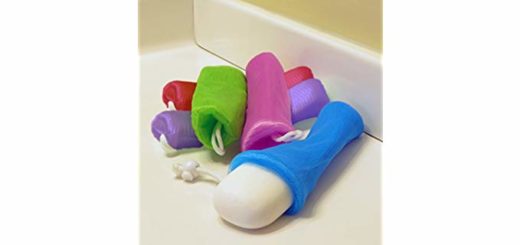 Antibacterial – Antibacterial protective ingredients.

Natural – Natural oils and ingredients infused into the soap and glyceribnne which is vegetable derived.

Moisturizing – Moisturizing agents that will not dry out your skin.

Exfoliating – Some soap bars contain exfoliants which helsp to exfoliate the skin.

Extra Milled – Milled two or more times to ensure a much creamier and greater lather in most natural soap brands.

---
Reviews: The Best Shower Soaps
Below you will find some of the top rated shower soaps available today. We also like to inform you that for every purchase made through the given links, we may get some credit for the sale.
---
The Dali Shower soap bar is antibacterial and moisturizing for all skin types and ideal for use in your shower.
A cool and crisp antibacterial soap bar that offers long-lasting protection and deodorization.

Kills all odor-causing bacteria yet also moisturizes and keeps the skin from becoming dry.

Offers an excellent Ph balance and creamy lather.

Excellent design for use in your shower.

---
2
Yardley has some top-notch products, and their soap is one of them. This is a Bar Bundle that is budget-friendly and luxurious for use in the bath or shower.
It comes in a bundle of English Lavender, Oatmeal and almond, lemon Verbena and cocoa and shea butter.

Different options for a fresh scent, moisturization, calming and soothing, and even exfoliation.

It is infused with natural oils and ingredients that are beneficial to your health.

Easy to use bar sizes for the shower.

---
3
One Natural is a natural soap brand that offers easy to use all-natural bar soap for your shower.
All-natural and vegan ingredients are used in this soap bar.

Plant-based and cold-pressed oils are much more effective and natural essential oils for scent.

Moisturizing and soothing.

It can be used on the hands, face, and body and is made with a Triple-milled technique for further foaming action.

Cleanse, nourishes and moisturizes your skin effectively/

---
4
A top favorite Moisturizing soap brand is Dove, which promises one-quarter moisturizing agents in every soap bar.
Available in a different scent and infused options such as Coconut, cucumber, sensitive, and their original choice.

It offers a lovely natural and light scent and smooth lather.

Vibrant and creamy yet still effective at cleansing.

Ultra-moisturizing and the ideal size and shape for use in the shower.

---
5
From Evelots, we have their exfoliating shower soap bar holder that is convenient and invigorating.
The ideal soap saving holder that exfoliates and cleanses effectively with the use of any soap of your choice.

A washable and reusable design that is also available in many color selections.

Makes the perfect soap saving holder for your soap and loofah design cleaner in one.

Idea to give as a gift.

---
6
Fresh and natural from Mr. Meyer's we have the lovely Honeysuckle natural scented and infused shower soap.
A vegetable-based soap bar that cleanses and refreshes your hands and body in the tub or shower.

Milled three times to ensure a rich and creamy lather.

Offers a Garden Fresh honeysuckle scent that lingers delicately on your skin.

Thoughtfully chosen ingredients free from artificial agents and colors and completely cruelty-free.

---
7
Consider the Art of Sport moisturizing shower soap with the goodness of tea tree oil.

It contains shea butter to keep your skin hydrated after the shower.

The soap has a fresh scent to give an all-day freshness to your body.

It has a hypoallergenic and a non-irritating formula free from sulfates, parabens, alcohol, PEG, or dioxane.

---
8
Pick this scented Irish Spring soap that will have a deodorizing effect on your body.

The soap will give you a 12-hour long clean, and fresh feel.

Its refreshing scent will keep the body odor away for long hours.

The soap is gentle on the skin. Therefore, it does not dry it too much.

---
9
Get these three-pack luxurious scented soaps from Caswell-Massey to pamper yourself.

The soaps have a fragrance of lilac, gardenia, and Honeysuckle to invigorate your senses.

These soaps are made from natural ingredients free from sulfates and parabens.

Moreover, the soaps are not tested on animals.

---
10
Get these vegan O Naturals detoxifying soaps to refreshen your body.

They contain ingredients like green clay and dead sea mud, which are healing for the skin.

Moreover, the soap is suitable for conditions like Eczema and acne.

The soap will leave your skin gently exfoliated and moisturized.

---
Index Table: Top Rated Shower Soaps
---
---