As a teenage girl, you may be more and more interested in a proper skincare routine, and it is always good to start taking care of your skin as young as possible.
One step in skincare for your face and body is a good moisturizer.
So we want to help you find the best moisturizers for Teenage girls that is ideal for your skin type, for your face, and your body.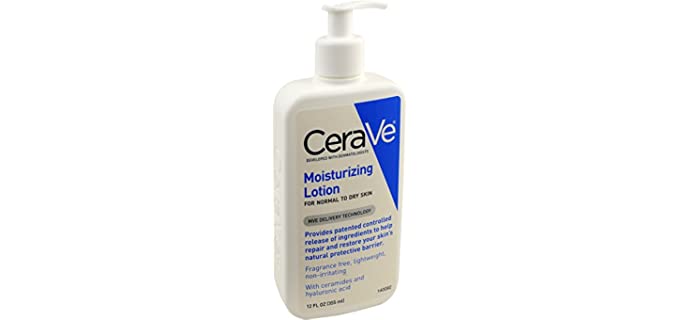 ---
Body Moisturizers for Teenage Girls
Firstly you need to take care of the skin on your body, as well as your face.
However, you do not need such concentrated and specialized ingredients for your body as for your face.
A good Dermatologically approved moisturizing body cream or lotion that is lightweight and easily absorbed should be suitable for all skin types.
You do get body moisturizers with additional ingredients such as hyaluronic acid, Vitamin E, and shea butter that hydrates and moisturizes your skin well.
It is advisable to opt for body moisturizers that contain more natural ingredients and less harmful chemicals such as sulfates, and parabens, or mineral oils.
---
Face Moisturizers for Teenage Girls
When it comes to face moisturizers for teenage girls, it takes a bit more effort than just a regular moisturizer, such as for your body.
Most teenage girls di struggle with greasy, dry, or oily skin, and they are more prone to teenage skin problems such as pimples, blackheads, and acne.
A good skincare routine that includes a cleanser, exfoliator, toner, and day and night cream is advised.
Your skin should be thoroughly cleansed before applying a moisturizer. Daily moisturizers need to contain an SPF for sun protection.
Exfoliating helps to remove dead skin cells, which also allows your moisturizer to be absorbed well for better benefits.
Here are a few teenage girl skin types explained;
Dry Skin – Dry skin will feel tight and have small pores. There may also be flakiness and tight areas.
Combination Skin – Combination skin has blemishes, dry patches, oily areas, and larger pores, with oily T-Zones, on the forehead, eyebrows, nose, and chin area.
Oily Skin – Oily skin will have a shiny texture and larger pores, and in teenagers will mostly be acne prone. Skin becomes oily because more sebum or oils are being produced than what is necessary, which could be related to hormonal changes in your teenage years.
Sensitive Skin – Sensitive skin is more delicate with smaller pores and is susceptible to environmental stressors. Sensitive skin can feel tight and become red when you use the wrong products.
Normal Skin – Normal skin is naturally smooth, matte, and clear, with the occasional breakout or dry patches during winter months. Pores will be small, and the skin will have a good balance between dry and oil as you will have optimum sebum production.
---
Features of a Good Moisturizer for Teenage Girls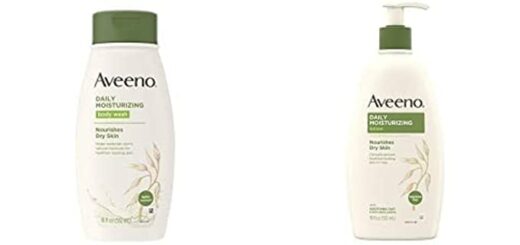 Formula – Look for a lightweight and hydrating, or moisturizing formula. There are different formulas suitable for different skin types.
Skin Issues – You may need a moisturizer that is hypoallergenic and suited for sensitive skin. In the case of oily and acne-prone skin, you should opt for moisturizers that are non-comedogenic and non-greasy with a water base.
Body and Face – We have included body and face moisturizers. It is important to use a separate face moisturizer with lighter ingredients and a richer formula on your body.
---
Reviews: The Best Moisturizers for Teenage Girls
In our list, we have some of the best available moisturizers for the body and face, for teenage girls, and all skin types;
---
1
Aveeno is a very well-known and trusted brand of body products and moisturizers, and we simply love their body moisturizer for teenage girls.
The Body Moisturizer is soothing, contains Prebiotic oat, and is very gentle for all skin types.
It will nourish dry skin, yet it is non-greasy and non-comedogenic for acne-prone skin.
The body moisturizer will protect and nourish your skin while replenishing much needed moisture without feeling greasy.
---
2
From Petite and Pretty, we have the Glow Fresh Start facial moisturizer that is suitable for teenagers, tweens, and even children.
It contains anti-blue light and anti-pollution technologies to protect your skin against environmental damage.
The moisturizer is a facial moisturizer that has a water-rich formula that absorbs quickly and is not greasy.
It is lightweight and gives your skin a healthy glow.
The moisturizer is safe for sensitive skin and has an ultra-lightweight texture.
---
3
The Proactive Clear skin moisturizer is a face moisturizer for teenagers with problematic skin.
The moisturizer is a Hydrating SPF 30 lotion for full sun protection.
Ideally, it would help if you used it during the day for sun protection.
The moisturizer gives a matte non-greasy finish and s ideal for oily and acne-prone skin.
It is an oil-free, and dermatologist-tested, and developed daily moisturizer and sunscreen in one.
---
4
The Kidskin Moisturizer is a facial moisturizer for children and teenagers with skin problems such as acne, eczema, rosacea, and many more.
It is a calming and soothing moisturizer that is gentle on your skin, non-greasy, non-comedogenic, and hypoallergenic.
The moisturizer contains white tea extract for problematic skin and is paraben, sulfate, and fragrance-free.
It is dermatologist and pediatrician recommended.
---
5
The CeraVe Daily Moisturizing lotion is an extremely popular brand of body lotion that is perfect for teenage girls.
The body lotion can be used on both your face and your body.
It contains Hyaluronic acid for hydration and moisture-retaining ingredients for drier skins.
It is gentle on your skin and hypoallergenic, non-comedogenic, and non-irritating n formula.
The moisturizer will hydrate your skin without clogging your pore.
---
6
The Dew Girl Daily face moisturizer for teenage girls is a nutrient-rich formula that nourishes and protects your skin.
The moisturizer has no added fragrance or harsh chemicals. And mostly natural ingredients.
It is ideal for normal to dry and sensitive skin types and offers excellent moisturization.
It contains natural Organic Shea Butter, Organic Coconut Oil, Organic Jojoba Oil, Organic Pomegranate Seed Oil, Organic Sunflower Oil, Vitamin E, and Vitamin B5 to feed and nourish your skin.
The formula is lightweight and hypoallergenic for daily moisture.
---
Index Table: Top Rated Moisturizers for Teenage Girls
---
---