The House plants in your kitchen, living room, dining room, or bedroom are common, but what are the best shower plants? Your place of tranquillity and relaxation.
A Plant in your bathroom or shower can spice up your décor, and some even have health and relaxation benefits.
I will have you know that your steamy hot shower could be a friend to some of the best bathroom plants, which won't wilt in the humidity and do not need direct sunlight to thrive.

---
Real Live Plants vs. Plastic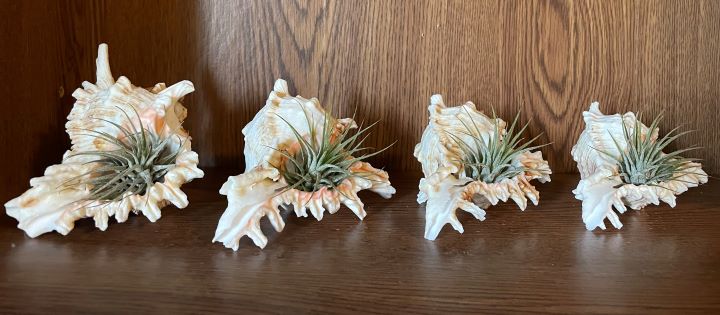 There are quite a few options in live pants that can withstand and thrive on the humidity that needs limited or no sunlight when it comes to plants for your bathroom or shower area.
Why not opt for an artificial plant if you want something harder and less effort to place inside your shower? With technology today, you can get the most realistic plants made with synthetic materials.
---
Features of the Best Live Shower Plants
Here are a few of the best plant species for your bathroom or shower area that thrive in a humid and enclosed area;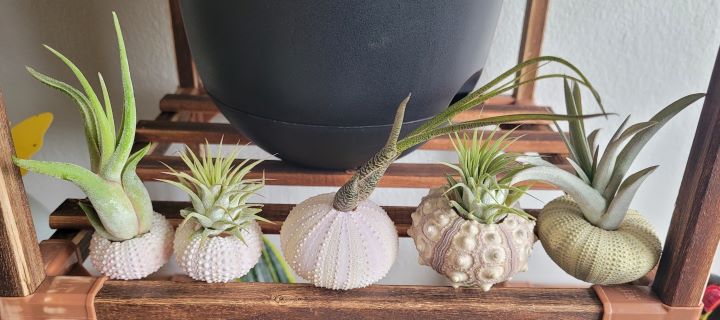 Spider Plant – Besides being visually appealing, the spider plant removes impurities from the air in a moist environment and only needs light to survive, so keep it in a well-lit bathroom or shower, and water it once or twice a week for it to flourish.
Bamboo – A natural oddity that can grow in any environment, even without soil. Please place it in a container with water and a few decorative pebbles.
Orchid – Orchids are tropical plants that thrive in moist, humid, and hot environments. The only downfall is they need direct sunlight, which is ideal on a windowsill.
Aloe Vera – A beautiful plant with medicinal uses for sunburns, scratches, cuts, or even bug bites, just cut off a piece of the leaf and use the gel. This plant likewise requires sunlight and should be placed by a window.
Cast Iron Plant – A super hardy plant that can flourish in any environment, be careful not to over-water this one.
Peace Lily – beautiful and elegant, their leaves filter the air and bloom as well. Keep them damp and in low light, though.
Boston Fern – they love low light and humidity and are low maintenance as the moist air and humidity are almost all they require.
Snake Plant – The Snake Plant or otherwise known as "mother-in-law's tongue," is low maintenance and likewise helps to filter out formaldehyde in the air.
Azalea -the azalea has the most beautiful blooms in purple, white, pink, and red to give your bathroom some color. They likewise love the moist and humid bathroom environment.
Ivy – Lastly, the Ivy is a plant that can hang or droop and will creep through framing metal pipes, the tub, and maybe even your shower door or head.
---
Types and Features of Artificial Shower Plants


Before you decide, keep this in mind. An artificial plant gets its design and inspiration from real, living plants. With technology today, they are incredibly realistic copies of live plants.
Materials used to make artificial plants ideal for the shower are;
Plastic – Most likely your most affordable, durable and easy to maintain option. Almost any plant, fruit, or flower can be made of plastic.
Wires and Glue – Wires and glue hold the stems and parts together; make sure these are water-resistant and bathroom-proof.
Clay – Clay is easy enough to maintain, it can look quite realistic, though there is always the risk of a clay plant breaking when it falls.
Glass – glass-like clay will break easily when bumped or dropped, although it can look exquisite in your bathroom and is hardy enough to withstand moisture and heat, it requires only light cleaning once in a while.
Silk – many flowers and leaves are made from silk materials, although I would not recommend this for a shower or bathroom, in a dry area such as by your sink, or not close to a shower or bath, these could do.
Regarding waterproofing, easy maintenance, and durability, I highly recommend plastic as the most suitable material for a synthetic shower or bathroom plant.
---
Reviews: The Best Shower Plants
Here are a few live and synthetic plants that you can use to give some life to your shower or bathroom area. Please note that we may earn a share of profits for every purchase you make from the links below, with no extra charges.
We hope you love the products we recommend!
So that you know, We may collect a share of sales or other compensation from the links on this page.
---
1
---
2
These fresh yet preserved Eucalyptus branches will add a tinge of freshness to your washroom. And with just the right amount of aroma!
The dried Eucalyptus stems are well preserved and seem fresh on arrival.
They carry a slight fragrance that will enliven your shower time.
Each of these branches is 20″-24″ tall and real.
These are ideal to be used in multiple locations in the house.
---
3
For use outside the shower as a decoration on the walls or in a pot, I find the LJDJ artificial palm leaves quite appealing and suitable for a bathroom in an area where it is less damp.
Large is a versatile design for anywhere in the home or just as a party decoration.
It will do well on a bathroom wall or in a holder.
Excellent quality, simulates natural palm leaves.
They will hold their shape well and are likewise very easy to clean.
Durable and reusable for a long-lasting visual appeal.
---
4
Finding a Plant that will survive inside your shower or even where it gets very wet and humid may be impossible, even for a synthetic plant. So why not opt for an artificial model used in damp and humid situations, such as an aquarium or terrarium suction plant, such as the Pen Plax Vine?
This will look gorgeous in your shower or outside and is no hassle to maintain.
Imitates the original design and colors closely.
Decorative and versatile.
The vine is flexible, so you can mold it into any shape you desire.
Use it inside or outside your shower.
It is made from high-quality, durable plastic.
It comes complete with suction cups to mount on a surface.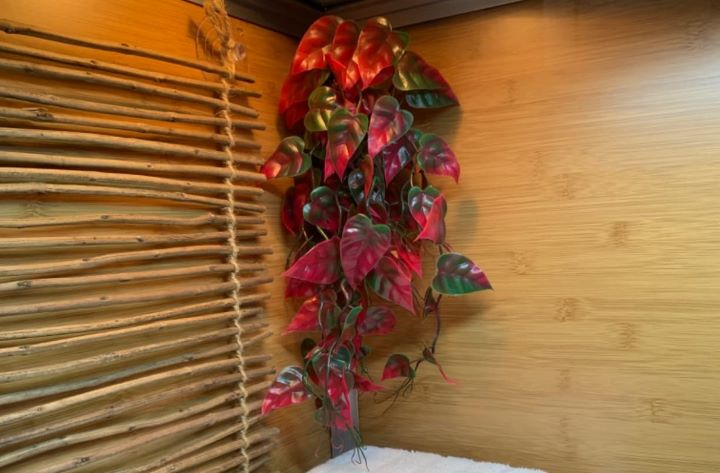 ---
5
A fresh big bunch of Baby Blue Eucalyptus is a natural healer that will help you unwind when under the shower.
These sticks will enthuse a pleasant aroma of essential oils that will soothe your mind every time you shower.
The scent is natural and long-lasting, and the bunch is a big one with plenty of aesthetic outlooks.
The plants will be delivered fresh, all year round, and freshly cut when you place your order.
---
6
The five plants have unique shell-shaped pots ready to rock any shower decor.
The kit includes five exotic Tillandsia succulent air plants that are different in outlook. And so are the pots.
Moreover, these plants will survive only on water and need no soil. Which also means that they are low maintenance.
They have high purifying power and filter the air with perfection.
The plants are only 1 to 3 inches in height.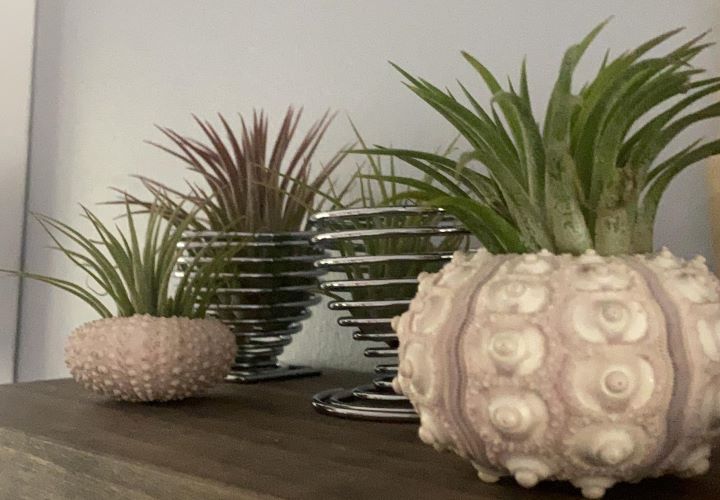 ---
7
How about using the live plants on the wall and floors? This live moss can be grown on your bath floor and genuinely make your shower time extra luxurious.
This moss is self-maintenance, as the shower's constant use will keep it fresh and green.
Since it is harvested from fresh gardens, it will give you a plush feel under your feet and double as an anti-skid bath mat.
Every bag contains two different varieties of moss.
Besides, you will also get a guide that will help you maintain it for long enough.
---
8
The faux plants are an excellent solution to add greenery to your shower without worrying about maintenance.
The two artificial potted plants are conveniently sized to fit multiple places.
The pots are round and clean and will delightfully accent your shower space.
Since these are artificial, they will require no maintenance and will be an excellent one-time investment.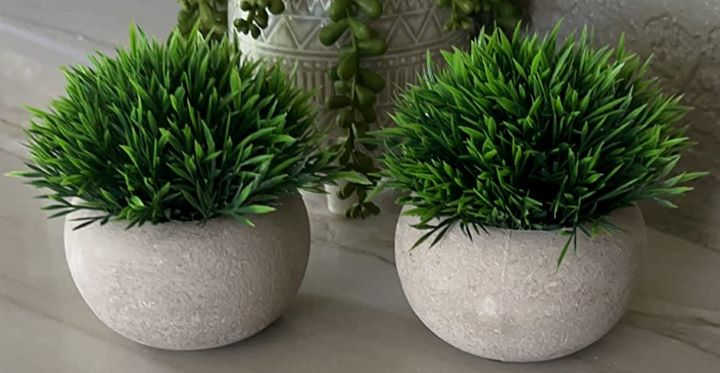 ---
9
This set of three artificial succulent plants for your shower space by Motini will fetch you many compliments from guests.
These plants' glass pots are filled with natural pebbles, which are neither brittle nor fragile.
It will help you add a touch of spring into your bathroom all year round.
Besides, the plants look realistic, and the quality is high and low.
---
10
Get this MyGift minimal shower planter with white ceramic pots and real-looking plants.
It has a vibrant green color to create a natural and healthy environment in the shower.
The planter will give your shower area a contemporary look with its hanging design.
This faux plant is easy to maintain as it needs no water or fertilization.
---
Index Table: Top Rated Shower Plants
---
---