Getting a squeegee for your shower can become a good habit of cleaning after the shower. The best shower squeegee for glass and tiles will help you maintain your shower area free from hard water stains and grime.
We have listed some important things and features to consider before getting one for your shower. Also, go through the products listed to pick a shower squeegee.
---
---
Buying Considerations For Shower Squeegee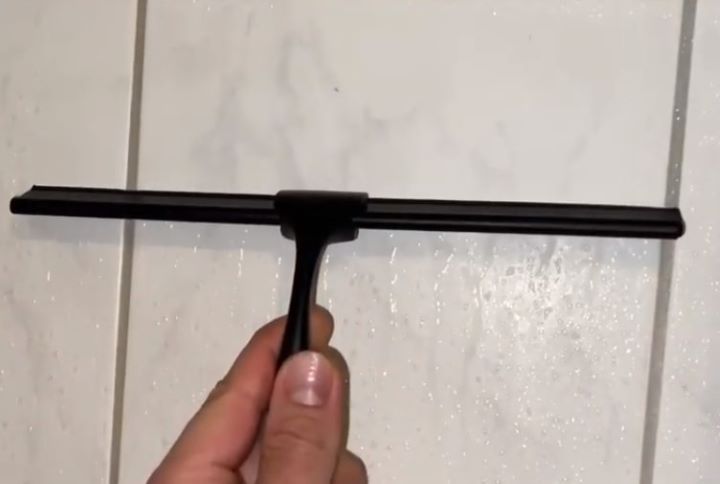 Get a shower squeegee that is durable enough to withstand everyday use. Here are key things to consider while picking one.

Size – You can choose from small to large sizes with replaceable rubber blades. Pick a size that works for everyone in the house.
Material – The shower squeegees come in stainless steel, brass, PVC, and plastic to choose from.
Extension – Make sure that you can connect the squeegee to a telescoping pole to reach higher access areas in the shower or kitchen for cleaning.
Design – See that the squeegee has an easy to hold design for comfortable and effortless cleaning.
---
Benefits Of Shower Squeegee for Glass And Tiles
Here are some ways a shower glass door cleaner or squeegee will make your shower door, glass, and tiles look new with regular cleaning.

Maintenance – You will be able to maintain a routine of cleaning after every shower, which will prevent any permanent stains.
Convenience – A shower squeegee is reachable and convenient to use for everyone with the minimum required effort.
Hygiene – Your shower area will look more hygienic with no leftover soap suds over the tiles and glass. It will also remove hard water stains and streaky fog.
Germ-Free – Warm water and moisture can make your shower a breeding ground for germs and bacteria. Squeegeeing after a shower will help in preventing this.
---
Features of a Good Shower Squeegee for Glass And Tiles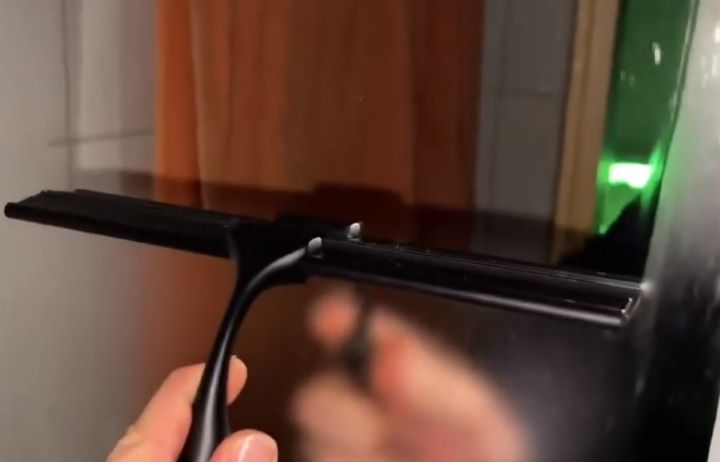 A shower squeegee should help in making your cleaning routine easier. Here are some features a good squeegee should have.

Ergonomic – See that the squeegee is ergonomically designed to have a non-obtrusive hold in your hand while cleaning.
No-Slip – The material and grip of the handle should not slip in the middle of cleaning. See that the rubber blades do not fold or fall off from the squeegee.
Hanger – It should come with a handle to hang or an extension to hang it for drying and storage.
Versatile – A good squeegee should work on any glass and tile material in your shower and kitchen.
---
How We Test and Score Shower Squeegees for Glass And Tiles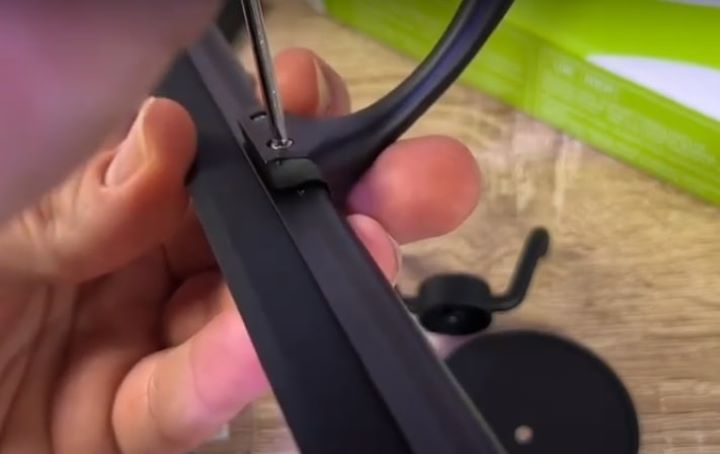 These reviews are based on intense research, analysis, and feedback from our experts and real users from different digital platforms.
We spent 39 hours trying, testing, and scoring these Shower Squeegees, for different key parameters and then shortlisted the best products in the market, saving you time and effort.
We used the following parameters for our tests and analysis.
Durability – We researched how long users can use this product without any reported changes in its quality or design.
Portable – We checked how easily the product could be carried or moved.
Versatility – We tested the product's versatility to be used in different situations.
Design – We analyzed the product's design to check if it is appropriate for users' liking.
Rust Resistant – We analyzed how effectively the product's component resists rust.
---
Frequently Asked Questions (FAQ) Regarding Shower Squeegee
---
Reviews: Best Shower Squeegee For Glass And Tiles
We have listed some of the best shower squeegees for you to choose from.
We hope you love the shower squeegees we recommend!
So that you know, We may collect a share of sales or other compensation from the links on this page.

---
1
---
2
The shower squeegee has a stainless steel construction that is rust-resistant and durable.
You will get an extra rubber attachment for the replacement of the old one.
It also gives high access cleaning with an attachment of a telescopic pole for higher windows and glasses.
The squeegee has an ergonomic grip for fast and comfortable cleaning of the shower.
Your shower doors and windows will be 100% streak-free without any foggy residue on them.
| Rating Category | Weight % | Score |
| --- | --- | --- |
| Durability | 30% | 100 |
| Portable | 25% | 95 |
| Versatility | 25% | 90 |
| Design | 10% | 95 |
| Rust Resistant | 10% | 95 |
| Total Score | 100% | 95.25 |
---
3
Keep your glass windows, shower doors, and mirror clean with this clear handle metallic squeegee.
The squeegee has a PVC blade for effortless cleaning of the glassware, leaving no residue behind.
It has a clear plastic handle with metallic stainless steel accents to keep it secure.
The neutral color won't be overwhelming for the decor since it will blend in with any colored bathroom or kitchen.
Additionally, it comes with a suction cup holder to keep it organized in a drying position and is handy for the next use.
| Rating Category | Weight % | Score |
| --- | --- | --- |
| Durability | 30% | 100 |
| Portable | 25% | 95 |
| Versatility | 25% | 90 |
| Design | 10% | 95 |
| Rust Resistant | 10% | 90 |
| Total Score | 100% | 94.75 |
---
4
Get this compactly designed shower squeegee for your bathroom or kitchen with an in-built design to hang anywhere.
It comes in assorted colors and a pack of four for versatile use and backups at home.
The ergonomic design of the product fits right in hand for a comfortable glide while cleaning.
It won't fall off your hand while cleaning with the material and design's extra grip.
The rubber blades are precise and soft to clean the edges and curved to clean the hard-to-reach areas.
---
5
The Ettore shower squeegee has a solid brass build for durable cleaning equipment in your washroom.
It comes with an extra replaceable rubber blade that you can easily change.
The squeegee's brass material is entirely rust-proof, so it can last you for years to come.
Moreover, there will be no chance of breakage or handle being damaged with the heavy-built of the product.
The design of the squeegee will give you a no streak clean without any messy situations.
---
6
Consider this Unger squeegee with a microfiber section attached for easy cleaning of windows and shower glasses.
The scrubber and squeegee 2-in-1 combination are perfect for cleaning with precision for a professional result.
You can also connect it to a more extended attachment for the hard-to-reach places without using ladders.
It comes in various sizes as an option for you to choose from.
The microfiber sleeve is machine washable without affecting its durability and material.
---
7
The RICHMIRTH shower squeegee is ideal for keeping your shower squeaky clean.
It has a silicone blade that is more flexible for effective cleaning.
The squeegee is friendly to use on ceramic tiles without the fear of damaging them.
Moreover, it is free from toxic materials like BPA to keep it safe for use.
The silicone squeegee also works effectively on the rippled surface of the tiles.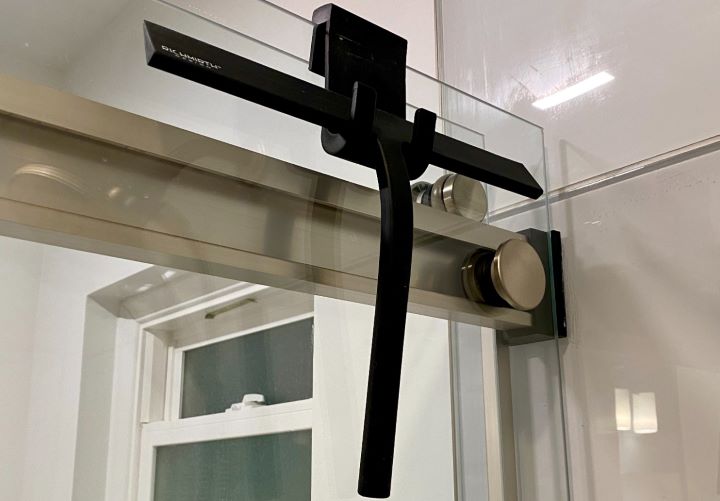 ---
8
Get this AmazerBath 6.4-inch long squeegee with a long and sturdy design.
It has a grippy handle that comes with a flexible silicone blade.
You can clean more effectively with the strength of silicone in a few swipes.
The soft material does not break when bent while cleaning different areas.
It will not leave any water spots after cleaning and drying on the surface.
---
9
Get this durable squeegee with a slim and functional design to keep your shower clean.
The squeegee is lightweight and easy to use without requiring too much pressure.
It comes with a suction hook for easy and convenient storage.
The non-slip handle ensures that the squeegee does not fall off while using.
There will be no streaks on the surface from the soft action of the blade.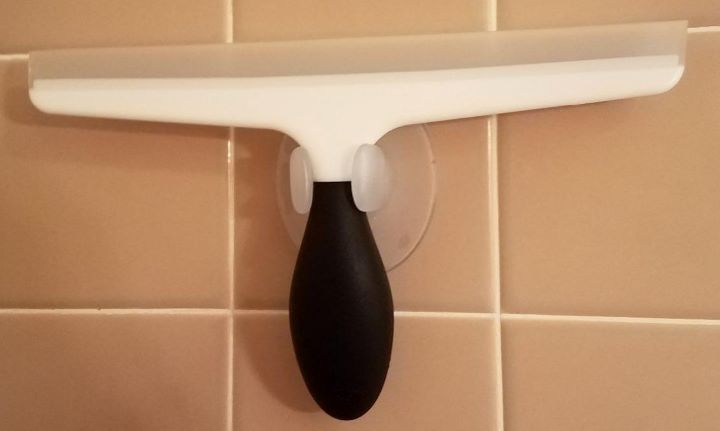 ---
Index Table: Top-Rated Shower Squeegee For Glass And Tiles
---
---