Bathroom waste basket is as crucial as any other item. The only way you can save your bathroom from turning into a stinky and unhygienic one is by using these. Moreover, it will add to the aesthetic appeal of the bathroom.
Nowadays, bathroom waste baskets are available in all materials, shapes, and sizes. Therefore you can easily decide which one is going to fit perfectly. So, here is some relevant information that you might require if you plan to buy it.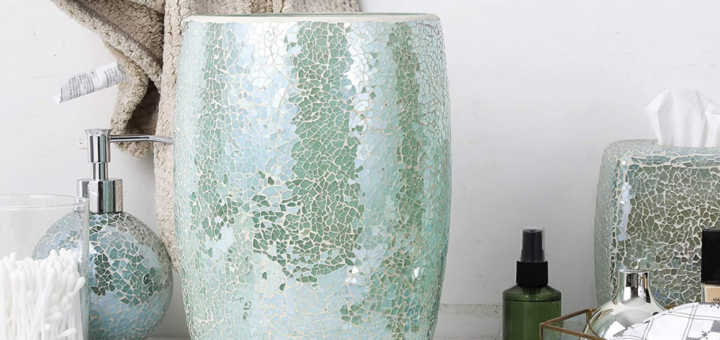 ---
Material Used in Bathroom Waste Basket
Bathroom waste baskets are made of durable material. So let's find out what all materials are used to make a trash basket.

Stainless Steel – Waste baskets made with stainless steel is the most hygienic. Besides, it's easy to clean and does not let the garbage smell penetrate the basket.
Wood – Wood is the most durable material. Moreover, the waste baskets made of wood are moisture resistant. Most importantly, it matches the interiors and retains the aesthetics of the house.
Plastic – Just like wood, plastic is durable and also flexible. Moreover, they are tear-resistant and lightweight that makes them suitable material for bathroom waste basket
Rubber – Rubber trash cans are easy to maintain but are not very durable. They do not have a long life, but they serve good for their purpose for the duration they are n use.
---
Buying Considerations of Bathroom Waste Basket
Well, buying a bathroom waste basket is not a tough job, but yes, you do have to take care of a few things.

Material – Waste baskets come in different materials. But it depends upon you and your bathroom interiors which one you have to buy. Choose the one that is durable and lightweight.
Size – Besides, the size of the waste baskets must be large enough to store enough garbage without spilling it around and compact enough so that they do not occupy too much space.
Lid – Bins with lids are best as they do not let the garbage stink to come out of the basket. Additionally, a covered dustbin doesn't look bad as the open one.
Shape – They come in all shapes, including rectangular, oval, square, and half-round. You can easily go for the one that fits in your bathroom.
---
Features of Good Bathroom Waste Basket
You cannot just buy any waste basket and call it the best. There're many factors that make it a versatile product.

Durable – First one is the durability. Most of the trash baskets are durable and last for many years. They do not break or bend after a little rough usage.
Odor-Resistant – The waste basket is preferred the most for its ability to resist odor from the garbage. It will prevent the bathroom from stinking and irritating with a foul smell.
Lightweight – Also, these are extremely lightweight so that you can throw out the litter and bring the basket back anytime. You can change its place as well.
Non-corrosive – Stainless steel is non-corrosive. Additionally, it will repel microbes and other dirt particles to accumulate around the waste basket.
---
Reviews: Best Bathroom Waste Basket
Below are some suggestions that you can refer to while shopping for your decent bathroom waste basket. Moreover, we'd also like to tell you that we may earn some commission with every purchase made using the links on this page. However, you'll not be charged any extra.
---
1
This round shaped trash basket is made of steel and has bronze finish with a woven texture in the upper border of the can.
Moreover, it is fit not only for bathrooms but also for kitchens, bedrooms, and offices.
It will not feel odd to keep it under a sink or near the bed as it has a fancy and stylish design.
Besides, it is easy to clean. In fact, you only need to wipe it with a damp cloth, and you are good to go.
Also, the steel is rust-resistant, and the basket has a padded bottom so that it doesn't scratch the floor.
---
2
This small wooden basket is the perfect size for inside cabinets, under sinks and other small spaces in the house.
Place it in anywhere or in any corner of the house, and it will not appear strange and dirty.
The versatility of this can also let us use it as a planter if you line the base with plastic or another waterproof thing.
Moreover, there are no drainage holes in the can.
Although the wood is high quality and rust-resistant, you can still clean it simply using a wet cloth.
---
3
This plastic waste basket is made of high quality material and is highly durable.
It has a matte black finish, and so you can match it with the interiors of the bathrooms or any other corners in the house.
Besides, it can fit anywhere as it is neither too large nor too tiny.
You can also wash it or clean it with a wet cloth, whatever you find convenient to do.
The plastic will not shatter down even after a long term use.
---
4
This versatile basket looks so appealing to the eye that your guests might confuse it with a decorative piece.
It is a round waste basket with a covering lid. Additionally, it has been handwoven and has an unfinished touch.
Moreover, there is a black plastic insert included with this set that you can take out to throw the garbage ad put it back again.
You can wash it or clean it whatever deems you fit, and the material will not lose the quality.
---
5
This trash can gives a luxurious look to the bathroom without you having to spend much.
Moreover, it has a high capacity, so you don't have to empty it after short durations.
You can use it in the bathroom, below the kitchen sink or in office cabinets.
The glassware is vital and doesn't break after rough use. Besides, it's so beautiful that you can use it as a decorative item as well.
---
6
This round waste basket is made with natural wicker water hyacinth.
Besides, it has been very neatly handwoven over a sturdy wireframe and has a magnificent look.
The best part is that it'll match all the interiors, so you don't have to look around for colored or patterned ones.
Although it is opaque, you can also insert a trash plastic inside it so that the garbage doesn't show out.
In fact, you can also use it as a planter by fixing a waterproof base to it.
---
Index Table: Top-Rated Bathroom Waste Basket
---
---