Granite is not only a popular choice for creating kitchen counters and tops, but it has also become quite a popular choice for bathrooms because of its exquisite aesthetic properties and durability.
Granite is a natural stone with a hard-wearing design for kitchens and bathrooms; it is stain resistant and looks classy and luxurious.
However, because your bathroom is mostly damp and there is much difference between granite usage in a bathroom and kitchen, you will need to invest in a proper Granite Cleaner for your bathroom that targets the specific challenges of cleaning a bathroom.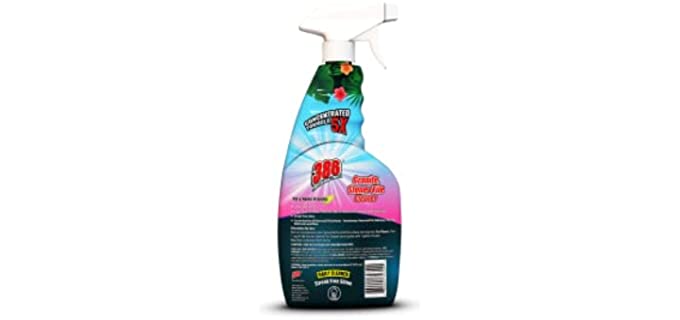 ---
Why Are Granite Bathrooms So Popular
Granite is an exceptional choice for a bathroom, kitchen, or vanity countertop. It is durable and heat and stain-resistant, making it the ideal choice.
There are, however, Pros and Cons to Having Granite tops in your bathroom;
Pros – Even though Granite is a natural stone, it comes in a huge array of colors and styles from which you can choose to decorate your bathroom and complement the colors of your bathroom. From the traditional white to darker colors, they can have a glossy or more matte finish. Ideal mostly for kitchens, Granite has extremely high heat resistance, and in a bathroom setting, the granite top can withstand heat from curlers, hair straighteners, and curing or styling tools. If sealed properly, Granite is stain-resistant and easy to keep clean. Thus, Granite will not hold stains for leaking soaps, shampoos, or toothpaste, such as wood and other materials. Granite will likewise not absorb water, such as wood, as it is treated with a sealant that makes it fully waterproof.
Cons – Granite, and other natural materials used for countertops, are quite porous, meaning liquids can easily seep into them and become moldy. Granite tops need to be treated regularly with proper sealing materials to ensure they are waterproof and scratch resistant. Granite tops usually have single slabs, and sometimes tile options are available. Granite, a natural stone, is much more expensive than other synthetic countertops. On the other hand, Granite is extremely heavy and may cost more to ship than other tiles and tops.
---
Cleaning Your Granite Tops
To clean a Granite top, dust it properly with a microfiber cloth to prevent scratching. Do not use soap. It will leave a residue on your granite top; rather, invest in a safe Granite top cleaner specially designed for this material.
Never allow any spills to sit on your granite tops, as over time, they may wear out your slant and stain the Granite, especially if it is a harsher chemical spill. Acidic spills such as vinegar or citrus are more likely to cause damage immediately.
Invest in a good Cleaner and polisher that will help clean and seal the granite tops in your bathroom.
---
Features of a Good Granite Cleaner for Bathrooms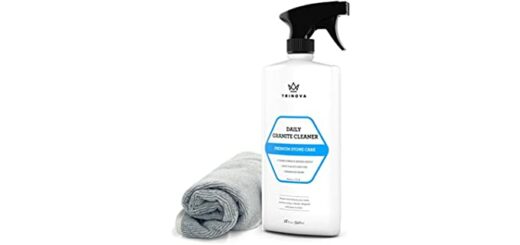 Cleaning and Disinfecting – Most Granite cleaners claim to clean and disinfect do not kill germs and bacteria; rather, they clean off the germs and dirt to remove them completely. Products that do contain a disinfectant will need to be left on the tops for a while as allocated to kill germs and disinfect the area effectively.
Seals and Polishes – Most natural stones will need to be polished with a polisher, many cleaners are a two-in-one cleaner and polisher. Granite tops likewise need to be resealed from time to time.
Daily Cleaner – A Daily Granite Cleaner is ideal for cleaning and wiping granite surfaces daily to protect them from staining.
---
Reviews: The Best Granite Cleaners for Bathrooms
In our Review section, we have some of the safest and most effective Granite bathroom cleaners;
---
1
The Granite Gold Clean and Shine Spray are ideal for Granite and marble floors, Travertine, and even Quartz.
It is cleaner and polished, removing all spoils and spills from natural stones and adding shine and luster.
The products are safe and easy to use, coming from an easy spray bottle that you wipe down.
You can use it as a daily cleaner and polisher for your Granite bathroom tops.
---
2
The Weiman Disinfecting Granite Cleaner for bathrooms is ideal for daily cleaning.
It is a new disinfecting formula that will kill99% of germs and bacteria in 10 minutes on most non-porous surfaces.
It is safe on granite surfaces, sealed Marble, sealed Limestone, sealed Slate, and likewise Glazed Tiles in kitchens, bathrooms, and other home areas.
The formula is slightly strong, so it should not be ingested or inhaled and must not come into contact with your eyes.
---
3
The Black Diamonds Stoneworks is a Granite top cleaner and sealer.
It offers streak-free cleaning of all your granite tops and has a food contact PH-neutral and no-rinse hypoallergenic formula.
The formula also seals surfaces and makes them much easier to clean and more stain-resistant.
It will help protect the granite tops in your bathrooms and kitchens.
---
4
The 386 Professional Granite Cleaner for your bathroom is professional strength and reliable.
It can be used on Marble, Granite, and other store or quartz tops and surfaces in the kitchen or the bathroom.
The cleaner leaves surfaces smooth and shiny and has outstanding cleaning power,
It is a safe and effective formula that is fast acting and has no scent.
You can enjoy hassle-free cleaning with the easy spray bottle.
---
5
The Faber Surface stain remover and Granite cleaners are ideal for coffee and other strong stains and easily clean marble and granite surfaces.
It is a strong miracle cleaner that revitalizes your granite bathroom and other tops.
The solution is harsh on stains yet safe and comfortable for you to use.
You do not need to scrub. Only leave the solution on and wipe it away.
---
6
The TriNova Granite Cleaner and polish is perfect for daily use on your kitchen and bathroom granite or marble tops.
It is designed to clean effectively without causing damage and can deal with most stains and spills easily.
The cleaner will leave no residue or haze and has a pleasant scent that is not overpowering.
It will leave your granite tops with a marvelous shine and clean feel.
---
Index Table: Top Rated Granite Cleane for Bathrooms
---
---