Let's face it, having to clean off soap scum, grime, dirt, and even watermarks from your glass shower door can be a nuisance and quite an affair.
So why not invest in a suitable Shower Glass Door Sealant and make your shower door water repellent. It will make cleaning much easier while offering resistance against these elements in the shower.

---
Why You Should Use a Shower Sealer for Making Shower Door Water Repellent?
Because Glass is such a porous material, it tends to rust over time. To the naked, eyeglass may seem smooth, although it has many ridges and valleys that are microscopic. Soap scum, dirt, and mineral deposits collect and breed like wildfire in the tiny ridges and valleys.
Thus using a Glass sealant on your Glass Shower Door offers a protective layer that will reduce your cleaning and maintenance efforts while maintaining a shower door that looks clean and clearer.
Here are a few excellent reasons to invest in a shower glass protector;

The Glass doors and surfaces in your shower will stay cleaner and clearer for much longer.
You can even restore already spotted, stained, or even damaged glass doors and surfaces in the shower.
The Glass doors and surfaces will be much more hygienic and easy to clean.
No residue, dust, or mineral build-up.
Fewer allergy triggers.
There will be longer-lasting
It has germ, virus, and bacteria protection.
The surfaces inside and outside will be clean and bright.
Much fewer chemicals and harsh abrasives are needed for cleaning.
You will reduce the maintenance of your shower by 70%.
---
Two Best Types of Shower Glass Sealants
There are many varieties of sealants and protectants, as well as different brands that offer sealants and protectants for the Glass of your shower door and surfaces and even for steel frames and showers.
Some shower cleaners come with a built-in protectant or sealant that is easily sprayed on, and then there are more long-lasting and durable options that are a bit more tricky to install.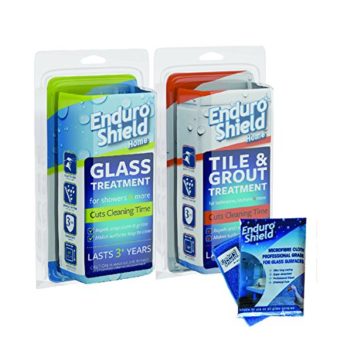 Two main technologies used are;

Easy Clean Surface Treatment – This treatment is a long-term treatment that is applied to your shower glass door to seal it and create a protective layer that can last up to three years.
Spray on Cleaner and Protectant – A cleaning spray that creates a chemical bond a layer on the shower door glass to protect it for a few months.
MAINTENANCE of the protective layer on your glass shower door is VITAL and relatively easy. Use a microfiber cloth and gentle cleanser to maintain and clean your shower door and surfaces and to prolong the life of the sealant or protector.
---
Features of a Good Shower Glass Sealer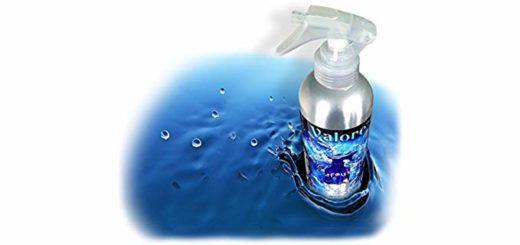 Functions – It is a long-lasting sealant up to three years. A cleaner and protective spray can be reused and lasts a few months or weeks. Cleans and seals. It protects your glass surfaces against germs, soap scum, ad mineral build-up.
Benefits – Easy to clean surfaces. Surfaces are more transparent and stay cleaner for longer. No harsh chemicals. Easy application. It offers scratch and scrape-resistance. Prevents soap scum and oil resistance and repels water.
---
Reviews: The Best Shower Door Water Repellent Sealers
Some of the best available shower glass protective coatings reviews. We hope you love the products we recommend! So that you know, We may collect a share of sales or other compensation from the links on this page.
---
1
---
2
This is not a glass sealant but an additional sealant for most showers' steel or metal frames, offering similar protection and easy cleaning benefits.
You can create an easy wipe-clean surface for over three years.
Use a damp microfiber cloth to clean any residue or dirt on the area after being sealed.
It works well on stainless steel and chrome surfaces.
Repels oils and water to keep your glass surfaces clear and clean at all times, even without cleaning.
It creates direct contact with the surface area.
---
3
The Valore Shower and Glass Cleaner and Sealer is a two-in-one that cleans and protects your glass shower doors and surfaces as well as tiles.
It protects your shower against water spots and build-up.
Easy spray on a cleaner that lasts two to three weeks tops, and you can respray the surface for another few weeks of protection.
It comes with a cleaning squeegee for easy cleaning and delivers the best shower glass protection.
It offers good scratch resistance in turn.
Enough high-quality sealant and cleaner to last you a while.
Affordable and easy to come by.
---
4
This Glass Plus glass sealer is highly efficient in taking out all kinds of spots from your shower glass.
The solution is ammonia-free and contains no harmful substances.
It can be used on multiple surfaces, including your computer screen, mirrors, windows, etc.
The cleaner comes in a pack of four and is affordable.
---
5
One of the most popular brands in sealants and glass or steel protection is the Enduroshield range. This bonus pack contains a glass and tile sealant for all your bathroom requirements.
It has a Shower Glassdoor and tile kit with sealant and other accessories.
The Loctite silicon – glass and tile kit shower sealer repels water and oils.
This kit comes with a handy microfiber cloth.
Creates a very easy to clean shield that will last for 3 years.
---
6
The Guardian glass protector is another top brand that you should not miss. Ideal for showers and all other glass surfaces.
It enhances the elegance and beauty of your glass shower doors and surfaces and provides the best shower glass protection.
It minimizes scratching, and dirt builds on chrome and some other metals as well.
Safe and easy to use, with no hassles or extra accessories required.
The product chemically bonds to the glass and creates a protective layer that lasts for months on end.
---
7
The Rain-X water repelling glass cleaner and sealant will protect and keep your shower doors and surfaces crystal clear for a few weeks.
Provides water and oil repelling coating that prevents build-up.
Very easy to apply, and one coat will last for several weeks.
This product is created specifically to make shower glass water repellent that easily collects water and soap scum.
Easy to apply with a trigger bottle and enough to reapply when it becomes worn.
---
8
You can use the Chomp shower glass sealer on multiple surfaces to get a shiny surface.
It efficiently clears all the left behind residues in the shower.
The cleaner is best for use on glass surfaces and fiberglass doors.
The cleaner has a beautiful scent fragrance so that you can enjoy a lovely shower.
---
9
Provide ultra shine to your glass door with this fantastic shower glass sealer.
It is efficient in cleaning soap scum and hard water stains.
It is specially designed for glass surfaces only.
The Rain-X shower sealer provides freedom from calcium, rust, and lime stains.
---
10
The shower cleaner gives you a great glass cleaning experience for your shower glass.
It provides a tremendous lustrous shine to the glass.
It is highly efficient in dissolving dirt and grime from glass surfaces.
You get a pleasantly clean, fresh scent fragrance after its use.
---
Index Table: Top Rated Shower Glass Sealers
---
---