The self-wringing mop is a fairly new design that comes in different styles and options, all with one purpose, and that is for you not to have to use your hands to wring excess water out of the mop.
The self-wringing mop has a design that you can easily use to wring out excess water from the mop without getting your hands wet.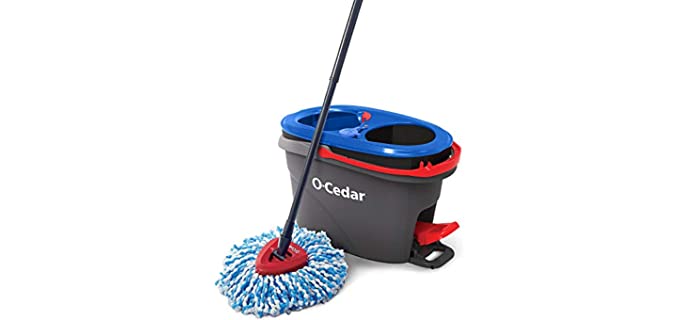 ---
Benefits of Frequently Mopping Your Floors
Before we get into the self-ringing mops, let's first take a look at why it is so important for you to frequently and effectively mop the floors in your home;
Sanitizes – Mopping your floor will help to kill germs and sanitize your floors. Many of floor cleaning agents are anti-bacterial and have germ-killing agents in them; even just using clean water can help to clean up germs and dirt that can carry bacteria and germs that could cause illness.
Reduces Allergies – Dust, pet fur, pollen, and other allergens can quickly accumulate on your floors, and sweeping or vacuuming may not always eliminate them. That is why mopping your floor is necessary to reduce allergens that can cause allergic reactions.
Prevents Scratches – Did you know that regular mopping and sweeping of your floors can actually prevent scratches on your floors? Especially for wood floors, build-up of dirt and debris could cause scratches and small damages to your floors as you walk over them frequently, which can be prevented with regular cleaning and sweeping of your floors.
Good Looking Floors – A sparkling clean floor has a lovely aesthetic appeal and will look, feel and smell great. So, if you haven't cleaned your floors in a while, you may have forgotten how enticing a clean and sparkling floor looks and smells.
---
How the Self Wringing Mop Works
This self-wringing twist mop uses a ratchet in the handle to twist and wring water out of the mop head. Wet mops for floor cleaning with a wringer, make your hands will never touch the water.
---
Features of a Good Self Ringing Mop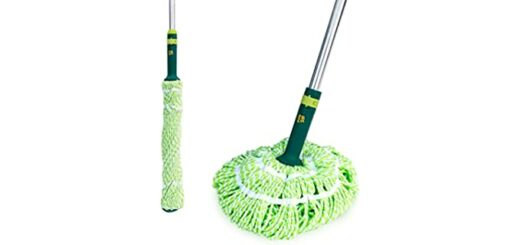 Handle – The self-wringing mop will have a solid handle or telescoping handle that can be adjusted in height or retracted for storage. Many handles will also have a hole at the top so that you can easily hang it up for storage.
Self-Wringing Design – Most self-wringing mops have a twist head and a ratchet design at the hand that you use to twist the mop without using your hands to wring out excess water. There are different self-wringing mop designs available all with a function that wrings out excess water from the mop without you having to use your hands.
Mop Head – The self-wringing mop options will usually have microfiber mop heads with additional heads included in the package. Microfiber is the best at cleaning and picking up dust, and it is also very absorbent. Some mops will have an additional scrubbing pad for tougher stains.
---
Reviews: The Best Self Ringing Mops
In our list, we have a few of the best available self-wringing mop designs;
---
1
The Yokada is a Loop end string mop that has a heavy-duty design, with industrial grade materials, and a telescopic iron pole, as well as a jaw, clamp for wringing the mop.
It is soft and ideal for cleaning all surfaces, even wooden floors.
The mop has a long iron handle with a jaw clamp that wrings the mop.
The Mop consists of durable and reliable microfiber.
---
2
The Simpli Magic is a spinning mop kit that you will not need to wring with your hands.
It is easy to use and has a spinning mop head to get rid of excess water,
It includes three reusable mop heads and an extendable pole for easy height adjustment.
The mop is durable and comes with everything you need, including the spinning bucket.
---
3
The O-Cedar EasyWring mop is a RinseClean Microfiber mop that comes with a bucket for easy cleaning.
The mop kit has a microfiber mop head and spin design to wring out water in the bucket that it comes with.
The Microfiber mop offers deep cleaning to offer germ protection and disinfect your floors.
You can enjoy easy hand-free wringing, and there are washable and reusable refills included for the mop set.
Because the mop has a triangular head, it can easily reach hard-to-reach corners and areas of your home.
---
4
The Boomjoy mop can be used wet or dry for mopping and sweeping.
It has a heavy-duty design and is a twist mop with a wringer and a long handle for your convenience.
The mop is self-wringing with a rachet handle and has a twist mop head.
The head is a microfiber which is proven to be the most efficient at cleaning floors and picking up dirt.
The mop comes with a protective soft pad to scrub tough stains without scratching your floors.
---
5
Here we have a heavy-duty commercial mop for all floors, even wood floors, from Eyliden.
The mop is a self-squeeze mop that wrings itself and twists with an easy-to-use ratchet so you do not have to get your hands wet.
There is a microfiber twist head that is strong and absorbing for cleaning.
The mop has an extra long and adjustable handle for your convenience.
It can be used on almost any floor and comes with a scrubbing pad for tougher stains.
---
6
The Pine-Sol Self-wringing microfiber mop is a hygenic and effective mop that you do not need to wring with your hands.
It is a Microfiber mop that offers effective and efficient wet mopping of all types of floors.
The telescopic handle design of the mop saves you space on storage and can retract for a compact size.
It is a very quick and easy cleaning tool for your floors, and it comes with a hanging hole for storage.
The mop has a twist head and a ratchet for self—wringing.
---
Index Table: Top Rated Self Ringing Mops
---
---