Glass shower doors have their pros and their cons all in all, but one of the drawbacks is that they are quite tricky to clean to get a crystal clear and shiny effect.
This article will help you get the sheen and mirror image back on your glass shower door, using very effective and easy materials and equipment.
---
What Lurks on Your Glass Shower Door
Many unhealthy and unsightly substances can creep up in your shower and on your glass shower door if not cleaned regularly.
The glass shower door may likewise become foggy, unsightly, and dim when not kept clean regularly.
Hard Water Stains – water stains collect particularly from Hard water on your shower door, creating stains, mainly consisting of a build-up of chemicals and fluoride from hard water. These stains can be quite difficult to remove, particularly when left to build up.
Soap Scum – The soap and shampoos you use in the shower all have a sticky residue that can collect on the shower doors and make them unsightly and grimy.
Body Oils – Your body releases natural oils that spread in the shower and can cause an oily film on the glass shower door, which can be tricky to clean off.
Mold – When you do not clean your shower and shower door regularly, the buildup of soap scum, water, and other bacteria and particles can cause mold growth in this wet and humid environment which is extremely hazardous to your health.
Dust – Dust particles can likewise collect on the wetness of the shower door and cause it to become unclear and dirty.
Steam – Steam from a hot shower creates water droplets that can build up on your shower door and cause stains.
---
How to Clean Your Glass Shower Door Step By Step
What Your Will Need – Your Cleaning sponge, squeegee or cloths, detergent, and a spray bottle. You can also use Vinegar and Baking Soda instead of detergent.
Spraying – Wet The shower door with water in a spray bottle or bucket and rinse it off thoroughly. Now you can spray on your vinegar or detergent and leave it for a few minutes to do its work.
Scrub Away – Use your cleaning sponge, scrubber, squeegee, or cloth to scrub away dirt and grime thoroughly, using your foaming detergent or baking soda, or any other abrasive required.
Rinse – Once you are satisfied with your cleaning result, you can rinse the door off with fresh warm water using your spray bottle or a handheld showerhead or bucket.
Dry – A microfiber cloth works best to dry and shine your shower door, or if you have one, a rubber shielded squeegee brush will also do the trick and give you a shiny surface finish.
A quick wipe down or spray down will likewise help you keep your shower door fresh and clean in-between cleans, and you can also invest in a glass sealing spray that will keep the surface clean.
---
Features of a Good Shower Glass Door Cleaner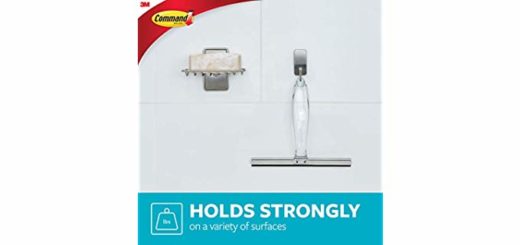 Sponge – Sponge, or rubber wiper on the squeegee design, or microfiber material cloths.
Handle – Long adjustable handle. Stainless steel or plastic handle and build. Non-Slip high grip handle.
Design – A comfortable design that helps in providing an excellent grip. Waterproof or resistant design that will not mold.
Storage – It comes with suction cups for placing it anywhere you want.
---
New Trending Shower Glass Door Cleaner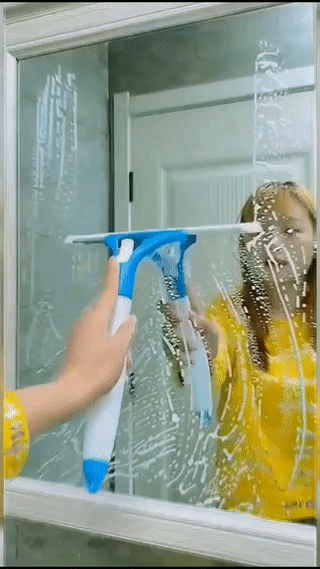 Just watch how easy it is to clean glass doors with this amazing squeegee.
This awesome squeegee is trending on social media such as Instagram, with hundreds of good reviews.
It offers a fast solution to the problem of dirty mirrors or shower doors.
Here is a Link to buy from Amazon.
---
Reviews: The Best Shower Glass Door Cleaner
Listed we have the best available shower cleaners for glass doors and walls, on the market;
---
1
The Hiware All-Purpose Cleaner is ideal for use on your glass shower doors and tiles, tubs, in the shower, sinks, windows, and other smooth surfaces.
A very lightweight and sleek-designed Squeegee cleaner that is versatile for kitchen and bathroom cleaning on smooth surfaces.
A Windshield inspired wiper design gives a smooth and resistance-free swipe with no streaking and a dry result.
The handle has a non-slip design for extra comfort.
It comes with adhesive hooks so you can hang your cleaner virtually anywhere you want to.
---
2
The OXO squeegee and wiper for your shower doors are an effective cleaning and maintenance system durable and rustproof.
Quickly wipe off tiles, mirrors, glass doors, and surfaces as well as windows for a clean and shiny surface.
Stainless steel body with a squeegee wiper and cleaner for a durable, rustproof, and effective shower door cleaner.
The blade is flexible enough to work on rippled surfaces, and the handle is slim and easy to grip.
It comes with a suction cup for easy storage.
---
3
An easy to use in shower cleaner that wipes away dirt and cleans your shower doors.
Lightweight and sleek design made from durable, rustproof stainless steel with a squeegee cleaner for bathroom tiles, mirrors, and glass surfaces and doors.
Features a professional Windshield Wiper blade, for a resistance-free swipe wiping off water drops, steam, and build-up in one smooth stroke.
The T-shaped handle provides an effortless grip and will not slip even when it gets wet.
No added tool is required, easy to use, and comes with handy hanging hooks for shower use and storage.
---
4
A Lightweight and sturdy squeegee design tile, mirror, and glass shower door cleaner from Magic American are lightweight, easy to use, and very effective.
It is built with sturdy and durable rubber and a sponge for cleaning, with a comfortable rubber handle that will not slip even when wet.
It can easily be used on smooth and non-porous surfaces such as tiles, mirrors, glass, and shower doors.
Effectively removes water, steam, and build-up from surfaces preventing build-up and mold.
Very lightweight, versatile, and easy to use design.
---
5
This is a simplistic, affordable, useful, and easy cleaning device for your shower door and other glass surfaces, the Microfiber Cloth from Microfiber Wholesale.
Quick, easy, and guaranteed no streaks, these microfiber cloths are environmentally friendly, safe, and chemical-free.
It comes in a green cloth for cleaning and a blue drying cloth, which gives the glass a shiny finish.
You do not need any detergents or chemicals and can only use the cloths.
These cloths are likewise machine washable and dry very quickly in the sun.
---
6
A squeegee design door cleaner that has a handy hanging hook and water-resistant strip.
Excellent durability for wet and humid conditions can be kept inside your shower with the handy hanging hook.
The materials used on this squeegee cleaner are entirely rust-resistant.
It comes with one squeegee, hanging hook, and water-resistant strips for easy and effective cleaning.
A smooth satin nickel metal finish and a durable sponge squeegee design.
---
7
This shower glass door cleaner looks absolutely stunning with a minimal design print.
The shape of this glass door cleaner is very ergonomic and handy.
It also comes bundled with a wall stand, which makes it easy for you to place anywhere.
The rubber-silicon finish provides an excellent handgrip.
This cleaner is made from 100% BPA-free products, and it contains no adhesive smells.
---
8
A multipurpose window and glass shower cleaner is super efficient and useful.
This shower cleaner is made out of high-quality plastic with a gloss finish all over it.
It is versatile as it ships with various attachments and equipment, and it can be used as a window, kitchen, or even car door cleaner.
It is available in multiple colors, and all of them look attractive and elegant.
The overall weight of this is very light, and it can is maneuvered with ease.
---
9
This shower glass cleaner is perfect for you if you want something compact and easy to use.
The size and footprint of this shower cleaner are minimal and easy to use.
It has silicon padding, which prevents the metal from any water damage.
Due to its compact size, it can be placed anywhere without much effort.
The price of this shower glass door cleaner is super affordable.
---
Index Table: Shower Glass Door Cleaner
---
---