Unless your shower is a decorative adornment or strictly a conversational piece, you will eventually notice dirt and grime collecting on your shower's wall and floor from the soap scum and water.
This white filmy combination is a foul collection of soap scum, water minerals, skin cells, and body oils. Therefore thorough and regular cleaning of your shower floor becomes necessary if you are an avid shower.
---
Why do You Need to Clean Your Shower Floor Often
Besides the soap scum, body cells, oils, and water minerals layering the floor of your shower, have you heard of Black Mold?
Well, in the case of black mold, you may need to burn the entire shower down; that is how dangerous it is, but let us not get that far ahead yet.
In general, Mold is a risky substance that can grow in your shower and bathroom when you fail to clean it regularly and leave the soap scum and oils to grow on your shower floors.
Let me tell you this as well, all types of mold, even non-toxic shower mold, can potentially make you ill.
But besides all of this, let's consider all that can be hazardous in your shower that is not cleaned;
Soap Scum – Soap scum can build up and make your shower floor slippery and slimy, causing a slip and fall hazard.
Body Cells and Oils – Bacteria in Body cells and Oils can cause infection and is dangerous to your health when left to build up in your shower.
Odors – Build-up, mold, mildew, sweat, and body odor can create a foul smell in your shower and bathroom when not cleaned regularly.
Build Up – When you finally decide to clean that Shower floor, the build-up may be so advanced that it is a considerable struggle to clean. So, in a nutshell, the more regularly you clean, the faster and easier it is.
Mold – As we have mentioned, Mold is toxic and very unhealthy, causing disease and skin conditions.
---
Easy Shower Floor Cleaning Steps
Cleaning your Shower Floors can be a quick and easy process if you have the right tools;
Tools and Detergents – You will need a shower scrubber brush or cleaner with abrasive pads. A long-handled cleaner eliminates the need for getting on your knees, although a handheld brush or scrubber will get into hard-to-reach areas much easier. Get a proper detergent for the specific flooring or tiling in your shower.
Mix Your Detergent and Wet the Floor – Open up the hot water in your shower to wet the floor and soften grime and dirt. Mix your detergent following the instructions.
Elbow Grease – Use your scrubber or brush, preferably with nylon bristles, and scrub away, rinsing the floor and your brushes once or twice.
Rinse – Use the hot water in your shower and a handheld showerhead in your hand or a smaller water pourer to rinse off all areas.
Dry – You can use a terry or microfiber towel to dry off the floor and wipe off any leftover detergent and dirt from the floors. Open a window and allow the floors to dry put.
---
Features of a Good Shower Cleaner
Bristles – Nylon bristle brushes clean effectively without scratching. It has bristles and a head designed to reach all hard-to-reach areas.
Handle – A long handle on the cleaner that is adjustable is available. Natural smaller handheld brush. Non-Slip grip handle design.
---
New Trending Shower Floor Cleaner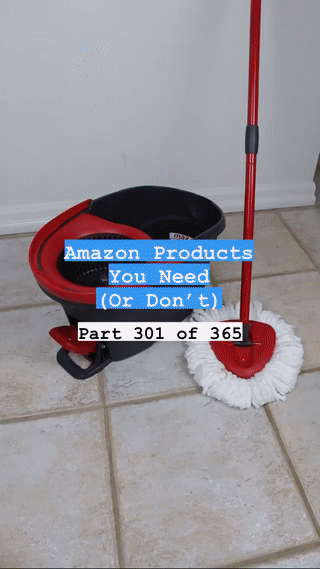 With this versatile spin mop, just watch how easy it is to clean the floor, corner, and even bathtub.
This awesome spin mop is trending on Instagram with many good reviews.
It offers a fast solution to the problem of every corner of your bathroom.
Here is a Link to buy from Amazon.
---
Reviews: The Best Shower Cleaner
Below are some of the best Shower Cleaners for a safe and comfortable shower experience;
We hope you love the products we recommend!
So that you know, We may collect a share of sales or other compensation from the links on this page.
---
1
---
2
It comes with a drill cleaning set with brush and scouring pads, power scrubber brushes in different sizes, two different stiffness settings, and a 4-inch backer.
The brushes' Nylon bristles will not scratch delicate surfaces and quickly reach creases between grout and corners.
You can thoroughly clean your kitchen and bathroom with this handy device.
Time-saving and easy to use and comes with all the required attachments included.
---
3
Included in the package are a long plastic handle with floor cleaning brushes, a flexible dust remover, and an extendable handle for easy use.
Bendable and customizable to fit any space and clean hard-to-reach or narrow areas.
The brush heads and duster is detachable and can be used on the handle or without.
The handle is extendable and removable for even more conveniently cleaning of all areas.
Excellent cleaner for tiles, glass, floors, windows, doors, ceilings, countertops, sinks, and inside your shower.
---
4
The Hoover Detergent for grout and tile cleaning is very concentrated and powerful; it will last long.
It deodorizes and freshens any area and can be used on sealed surfaces and in your shower.
Very effective cleaning, even on tough stains and grubby parts.
Hoover's detergent is 100% biodegradable, non-toxic, septic tank safe, and Phospate free.
---
5
There are five brush attachments for deep cleaning, reaching all areas, sinks, and tubs, and cleaning dishes and smaller items.
All the brushes have nylon bristles that are safe and gentle on delicate surfaces and won't scratch.
Suitable for your kitchen, bathroom, and other areas of your home with all the attachments you need for a full and deep clean.
The handle has an ergonomic design that gives you the perfect grip and reaches.
---
6
Choose between the Grout and Corner Scrubber brush design or the bath and Tile brush design.
The bristles are V-shaped, reaching easily into grout and corners and not scratching your surfaces.
The Corner cleaning brush allows for easy 360-degree cleaning.
The Blue scrub Zone is potent and tough on dirt and grime.
There is a True grip handle that gives you full control even when wet.
---
7
Shine up your bathroom floor with this high-quality floor cleaner made by DoubleFly.
The floor cleaner is multipurpose and can clean the shower, kitchen, stairs, toilets, etc.
The brush's flexible bristles go into hard places and provide efficient cleaning.
It has a cordless design and high efficiency.
---
8
Like to see your bathroom floor shine like a diamond? Then look at this premium quality shower floor cleaner whose stylistic brushes will clean all your surface.
The brush has an ergonomic design and is extremely comfortable for use.
The brushes' flexible bristles let you clean the corners of your house.
There are four color variants available for this shower cleaner.
---
9
Clean your bathroom with this amazing floor cleaner machine and bring a new layer of brightness to the bathroom's floor.
The cleaner has an adjustable length of 117cm/46″ to 153cm/60″, providing ease of control.
A microfiber pad is attached to the mop that lets you clear the floor with great efficiency.
It can effectively collect debris from the floor like pet hair, dirt, and dust.
---
Index Table: Top Rated Shower Floor Cleaner
---
---